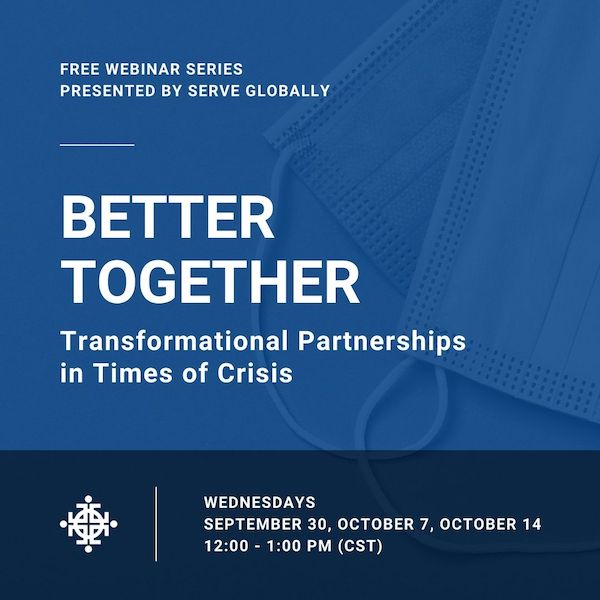 Serve Globally announces a series of webinars focused on mission partnership. Covenant World Relief, now called Covenant World Relief and Development, has long been developing transformational partnerships across cultures and around the world. In these webinars, Covenant World Relief & Development-xx partners will share their work around mercy, peace, and justice.
Join webinars to learn about healthy transformational partnership from global leaders, including the Zimele Wethu Foundation in South Africa; Covenant Social Services of the Hindustani Covenant Church in Pune, India; and Musalaha in Jerusalem, Israel. Each webinar will be aired live on the Serve Globally Facebook page or via Zoom.
Schedule of Events
Better Together: Partnership in Development
Sep 30, 12 PM – 1 PM CST | Claudia de Garza, Philipne Kidulah
Responding Together: Mission in a Time of Covid-19
Oct 7, 12 PM – 1 PM CST | Audrey Matimelo, Jyotirmaya Deep
Making Peace Together: The Ministry of Reconciliation
Oct 14, 12 PM – 1 PM CST  | Mathew Jock Moses, Salim Munayar
For questions or more information, please email Abby Kurz at abby.kurz@covchurch.org.