Jesus, light of the world May I see and reflect your life
Have you ever been to a place where there are no windows, no lights, or no stars? A place so dark you can't even see your hand in front of your face? Such darkness can be palpable, oppressive, even suffocating. We can't see. We bump into things. We lose our way.
We were not meant to live in darkness.
Our world under the weight of sin is like that—dark, oppressive, heavy, and evil. We have lost our way. We are bumping into each other and evil lurks. One has only to look at systemic racial injustice, poverty and economic disparity, health and education inequities, misogyny and bigotry, oppression, and greed to recognize our world is very much in darkness.
When Jesus said, "I am the light of the world," the timing coincided with the Feast of Tabernacles. At dusk during the celebration, four giant candelabras would be lit, signifying the pillar of fire by which God guided the children of Israel through the wilderness at night (Exodus 13:21). The original hearers would have recalled the story—but Jesus's invitation was about a different type of darkness. Jesus was referring to spiritual darkness and our separation from God due to sin. Jesus is the light who dispels darkness and reunites all who believe in God—from darkness to light, from spiritual death to eternal life.
And Jesus is our light today. Through his Spirit, he guides us in our confusion and dark seasons. He points the way, so we don't get lost. Anyone who follows Jesus not only walks in his light but also has the light of life as children of light. Just as the moon reflects the sun, we reflect the Son in our dark world. Jesus said, "I am the light of the world."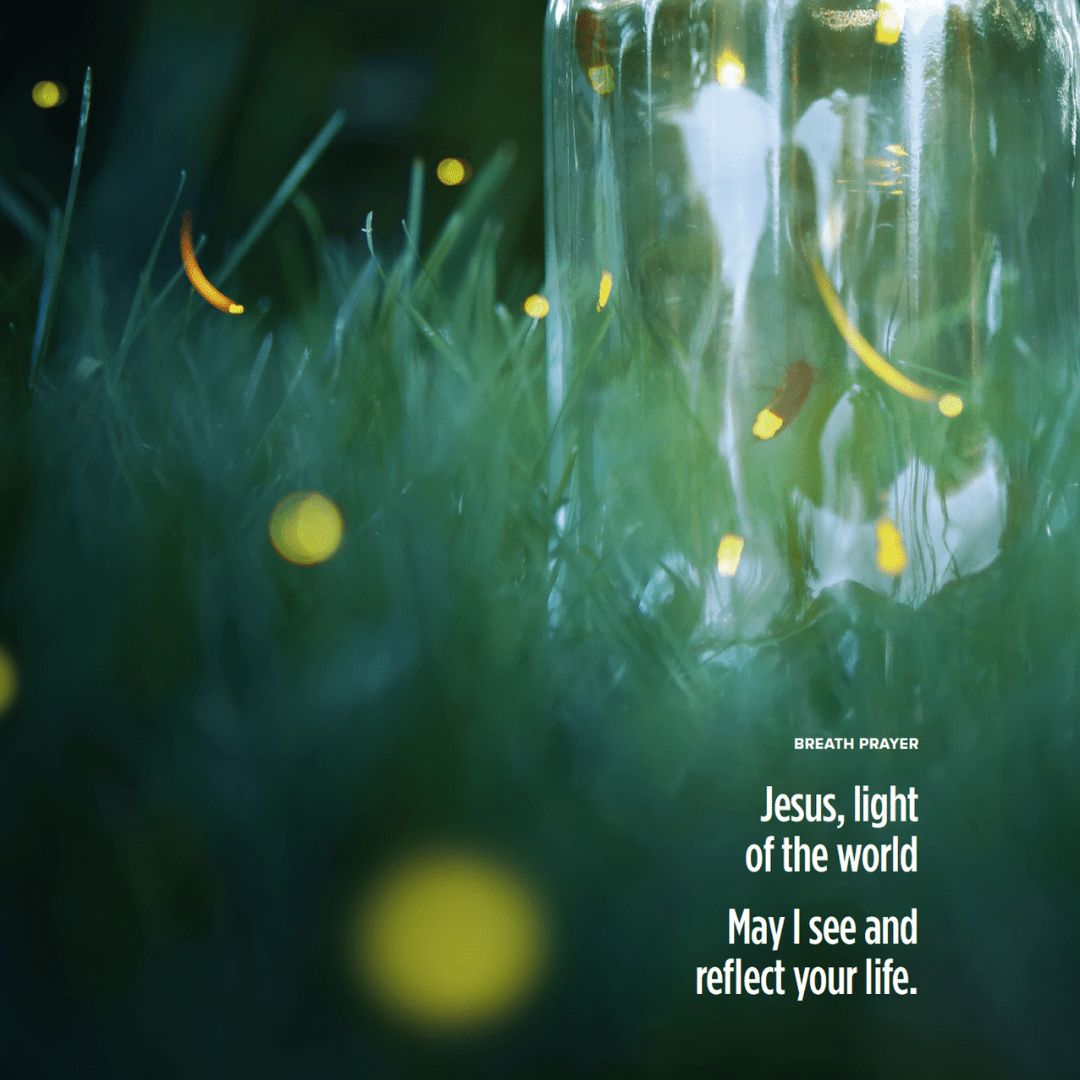 Is there an area in your life where you feel you are walking in darkness and need the light of Christ to guide you?
Where might Jesus be inviting you to reflect His light in this dark world?

CENTER your body and mind to be with Jesus.
THINK where light is needed today (for you personally or in the world).
SLOWLY INHALE, "Jesus, Light of the world."
SLOWLY EXHALE, "May I see and reflect your light."
REPEAT the breath prayer until you feel Jesus's peace.
LOOK AND LISTEN for God's light for you and through you today