Jesus, you are my gate; In your fold I'm safe and secure
Scottish theologian George Adam Smith (1856–1942) was traveling through the Holy Land when he encountered a shepherd with his flock. The shepherd showed him where he kept the sheep at night. It was an enclosure of four walls, open to the sky with only one way in. "When the sheep are in here," the shepherd explained, "they are perfectly safe."
"But there is no door," Smith replied.
"I am the door," the shepherd responded. "When the light is gone and the sheep are inside, I lie in that open space. No sheep can ever go out without crossing my body, and if a wolf tries to come in, my body blocks his path; I am the door."
This I am statement is translated as both "door" and "gate," but the meaning is the same. Jesus alone is the opening by which his sheep can come into the fold, the kingdom of God. Once through the gate, they are safe from thieves and robbers who intend to hurt, kill, and destroy.
Thieves and robbers come in many forms. In this passage Jesus is referring to false prophets and hypocritical religious leaders. But thieves and robbers include anything that draws us away from Jesus and the abundant life he offers (John 10:10). Fear, anxiety, stress, storms of life, unbiblical teachings, even our fleshly nature can hurt us and rob us of the peace and protection Jesus offers. First Peter 5:8 says, "Discipline yourselves, keep alert. Like a roaring lion your adversary the devil prowls around, looking for someone to devour."
We discipline ourselves by staying close to the Shepherd. In the sheep pen, we are safe from predators, thieves, and robbers. We are safe under Jesus's watchful eye. Jesus said, "I am the gate."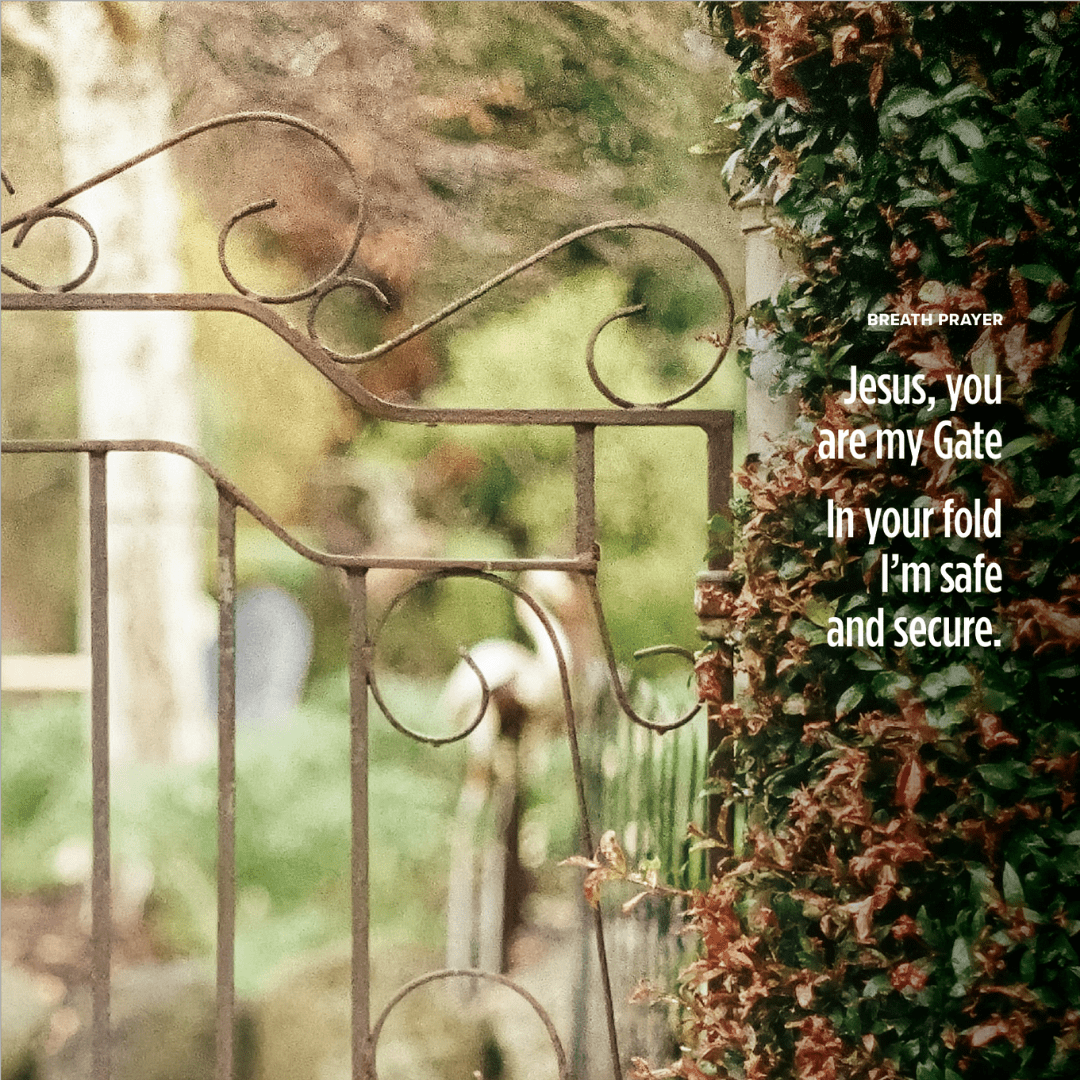 Do spiritual robbers and thieves in your life threaten to disrupt or harm your relationship with Jesus?

In what ways does Jesus remind you that you are safe with him?

CENTER your body and mind to be with Jesus.
THINK about a place that's welcoming and safe for you.
SLOWLY INHALE, "Jesus, you are my Gate."
SLOWLY EXHALE, "In your fold I'm safe and secure."
REPEAT the breath prayer until you feel Jesus's peace.
LOOK AND LISTEN for ways Jesus protects and keeps you today.