Jesus, resurrection and life; Resurrect hope today
There has been so much loss and pain this past year. We yearn for new life, even though our new normal is still unfolding. In varying degrees, we all have experienced the death of life as we've known it and we feel that grief. Some of us have lost loved ones in this season, resulting in grief upon grief.
When Jesus says, "I am the resurrection and the life," he is speaking to his dear friend Martha, days after the death of her brother, Lazarus. Martha and her sister, Mary, had mixed emotions because they were happy to see Jesus—but also disappointed, maybe even angry, that he had not come sooner. In their minds, Jesus could have prevented the death and pain they were experiencing. Even so, they were honest with Jesus about their feelings and affirmed their belief and trust in him (see John 11:21-27).
Sometimes we are reluctant to be honest with Jesus. It can feel inappropriate to express our disappointment, frustration, or anger. But Mary and Martha knew they could be real with him because of the closeness they shared. Their disappointment did not change their belief in him. Their honesty cleared the air, so to speak, and Jesus was present and attentive with them. Mary and Martha went to Jesus with their grief, and in response, he listened, he cried, and he gave them hope. And that all happened before the miracle of Lazarus being raised from the dead.
We often think of this I am statement in terms of eternal life for those who believe, but there is more. When Jesus says, "I am the resurrection and the life," he is saying all power and life is in his hands. He is saying that even death is not the final word. Jesus's words offer us hope even now, for all who believe, regardless of how things appear. Jesus said, "I am the resurrection and the life."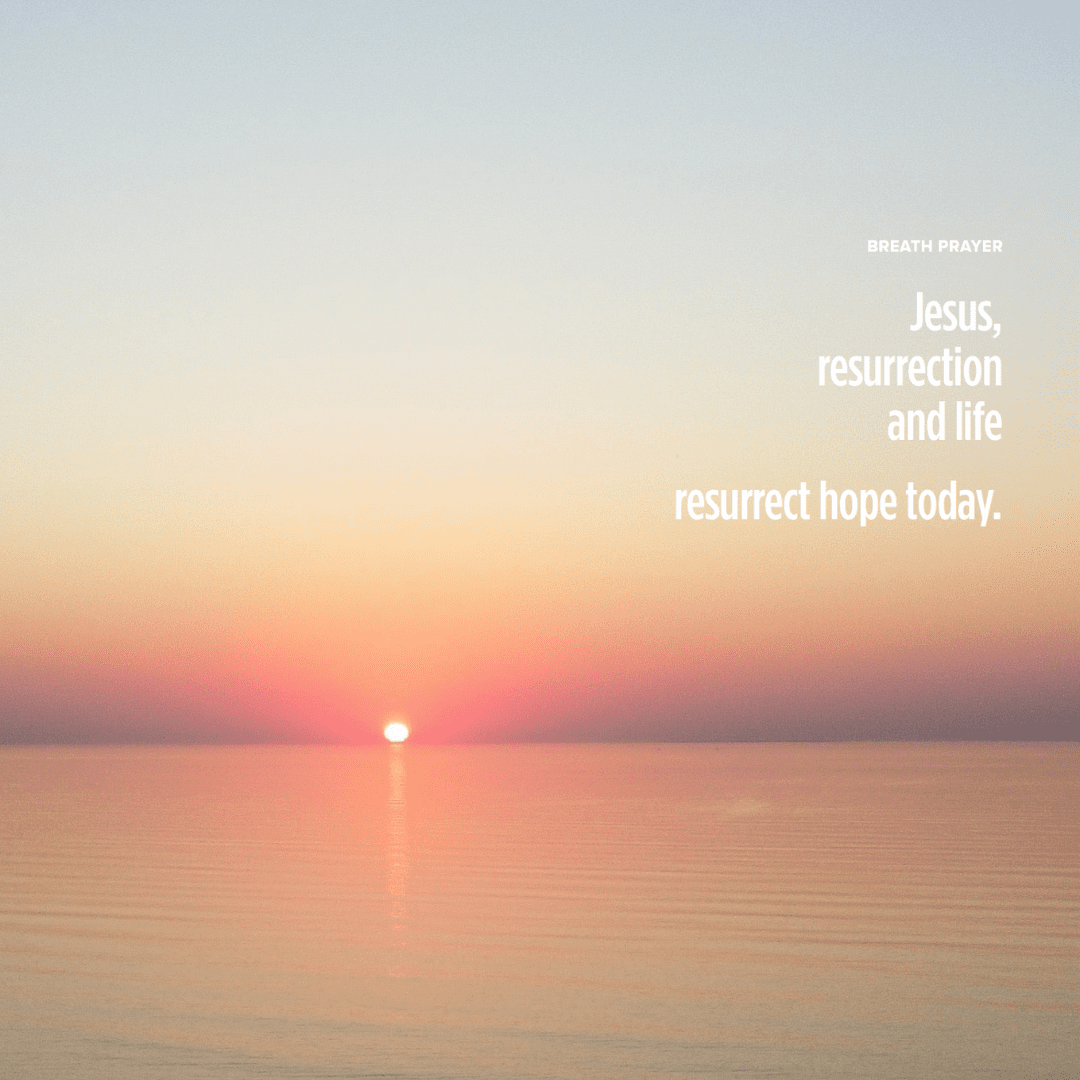 Are you completely honest with Jesus? Are there things you need to say to "clear the air" for hope to break through?

Where in your life, community, or world do you desire hope for new life?

CENTER your body and mind to be with Jesus.
THINK where you have a need for the hope of new life.
SLOWLY INHALE, "Jesus, resurrection and life."
SLOWLY EXHALE, "Resurrect hope today."
REPEAT the breath prayer until you feel Jesus's peace.
LOOK AND LISTEN for ways Jesus is resurrecting hope and new life.