Jesus, you are my vine; I abide in the warmth of your love
Did you know every branch of a vine grows directly from the main stem? Branches that have produced fruit are pruned back to remain close, or to "abide," near the stem for most of the year. Then, in season, branches grow out quickly again to bear fruit. Non-producing branches are cut and burned.
Just as vine branches are to bear fruit, so are we. Jesus said, "This is to my Father's glory, that you bear much fruit" (John 15:8, NIV). But branches cannot produce fruit on their own. To produce fruit, the branch must abide, or remain connected, with the stem.
And the same is true for followers of Christ. We are completely dependent on Jesus for the fruit he desires to produce in us. Apart from him we can do nothing. Apart from him any fruit we think we are producing decays and dies.
Have you ever noticed pruned branches from a fruit tree? When they are first cut, the branch looks alive. The fruit doesn't die right away. Even on the ground, the branch appears to be alive because the leaves are vibrant and the fruit fresh. Externally all looks well, but internally the branch is already wasting away. It is no longer abiding with the tree.
The same is true when we fail to abide with Jesus. From the outside it may look like we are doing well, producing fruit even, but there is growing decay of the soul. For a while, our fruit may appear to be alive, but decay becomes evident as we realize something is not quite right.
Instead, Jesus invites us to abide in him and he will abide in us in a mutual relationship of love. Jesus tells us to remain in his love by obeying his commands which leads to fullness of joy (John 15:9-11). For us to live into that joy and produce fruit to the glory of God, we must abide in Christ. Jesus said, "I am the vine."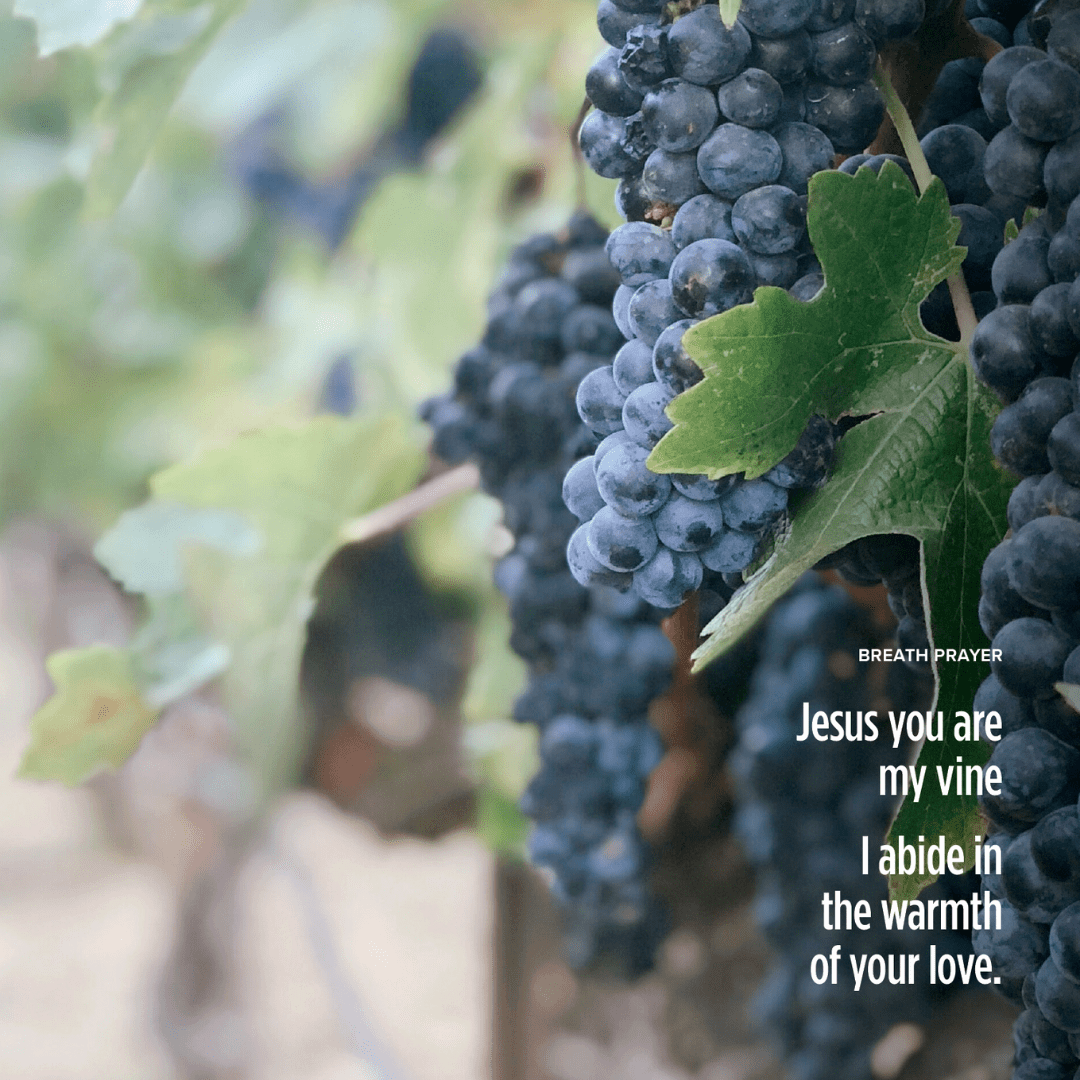 What is the health of your fruit?

What rhythms and practices help you remain in Christ's love?

CENTER your body and mind to be with Jesus.
IMAGINE you are sitting in the sun, feel the warmth.
SLOWLY INHALE, "Jesus, you are my Vine."
SLOWLY EXHALE, "I'm abiding in the warmth your love."
REPEAT the breath prayer until you feel Jesus's peace.
LOOK AND LISTEN for opportunities to bask and abide in Jesus's love today.