"Are You Living in Jesus?" This question typifies Covenant Church members' concern for family and neighbors and for their relationship to God.
The revival among Covenant Swedes at home and in the new land was characterized by the three "C's": conversion was the message, the colporteur was the messenger, and the conventicle was the method. While Anglo-American revivalist methods emphasized mass evangelism, the sawdust trail, and "hell, fire, and brimstone" judgment, Pietist renewal emphasized a loving, patient God who cares for his children by seeking and finding them each personally.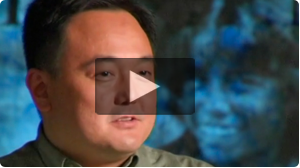 A patient God prevails in Covenant stories of finding new life in Christ, in the sermons of pioneer preachers, and in Covenant Church music, where the invitation to believing faith often takes the form of questions that in time must be answered for oneself. One of many examples is Andrew L. Skoog's "O that Pearl of Great Price! Have You Found It?"
This gospel invitation centers on extending hospitality, nurturing relationships, and sharing conversation. In Princeton, Illinois, for example, the Covenant congregation began in 1868 among Mission Friend immigrants who launched a revival by asking "Are you living in Jesus?" over lunch or during coffee breaks while helping each other in the fields.
Covenant churches often arose out of such interaction. First Covenant Church of Minneapolis dates its beginning to 1874 when Mission Friends began gathering on the banks of the Mississippi River for fellowship, food, and worship. Ten years later the spirited evangelistic pastor, Erik August Skogsbergh (1850-1939), arrived within this fellowship and remained for twenty-five years.
Skogsbergh emigrated in 1876 from Sweden to Chicago where he became friends with the evangelist Dwight L. Moody. Moody's evangelistic influence blossomed during the mid-1870s and profoundly affected believers in Scandinavia and immigrants to America.
Soon Skogsbergh was holding revival campaigns across America that earned him designation as "the Swedish Moody." He adopted Moody's methods of mass meetings, worship centered on the evangelistic pulpit, and pragmatic experimenting in effecting conversions.
An amateur architect, Skogsbergh built Minneapolis' Swedish Tabernacle at Chicago Avenue and Seventh Street. The building echoed Moody's auditorium style to accommodate large numbers of people. The Swedish Tabernacle became a center for young, single immigrants in the neighboring boarding houses, who, seeking work and friendship (perhaps a spouse), experienced conversion and found their home in Covenant churches. Many were inspired to pursue a call to ministry or the mission field.
A man of immense energy with a big heart and warm sense of humor, Skogsbergh was fit for this moment of revival and church building. Confident that "the fields were white unto harvest," he gathered energetically among his immigrant countrymen in Minneapolis. Nils Frykman in Kandiyohi County and other colleagues of Skogsbergh, however, often reminded him that "not every day was Pentecost" and that the Spirit blows where it wills.
For Skogsbergh, his colleagues, and their Mission Friend parishioners, conversion was "the one thing needful" and holistic evangelism the core of the Covenant mission. As one Covenanter put it, "We befriend others, and all that God has made, in the name of the one who first befriended us."