CovChurch NOW - A monthly update from the Evangelical Covenant Church
---
Love Mercy Do Justice
Even in the midst of the continued Covid-19 pandemic, the Evangelical Covenant Church's mission remains the same: to join God to see more disciples, among more populations, in a more caring and just world. We are all learning how to continue to pivot together to serve our mission.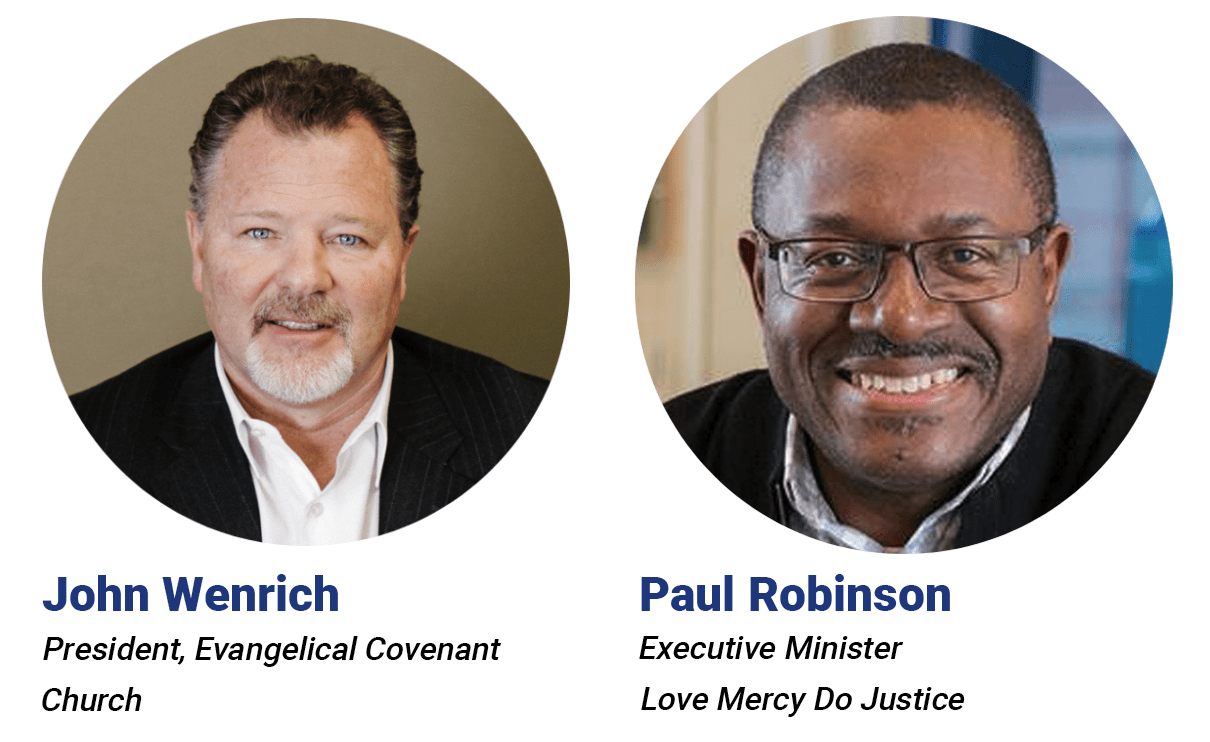 This month John Wenrich, president of the Evangelical Covenant Church, sits down with Paul Robinson, executive minister of Love Mercy Do Justice, to discuss how we as a Covenant can leverage the benefits of virtual engagement.
Mission Priority Updates
In his video interview with John Wenrich, Paul Robinson, executive minister of Love Mercy Do Justice, mentioned ways we are trying to leverage the benefits of virtual engagement. One of the most recent and exciting ways we are doing that is through our Criminal Justice and the Church curriculum! This online course was developed and recently launched under the leadership of our intern, Lydia Vander Stelt. The course seeks to provide opportunities to hear from people directly impacted by the criminal justice system; additionally, it provides resources for you and your community to go deeper by engaging issues of mass incarceration. Wherever you or your church might be on your journey of criminal justice reform, we hope this course provides space to listen closely to the Spirit's calling as you begin to assess what the next steps look like for your community. We invite you to register for this self-guided, self-paced course here. 
Develop Leaders is pleased to announce the addition of two new full-time staff members—Rev. Karen Ingebretson and Rev. Dr. Terrance Woodson. Both Rev. Ingebretson and Rev. Woodson will serve as director of pastoral support and practice. They bring with them many years of pastoral ministry experience as well as years of service on the Board of the Ordered Ministry. In their roles, they will work to enhance current systems of support for our pastoral community. They will connect with conference superintendents and staff, DL constituents such as the Leader Health and Development Team, and other organizations that provide therapeutic support as a continuum of care for Covenant clergy. Both Karen and Terrance bring a wealth of experience and innovation to the mission of Develop Leaders. Karen began her role in late January and Terrance will begin on March 1. 
BLESS: In Living Color is a 10-day devotional course on multiethnic evangelism delivered straight to your inbox. Each day includes a devotional, reflection and prayer prompts, and recommended resources to go deeper. We pray this resource inspires your community to intentionally bless people across boundaries of difference. A PowerPoint slide is available with a text-to-sign-up option that you can use to spread the word at your church! And remember: BLESS Sunday is March 14, and this year we offer an option to submit names via a virtual prayer card. 
The Paul Carlson Partnership team would like to thank all of our ministry partners who helped us exceed our $190,000 goal, raising more than $213,000 for the Karawa Coffee Project! Since 2017, your support has been providing the training, equipment, and needed resources to revitalize the coffee industry in northwest DR Congo. Your support helps our partners reduce extreme poverty, enhance food security, and build the economy, resulting in changing livelihoods for thousands of families in the area. These funds also help us bring coffee to the United States! Karawa coffee has just arrived in Chicago where our roaster, Everybody's Coffee, will store, roast, and ship Karawa coffee directly to you. We would love all of our Covenant friends to enjoy Karawa coffee in their homes and churches. If you haven't had a chance yet, there's still plenty of time to order Karawa coffee today. Order here. Thank you for investing in DR Congo! 
God continues to call church planters in this season of Covid-19! Potential church planters begin their process of discernment at the conference level, making contact with either the director of church planting or their conference superintendent. From there they enter the communal discernment process at a Start and Strengthen Churches Assessment center. The next Assessment Center takes place March 9-11. The Coach Model Training Intensive for prospective coaches is scheduled for March 4-5 and 8-9. We are grateful for the culture of coaching spreading across our movement. Missional Vitality will continue a series of workshops for pastors and their teams with Alan Hirsch, author of Reframation, in April. For information on these opportunities email SSCAdmincore@covchurch.org.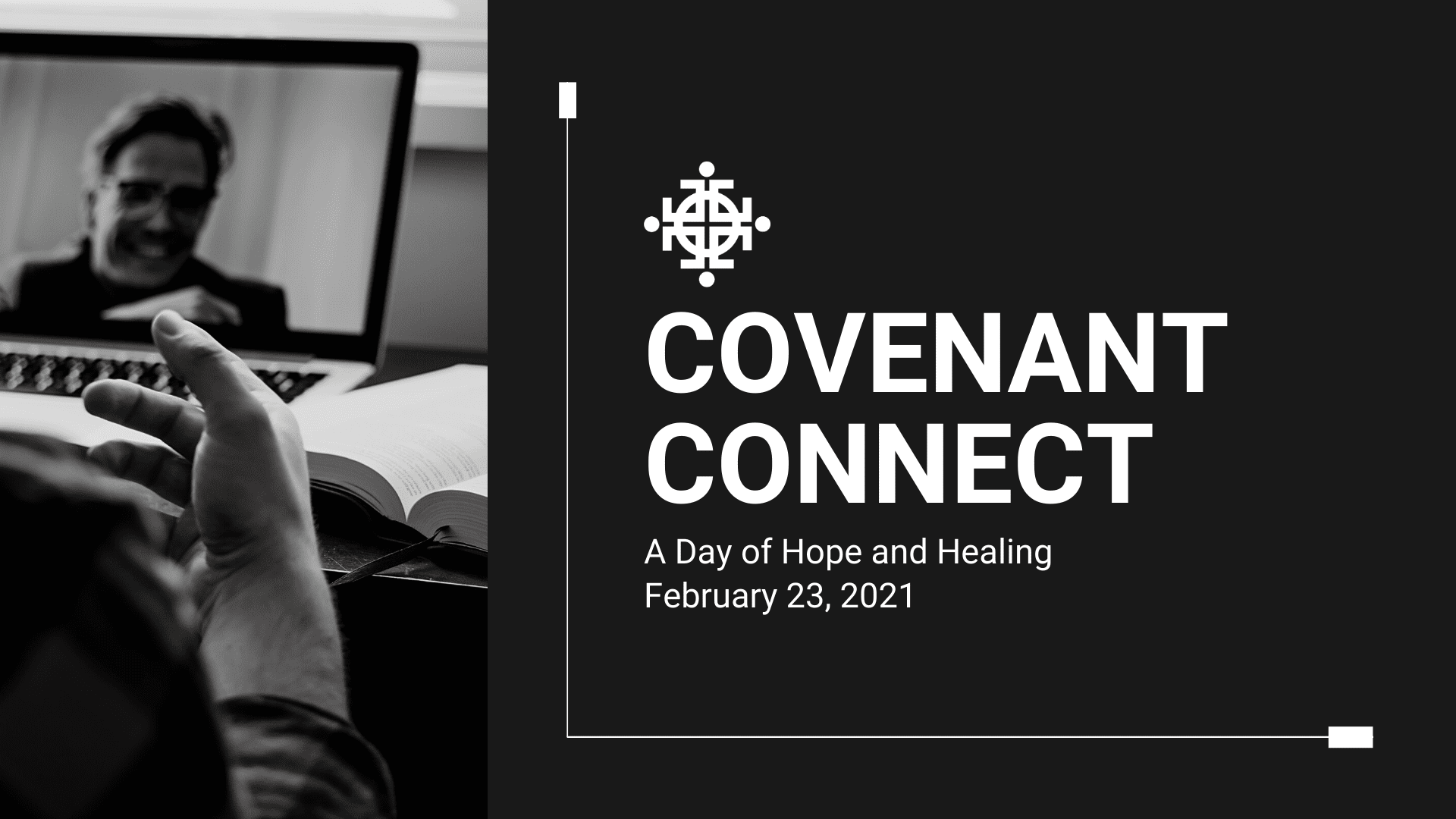 Covenant Connect: A Day of Hope and Healing | Feb. 23 
Mark your calendars now and join pastors and ministry leaders for a day of connection and renewal during Covenant Connect: A Day of Hope and Healing. This free virtual conference will take place on Tuesday, February 23, from 11 a.m. to 5 p.m. Central Time (with a lunch break from 12:30 to 1:30 p.m.). In light of the challenges of 2020 that continue in 2021, the focus of the one-day event is to provide space for attendees to experience healing, connect relationally, gather around the mission, and look forward with hope. Sessions will address processing trauma and stress, adaptable leadership and leading toward mission, and vision-casting and equipping for the future. Register here now. We look forward to seeing you there!
Ministerium Gathering | March 5
The Evangelical Covenant Church Ministerium will host its 2021 Midwinter gathering day online, March 5, from 10 a.m. to 4 p.m. Central Time. Ministerium events will include the annual Women in Leadership gathering, AntiRacism Discipleship Training, and a Health and Boundaries for Leaders of Color gathering. More info coming on www.eccclergy.org and on our Facebook page. 
---
2021 Budget Presentation 
A narrated presentation of the 2021 operating budget for the Evangelical Covenant Church is available online.
---
Subscribe
COVCHURCH NOW
To receive this monthly update from president John Wenrich and our five mission priorities subscribe to CovChurch Now >
NEWSWIRE
To receive a daily update with highlights from the Covenant Companion, Newswire, and Home Altar daily devotions subscribe to the daily Newswire >
Make and Deepen Disciples
This month John Wenrich, president of the Evangelical Covenant Church, sits down with Michelle Sanchez, executive minister of Make and Deepen Disciples, to discuss how we as a Covenant can practically love and bless others during the ongoing pandemic. Learn more about Make and Deepen Disciples by visiting covchurch.org/what-we-do/deepen-disciples/.   
Mission Priority Updates
MAKE AND DEEPEN DISCIPLES
BLESS encapsulates the Covenant's commitment to intentional evangelism, and we invite you to join this movement. Host a BLESS Sunday at your church on or before March 14, 2021, and start with the first missional practice, Begin with Prayer. You can order physical bulletins or use our Virtual BLESS Prayer Card. In a few weeks a new 2021 BLESS resource, BLESS: In Living Color, will be available to inspire and equip us in multiethnic evangelism. Finally, we're excited to share that our friend and partner Dave Ferguson, creator of BLESS, launched his new book, BLESS: 5 Everyday Ways to Love Your Neighbor and Change the World, which includes a section on practical applications for how we can BLESS others during a pandemic. Visit Covchurch.org/BLESS2021.
LOVE MERCY DO JUSTICE and SERVE GLOBALLY
Serve Globally and Love Mercy Do Justice are collaborating to address the evil of sex trafficking locally and globally through FREE. An anti-sex trafficking initiative of the Evangelical Covenant Church, FREE calls on the global church to Pray, Learn, Give, and Act domestically and globally alongside our partners. For more info, visit covchurch.org/free. 
DEVELOP LEADERS
Thriving in Ministry, a Develop Leaders initiative promotes pastoral resilience at all ages and stages of a pastor's ministry. We tend to encounter two primary enemies of pastoral resilience: stagnation and isolation. Pastors thrive when they have wise companions, agency, circles of friends or cohorts of colleagues, and a "backstage" where they can receive support and care. A new Thriving in Ministry cohort of 40 Evangelical Covenant Church chaplains has been established to strengthen the awareness and practice of deep spirituality, family systems, emotional intelligence, institutional skill, gender equality, and intercultural skill. To learn more about Thriving in Ministry cohorts, please contact herb.frost@covchurch.org. 
START AND STRENGTHEN CHURCHES
On February 2 and 4, Start and Strengthen Churches will host a workshop for Covenant pastors and leaders. Join Ruth Haley Barton in exploring how we can be strengthened at the soul level, even in the midst of crisis, so we can continue to be a source of life for others. Ruth has been a student, practitioner, teacher, and leader in the area of Christian spirituality and spiritual formation for more than 20 years. As the founder of the Transforming Center, she leads a two-year Transforming Community experience, guiding people in full-time ministry in learning and practicing sacred rhythms in their personal and leadership lives. To register for this event, go to covchurch.org/vitality, and choose the date that works best for your church team. Each workshop will run from 1 to 3:30 p.m. CST. The cost is $35 per church. Learn more and register by visiting covchurch.org/vitality. 
Merry Christmas from the Evangelical Covenant Church!
CovenantCares is your place to engage and connect with God's work in the world through the Evangelical Covenant Church. We partner with our 11 regional conferences, more than 850 local churches, and global connections in 59 countries to do more in mission and ministry than we could do alone. Your gifts through CovenantCares make a huge impact on lives in our local communities and around the world. Thank you for partnering with us in Covenant mission and ministry.
Learn more about CovenantCares
Mission Priority Updates
DEVELOP LEADERS
Covenant Orientation enhances the unity of the Covenant Church by providing common educational experiences in our heritage, distinctives, and mission. This is essential in transmitting the character of the denomination to anyone who is new to credentialed ministry in the Covenant. All Covenant Orientation courses will be offered in early 2021 as virtual experiences. Click here for more information and here for a schedule of class offerings.
SERVE GLOBALLY
Serve Globally and Love Mercy Do Justice are collaborating to address the evil of sex trafficking locally and globally through FREE. An anti-sex trafficking initiative of the Evangelical Covenant Church, FREE calls on the global church to Pray, Learn, Give, and Act domestically and globally alongside our partners. Mark your calendars for the virtual launch to learn how you can be part of the movement to break the cycle of this evil on January 21-22, 2021. More details to come!
LOVE MERCY DO JUSTICE
As the hands and feet of Christ, we seek to be authentic signposts of God's love, mercy, and justice in a world that desperately needs it. In our own strength and understanding, we fail to navigate the complexities of doing life together well; however, empowered by the Holy Spirit and sharpened by the Word, we will flourish, experience shalom, and beloved community. Scripture is a lamp unto our feet and a light unto our path, and Love Mercy Do Justice is pleased to offer The Kingdom Mosaic: Life Together Series, a new five-session Bible study focused on justice, racial righteousness, and the mosaic nature of the kingdom of God. The purpose of this new resource is to ground our pursuit of life together in the word of God as a multiethnic denomination. Download this new five-session Bible study here.
MAKE AND DEEPEN DISCIPLES
As we come to the close of this remarkably challenging year, let us make space to breathe. "Whatever concerns we may have or circumstances we may find ourselves in, Jesus invites us to come to him, breathe, and embrace his words: I AM." Authored by Covenant pastor Tammy Long, our 2021 Week of Prayer resource, Breathe Together, is now available in both English and Spanish. Each day focuses on one of Jesus's I AM statements with reflections questions, breath prayers, and an image for visio divina to draw us closer to Jesus and listen to what he may be saying to us. This year's resource is available in print and has also been especially designed for virtual use—be sure to take a look and share it with others!
Discover the 2021 Week of Prayer
START AND STRENGTHEN CHURCHES
We look ahead to the new year with hope. Missional Vitality is working to continue to support churches and their leaders during a time of social distancing and to prepare tools for the new normal we anticipate. We will host a workshop, "Soulcare for Pastors," led by Ruth Haley Barton. Mark your calendars for either February 2 or 4, and take advantage of an opportunity to be renewed and refreshed. For more information, visit covchurch.org/vitality.
Serve Globally
As a Covenant family, we have so much to be thankful for as we continue the work God has called us to—to join God in God's mission to see more disciples among more populations in a more caring and just world. We are all learning to pivot to stay on mission.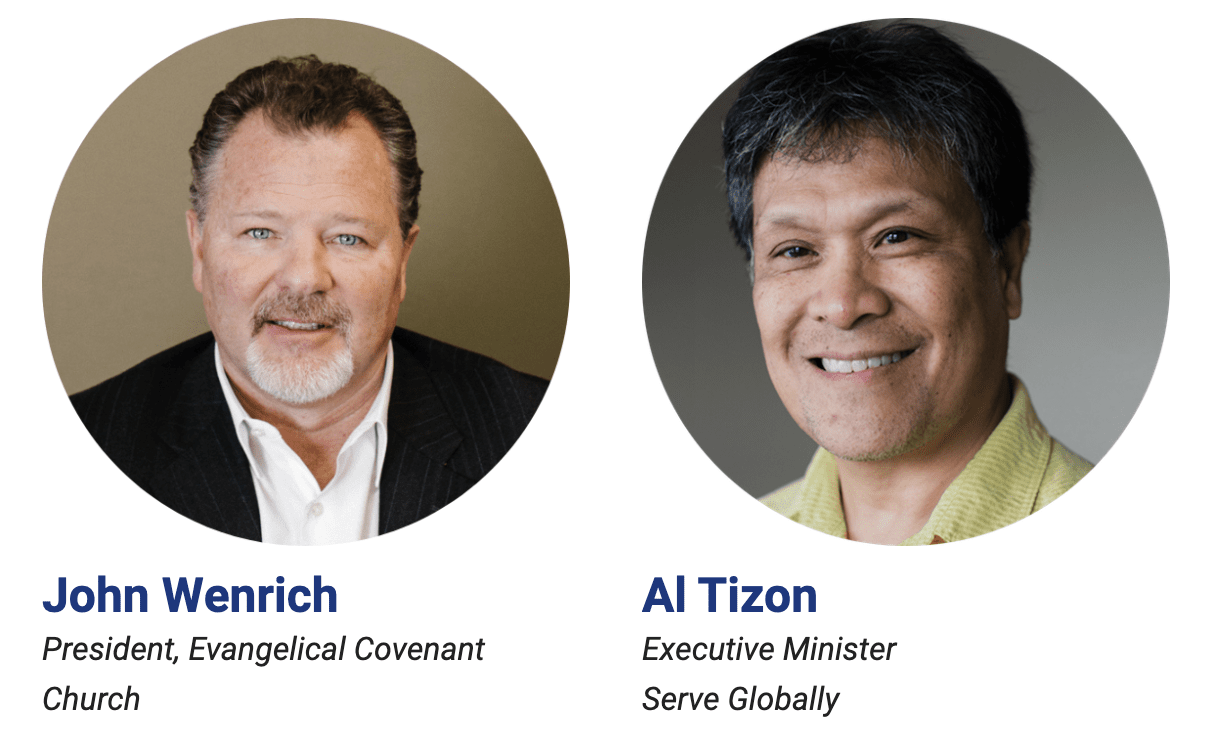 This month John Wenrich, president of the Evangelical Covenant Church, sits down with Al Tizon, executive minister of Serve Globally, to discuss the changes we can make—both personally and congregationally—to remain missional in our new reality.
Learn more by visiting CovChurch.org/what-we-do/sg
Mission Priority Updates
SERVE GLOBALLY
We invite you to join us for Covenant World Relief and Development Sunday on November 22 (or on another Sunday during the year that works best for your church). This is a day when your congregation can participate in celebrating and highlighting the ways God is powerfully at work through our partners around the world. For more information, many resources are available at covchurch.org/cwr/for-churches.
As always, and now more than ever due to the COVID-19 pandemic, Covenant World Relief and Development needs your generous financial support to continue engaging in transformational development with global partners who are responding to the pandemic as well as other natural and human-caused disasters.
To learn more, visit covchurch.org/cwr.
DEVELOP LEADERS
Covenant Outsourced Accounting is a network of trained accounting professionals working closely with local financial leaders to serve your church by providing timely and accurate financial reports each month; guiding and educating local church financial leaders about contribution deductibility, clergy payroll, best recordkeeping, and reporting practice; relieving local church financial leaders of learning software; and being available to advise and train local church volunteers serving as treasurer or financial secretary. All network team members are active in Covenant churches and understand Covenant benefit systems, funding schedules for church plants, and mission support options. Learn more here or by visiting covchurch.org/what-we-do/develop-leaders.
LOVE MERCY DO JUSTICE
To mark Indigenous Peoples Heritage Month in November, Love Mercy Do Justice is honoring the voices of our Indigenous and First Nations brothers and sisters. As the late Richard Twiss, educator, author, and reconciler of Native Americans and evangelicals, said, "Come be our friend. Come and talk to us. Get to know us. Get to know what makes us laugh and what makes us cry. And when you find out what we care about, then make our concerns your concerns. Make our struggles for justice your struggles for justice." We invite you to hear from TJ Smith of the Dakota and Lakota Nations and president of the Covenant Indigenous Ministers Association here. And to hear from more from our Indigenous brothers and sisters, we invite you to subscribe to our weekly email updates here.
MAKE AND DEEPEN DISCIPLES
Announcing our newest Embrace resource: Embrace for Youth Case Studies! These Embrace youth ministry case studies have been compiled by a team of Covenant youth workers. They invite quality discussion among leaders about how to better care for people in your churches and communities who identify as LGBTQ+. These case studies are based on real-life situations happening in our churches, camps, and ministry contexts across the Evangelical Covenant Church in North America. They are designed not to provide official answers to the questions raised, but rather to help you explore and gain clarity about how you would like to approach complex situations in your unique context.
START AND STRENGTHEN CHURCHES
Despite the uncertainty around gatherings in this season, the Lord continues to call church planters. We have completed two virtual church planter assessment centers and one online edition of church plant training. These new Covenant communities of faith will plan to launch next summer and fall. Between the ongoing work of assessing and training church planters and the short-term resources of mission vitality, Start and Strengthen Churches is experiencing the truth of Isaiah 43:19: "See I am doing a new thing. Now it springs up; do you not perceive it?" For more information on church planting or resources to strengthen an existing church, visit Start and Strengthen Churches Church Planting and Start and Strengthen Churches Missional Vitality, or email SSCAdmincore@covchurch.org
Subscribe
COVCHURCH NOW
To receive this monthly update from president John Wenrich and our five mission priorities subscribe to CovChurch Now >
NEWSWIRE
To receive a daily update with highlights from the Covenant Companion, Newswire, and Home Altar daily devotions subscribe to the daily Newswire >
As you know, we are living through unprecedented times. The novel coronavirus has dramatically impacted each, and every one of our lives. It has forced us to change the way we work, the way we live and relate to one another, and even the way we worship. But in this time, we can take comfort in knowing that none of these events have taken the Lord by surprise. He remains the unchanging source of our strength. And even now, amid the fear and uncertainty in our world, the Church, His Church, is rising up, in some truly remarkable ways.
We have begun building a COVID-19 resource page, which you can locate at CovChurch.org, where we are compiling resources from pastors and churches as well as businesses and thought leaders around the world on how we as a Church can respond to this crisis. This page will be updated regularly as we navigate through these new realities.
I will be hosting regular, weekly prayer gatherings on our Covenant Facebook page, where I invite you to join and participate. It will be a powerful way our denomination can join together and create community in this uncertain time. We will be praying weekly on Thursdays at 11 a.m. CST.
Our buildings may be closed, but the Church is still wide open. Because we know that the Church has never been a building – but the presence of Christ within us, working through us with the power of His Spirit, to help heal a broken and hurting world. From the Covenant office to our Global Missionaries to the local churches across North America, we are all in this together, and we remain unified in the Covenant.
More than anything, I want you to know that you are not alone. We will get through this together.
As Covenant people, we affirm a conscious dependence on the Holy Spirit. In 2020, we are committed to taking time to focus our attention on the mission that Jesus gave us and the power source he has provided for us to accomplish it.
The Blazing Center resource suite is specifically designed to ignite a passion to see the Holy Spirit moving through our congregations, out of our churches, and into our communities. Every resource in this suite has been intentionally designed to strengthen, or in some cases kickstart, our passion to see the Holy Spirit move through our congregations and communities.
If you were unable to attend this year's Midwinter, we want to let you know about this initiative and a few actions steps for making the most of the Blazing Center resource suite.
 1. Explore the Blazing Center website – Go to BlazingCenter.org and investigate the available resources. We've divided the site into curated content and all-church campaign sections.
2. Practice the Agenda of Thirds in your staff meetings – The Agenda of Thirds is a Spirit-led meeting format, and the directions for it can be found on BlazingCenter.org. For 30 days in 2020 we invite you to try it out in one or more of the meetings you lead.
3. Run the Blazing Center campaign at your church – At some point in 2020, schedule the six-week Blazing Center sermon series for your church. You can find everything you need on BlazingCenter.org. We suggest launching it one or two weeks after Easter and then wrapping it up on Pentecost Sunday, May 31.
As we join together as a movement to engage with this resource suite, we believe the Spirit will ignite our souls as we encounter the extraordinary ways the Blazing Center will impact our churches. The good news is that the Holy Spirit has changed the world before and is ready to do it again!
CovChurch Now is back for 2020! Join President John Wenrich and Lance Davis, Executive Minister of Develop Leaders, as they share about this year's Week of Prayer resource, "Reconciling Grace." The devotional booklet, available in English and Spanish, was written by students at Stateville Correctional Center in Illinois who are earning a master of arts degree in Christian ministry with a restorative arts track through the ECC's North Park Theological Seminary. "Thanks to this year's Week of Prayer materials," Wenrich says, "every Covenanter will have an opportunity to be pastored by these students."
---
In this November edition of Cov Church Now, Covenant Events Director Marti Burger joins President John Wenrich to give us an exciting preview of Midwinter 2020. Learn about the launch of the Blazing Center resource suite, our inspiring plenary speakers, new interactive spaces and intriguing workshop offerings.
Early registration is now open through December 6 at midwinter.covchurch.org for this week of retreat and renewal for Covenant pastors and ministry leaders. We'll see you in Chicago for Midwinter 2020, Jan. 27-31!
---
In the September 2019 edition of Cov Church Now, ECC President John Wenrich invites Marilyn Williams, newly appointed director of women's initiatives, to join him in ushering in the fall ministry season. Williams and Wenrich explain how the Covenant has launched a model of fostering the flourishing of women in every mission priority, life stage, ministry area and personal call—and why it's critical for such a time as this.
For the story on female lead pastors referenced in the video, "Confronting the Stained Glass Ceiling," check out CovenantCompanion.com. To read about how the Covenant is centering women in each ministry area, head to CovChurch.org/women.
---
June 2019
Visit our Gather 2019 resources page for Frequently Asked Questions about the ECC Executive Board Recommendation to Remove First Covenant Church of Minneapolis from the Roster of Covenant Churches.
Looking to attend Gather? There is still time to register now.
View the Gather 2019 Resources Page

▸
---
May 2019
Join us for the May edition of CovChurch Now as Evangelical Covenant Church President John Wenrich describes our initiative for planting 500 Covenant churches in the next decade. Church planting is integral to the expansion of the multiethnic mosaic, to advancing women in leadership and to bringing people into relationships with Jesus. We've planted nearly 60 churches since 2017. With the vision of pastors like David Washington, on Chicago's South Side, the movement continues to grow!
---
April 2019
Join us June 27-29 in Omaha, Nebraska, as we focus on the Holy Spirit as the Blazing Center of our mission. Register Today
---
March 2019
We are committed to advancing our mission by fostering the flourishing of women. During the month of March we recognize and celebrate Women's History Month.
---
February 2019
We are committed to advancing our mission through the multiethnic mosaic of churches. A multiethnic community is central to Jesus's kingdom vision, and it is pivotal to who we are as the Evangelical Covenant Church. We are not a denomination with multiethnic ministries. We are a multiethnic denomination. Listen as ECC President John Wenrich explains what this means for us as Covenanters and introduces a critical 6th "P" to what has now become the Six-Fold Test.
---
January 2019
To hear more about our growing vision for the Evangelical Covenant Church, join us at Midwinter, January 21-25. And if you can't make it to Denver, you can still join us via livestream at midwinter.covchurch.org.
Visit Midwinter 2019

▸
---
December 2018
As we prepare and wait for the celebration of Christ's birth, we hear the words of the prophet Isaiah: "A voice cries out: 'In the wilderness prepare the way of the Lord, make straight in the desert a highway for our God" (40:3). This text reminds us that we have a calling—there is work to be done to make a way for the Lord in the places of brokenness.
In this season, we offer a gift to the ECC community. Bearing the Wait: An Advent Companion is a daily devotional guide compiled from the pages of the Covenant Companion. These meditations on the hope and good news of "the Word made flesh" are our gift to you.
Download Your Advent Devotional

▸
---
November 2018
What a joy it is to love and serve the Lord together! I'm praying for all of you that this Thanksgiving you will be filled with gratitude for God's faithfulness and that you'll experience his joy in this season.
As we reflect on all that God has given us, let's remember our call to be people of hope and generosity by helping those in need. Please watch the video above for how you can help us respond to the refugee crisis by giving back on Giving Tuesday.
Join us in Responding to the Refugee Crisis

▸
---
October 2018
October is Domestic Violence Awareness Month. It is estimated that one in three females and one in six males are survivors of domestic violence, sexual assault, abuse, or harassment. The sins of domestic violence, sexual assault, abuse and harassment break God's heart. Watch this video to hear ECC president John Wenrich's message to the church on this sensitive topic.
View the Resolution on Domestic Violence

▸
---
September 2018
This month marks the start of John Wenrich's role as the new president of the Evangelical Covenant Church. Watch his message above to hear more about his vision and commitment to continue building on the kingdom momentum that we've been blessed with as a movement.
View the Covenant Offices Leadership Team

▸
---
August 2018
Last month at CHIC, students learned about the global refugee crisis that has left more than 68 million people displaced from their homes. Students gave $50,000 to the Project Unite offering at CHIC. Now we are asking Covenant churches and individuals to match the CHIC offering so that we can increase our work with refugees around the world.
Support our work with Refugees

▸
---
July 2018
Join us is praying for CHIC 2018! The conference will be live-streamed at ChicConference.org. You can also Follow the CHIC Facebook page, Download the CHIC App, and View the UNITE Curriculum.
Visit the CHIC Conference site

▸
---
June 2018
Join us June 21st-23rd in Minneapolis at Gather 2018. We will come together as a church family to worship, fellowship, and participate in the important work of the ECC's highest constituted authority–our Covenant Annual Meeting. We will welcome new churches; ordain, commission, and consecrate ministers and missionaries; and together make decisions about our shared mission and ministry.
Learn more about Gather 2018

▸
---
May 2018
The Global 6K is a wonderful discipleship, outreach, and community-building event that has a profound impact. As a Covenant church, your race will benefit the Covenant Kids Congo program, blessing children and families in Gemena, DR Congo with the beautiful gift of clean water. Register at TeamWorldVision.org/ckc6k or visit our resources page at CovChurch.org/6k/.
Learn more about the CKC Global 6k for Water

▸
---
April 2018
Watch the video above to learn more about MissionInsite, a new resource for local congregations. Sign up now to receive your free activation code.
Register for MissionInsite

▸
---
March 2018
To honor Gary and Nancy Walter for their sacrificial service to the ECC, we're inviting the Covenant community to submit letters of appreciation that will be compiled into a special book and presented to the Walters at the Covenant Annual Meeting. Anyone who has been touched by Gary's ministry is invited to participate. All letters must be received by March 30. Photos are also welcome, especially if you have a photo of yourself with Gary and/or Nancy. Please go to covchurch.org/thanksgary to submit your letter and photo online or send an email and photo attachment to: thanksgary@covchurch.org. Letters and photos can also be snail mailed to: Gary Letters, 8303 W. Higgins Road, Chicago, IL 60631.
Submit a Letter of Appreciation for Gary

▸
---
January/February 2018
In 2018 we encourage your church to host a BLESS Sunday on or before March 18! BLESS equips us to engage in five simple missional practices to effectively reach those in our lives who are far from God. Order your free bulletin inserts at CovChurch.org/BLESS.
Order Your Free BLESS Bulletin Inserts

▸
---
December 2017
Christmas greetings, friends. Please watch the video above to be reminded that, indeed, Jesus is Immanuel – God with us – regardless of whether we are in a season of angelic announcements at conception or smelly barns during delivery.
December also reminds us that the calendar year is drawing to a close, and so I want to thank you deeply for your support for this partnership. Across the United States and Canada, and in more than 40 additional countries, this pretty obscure fellowship has sought to follow the heart of God into the world. Not only has God worked through your congregation, God has used your congregation's partnership with your regional conference and the Covenant as a whole.
So let's stay 3StrandStrong: congregation, conference, Covenant. Pray. Engage. Serve. And if possible, a special year end gift will make a real difference to make sure we are able to fund all of our commitments for this year and be poised for a strong start to the next. Remember your congregation and conference in your generosity as well.
Make a year-end gift

▸
---
November 2017
This holiday season we invite you to join us in declaring that no matter what is going on in the world, we care. In this year's Covenant Cares giving guide, you will find gifts that showcase ministries from each of our five mission priorities.
On This GivingTuesday, November 28th, we are highlighting one of the many CovCares gifts. This summer thousands of high-school students will gather at CHIC to unite in Christ. Our dream is that every student could be there! But not every church has the resources to get to CHIC. Let's unite on GivingTuesday to help all students experience God in a new way at this special Covenant event. Invest in a Future Leader through CHIC today.
Visit CovCares

▸
---
October 2017
Watch this video greeting above from our Executive Director of Finance Paul Hawkinson as you prepare to think through your mission support for next year with both the ECC and your regional conference. We never have and we never will believe that the ministry of your congregation, your conference, and your Covenant is easy. We need each other now more than ever, just as the world needs Christ as much as ever. That's what 3StrandStrong is all about: Congregation, Conference, Covenant interwoven in support of one another for faithful and fruitful ministry.
Visit 3StrandStrong.org

▸
---
September 2017
Love Mercy Do Justice works in coordination with Covenant World Relief, regional conferences and local congregations who have partnerships with organizations on the ground in affected areas, to respond immediately to those in need during sudden onset disaster.
Support Domestic Disaster Response

▸
---
August 2017
Every three years more than 5,000 students from across The Evangelical Covenant Church come together in one place to glimpse how they fit into the bigger picture of God's kingdom. At CHIC, a Make and Deepen Disciples event, lives are changed as students are inspired to dive deeper in their faith together. CHIC 2018 will take place July 15-20 at the University of Tennessee at Knoxville.
View the CHIC 2018 Website

▸
---
July 2017
Gather 2017 is over, but you can watch highlights from this year's event here. It was an inspiring time together in Detroit as we celebrated all that God is doing through this partnership of 850 congregations, 11 regional conferences, and the Covenant as a whole. We are impacting more lives in more ways in more places than at any point in our history. You can download the Annual Meeting Delegate Summary. And every moment is available on video at Gather.CovChurch.org.
View the Gather'17 Archives

▸
---
June 2017
The Covenant Communications team will be covering Gather '17 and the Annual Meeting in a variety of ways, including daily reports from the Covenant Newswire, regular updates on Facebook, Instagram, and Twitter, and a video live-stream of the meetings and worship services. Visit Gather.CovChurch.org for more information.
Also, the summer issue of the Covenant Companion will be arriving in mailboxes soon. This special edition of the magazine features the 2016-17 Covenant Annual Report, as well as stories from all the ECC ministries and mission priorities. Copies will be available to all Gather attendees, but you can also subscribe at CovenantCompanion.com.
Visit the Gather'17 Website

▸
---
May 2017
The Evangelical Covenant Church (ECC) has received a $1,000,000 grant from the Lilly Endowment to address the financial and economic struggles that can affect pastors' ability to lead congregations effectively.
The Financial Leadership initiative is committed to help sow seeds for ministerial excellence by 1) providing assistance for credentialed Covenant ministers to overcome long-term financial distress; and 2) equipping and empowering Covenant clergy to continue to grow in their ability to nurture environments for generosity and mission impact.
This initiative is a cooperative venture between ECC Finance, Develop Leaders, National Covenant Properties, and Covenant Trust Company
Learn More about Financial Leadership

▸
---
April 2017
The Covenant as a whole will be gathering in Detroit June 22 – 24 for our 132nd Annual Meeting and related events. Make plans to attend both your conference and Covenant gatherings. It is about much more than the important business that takes place. Make new friends and strengthen old bonds, celebrate what God is doing, and be inspired by meaningful worship and learning opportunities.
Learn More about Gather

▸
---
March 2017
In the book of Judges, God raised up Deborah to lead the people as a trusted judge, prophet, and military leader. Through Project Deborah we seek to move the Covenant to a place where we recognize, mentor, and celebrate called and gifted women in our midst. Will you stand with these women to disciple them and lift them up in ministry?
Learn More about Project Deborah

▸
---
February 2017
Make and Deepen Disciples is launching a new intentional evangelism initiative called BLESS, which focuses on five missional practices we can use to naturally introduce people to Jesus: Begin with prayer, Listen with care, Eat together, Serve in love, and Share your story. Prayer and Evangelism Sunday is March 19!
Learn More about BLESS

▸
---
SUBSCRIBE
Sign up to receive CovChurch Now directly to your inbox each month!
FOLLOW US
Be sure to follow us on social media!