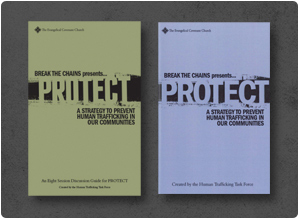 Developed by the Covenant's Human Trafficking Task Force, PROTECT: A Strategy to Prevent Human Trafficking in Our Communities is a 40-page booklet developed as part of the Covenant's Break the Chains initiative. It is intended to empower local congregations to address the scourge of modern day slavery in their own communities. The booklet also includes a listing of key contact information that includes numbers and links to vital
agencies, ministries and hotlines. PROTECT is made available partially through gifts to the Just Women project of Women Ministries.

The eight-week discussion guide is intended to supplement the PROTECT booklet. Each session is an hour in length; for teens and older; and includes time to reflect, reveal facts, and discover ways to respond on behalf of the vulnerable around the world and in our communities.
Handouts and Suggested Links