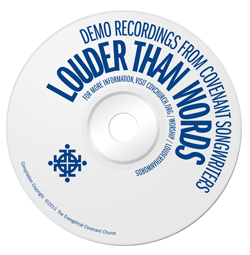 Louder Than Words is a first compilation of demo recordings and live tracks with a couple of deleted studio sessions thrown in. With fourteen varied tracks, the Covenant songwriters represented prove that the tradition of fine songwriting is alive and well in our congregations all over the United States.
Covenant songwriters are being encouraged to submit new songs and arrangements for potential publication to the denomination and beyond. CovSongs will be registered with CCLI as a publishing entity, so we invite you to use these songs, share them with your friends and report their use. Send comments and suggestions to mdd(at)covchurch.org.



Note on song links below: To play a file now, click the link. To download a file, right-click or control-click the download link, then choose "Download link to disk" or "Save Link As…" from the menu.
1. Louder Than Words

download
Written and performed by:
Andrew Thompson
Other musicians: Columbia Grove
2. From Your Love

download
Written and performed by:
Paul Austin
3. Glory Be

download
Written and performed by:
Joe Poppino
Other musicians: Vicki Twigg
4. Alleluia Hymn

download
Written and performed by:
Matt Lundgren
Other musicians: CHIC 2012 Band
5. Yours O Lord

download
Written and performed by:
Jenlani Greenidge
6. I Need You

download
Written by: Geoff Twigg
Performed by: Carla Sullivan
Other musicians: Geoff Twigg
7. Our God Reigns

download
Written and performed by:
Paul Auston
8. I'm Yours

download
Written and performed by:
Matt Lundgren
Other musicians: CHIC 2012 Band
9. Our God Reigns

download
Written and performed by:
Matt Lundgren
Other musicians: CHIC 2012 Band
10. The Voice Creation Heard

download
Written by: Geoff Twigg
Performed by: Amy Oxendale
Other musicians: Geoff Twigg
11. Broken

download
Written and performed by: Andrew Thompson
12. Oh the Bitter Shame

download
Written by: Max Butler
Performed by: Fred Not
13. Holy Holy Holy

download
Written and performed by:
Joe Poppino
Other musicians: Geoff Twigg
14. At the Turn of the Year

download
Written by: Geoff Twigg
Performed by: Rachel Moury
Other musicians: Jake Armerding