CHICAGO, IL (October 24, 2019) – Betty Jean (Carlson) Holmgren, wife of North Park Seminary professor emeritus Fredrick Holmgren, died Sunday, October 13. She was 94.
Betty was born on March 1, 1925, in Muskegon Heights, Michigan, to Hilding Gustaf and Clare Marie Carlson.
She graduated from North Park College.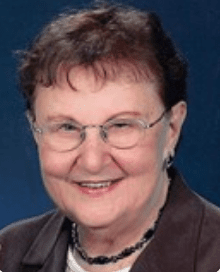 Betty married Fred on June 12, 1948. While serving the Evangelical Covenant Church in New Rochelle, New York, Fred completed his studies at Union Theological Seminary and Betty worked as administrative assistant to the vice-president of Adler Electronics.
The couple moved to Chicago in 1960, when Fred was hired as a professor at North Park Theological Seminary. Betty worked as administrative assistant to three academic deans at North Park College.
In retirement, Fred and Betty had opportunities for travel, and for ten years they would spend three months of every year in Freiburg, Germany. Although Betty didn't start to learn German until she was in her sixties, she was able to converse easily in the language.
Betty had a loving spirit that characterized her life. During the 1960s, at a time of intense racial tension, she and Fred were strong advocates for social justice and racial equality. They also were vocal in their opposition to anti-Semitism and encouraged others to develop deeper insight into the Jewish tradition.
Survivors include her husband, a daughter, Margaret "Marge" Conville; a son, Mark Holmgren; and five grandchildren.
A memorial service was held October 20 at North Park Covenant Church, where Fred and Betty were longtime members. Memorials may be given in her name to the church, 5250 N Christiana Ave, Chicago, IL 60625.