How One of The Most Recognizable Images of Jesus Came to Be
It's called Sallman's Head of Christ. The iconic painting recognized by most older Americans is considered to be the most reproduced image in print ever. It has been estimated that this picture of Jesus has been printed and copied more than one billion times. Last year marked the seventy-fifth anniversary of Warner Sallman's most celebrated work. But as well-known as Head of Christ is, how the picture came to be is anything but.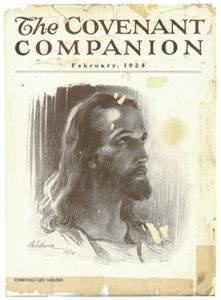 On a cold November day in 1923 as Sallman sat down to Thanksgiving dinner with his wife and three young sons, his heart was warmed with gratitude. The thirty-one-year-old Chicago illustrator had just been appointed art director for a new magazine published by his denomination. Although Sallman was working steadily as a commercial artist, the additional income would be welcomed. He was also pleased that he'd be making a contribution to the kingdom of God and not just illustrating advertisements for pianos, trucks, men's clothing, and toothbrushes.
Sallman's first assignment was to procure cover art for the premier issue of The Covenant Companion to be published in December 1923. Sallman, a member of Edgewater Covenant Church in Chicago, pressed his sister's husband into service. Haddon Sundblom, also an illustrator, willingly agreed. (Sundblom would become world famous a few years later with illustrations for the Coca-Cola Company in which he pictured Santa Claus drinking a Coke.)
When the editor chose "Christian life" as the theme for the February 1924 issue of the new periodical, Sallman opted to come up with the cover illustration himself. He imagined the face of Jesus as an appropriate way to profile the theme. But no matter how many times he attempted to draw a close-up of Christ, he was dissatisfied.
On the night before the artwork was due at the printer, Sallman was unable to sleep. He poured out his heart to God, asking for help. At 2 a.m., feeling inspired, he got out of bed, hurried to his desk, and made a rough sketch. In the morning, just a few hours before his deadline, he completed a two-foot by two-foot charcoal sketch. The image was titled Son of Man.
The popularity of the cover was so great that requests for reprints streamed in after all 7,000 copies of the magazine were sold. Sallman agreed to a special run of 1,000 additional copies of the image, which he paid for out of his own pocket. Within ten years all reprints had been sold or given away.
Hours before his deadline, he completed a two-foot by two-foot charcoal sketch. The image was titled Son of Man.
Slowly but steadily, Sallman's drawing gained a following and additional runs were made. When the Chicago World Fair was held in 1933–34, the hometown artist's work was featured in the Hall of Religion.
In February 1940 the graduating class of North Park Theological Seminary commissioned Sallman to paint a color version of Son of Man. The twelve students wanted to present it as their class gift to the school. They gave him the $35 they'd collected among themselves.
Sallman accepted the money and agreed to fulfill their request, but didn't specify when. Within a few weeks, using the 1924 charcoal image as a guide, he painted the brownish Christ head in his home studio and hung it above the piano in the living room.
The artist pondered giving this first effort in oil to the seminarians. One of his sons objected, insisting they keep it at home. Sallman's wife, Ruth, was so impressed with the painting she suggested making it available to the Chicago Art Institute where Warner had studied.
Before any decision was reached, Sallman had visitors from a Church of God (Anderson, Indiana) publishing house. Anthony Kriebel and Fred Bates stopped by the Sallman home to discuss needs for Sunday-school curriculum. When they saw the painting above the piano, they could talk of nothing else.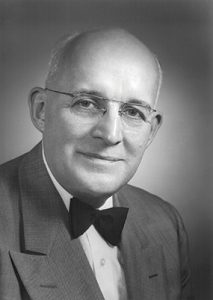 When Kriebel and Bates told the artist they could imagine his painting inspiring Christians far and wide, he agreed to sell them rights to the picture and painted another version to give to the North Park students.
Once reproductions were made of Head of Christ, it began showing up throughout the country—in churches, hospitals, and homes. When the United States entered World War II in 1941, many American servicemen were given pocket-sized reproductions of Sallman's Christ. Distributed by chaplains and hometown congregations, these small cards helped spread the popularity of the painting.
During the war years, Kriebel and Bates copyrighted three other oil paintings produced by Warner Sallman. In 1941 he painted Christ in Gethsemane based on Johan Heinrich Hoffman's classic 1890 work of the same name. A year later, Sallman painted Christ at Heart's Door inspired by William Holman Hunt's rendering of The Light of the World.
At the height of the global conflict in 1943, Sallman painted The Good Shepherd, picturing Jesus as a comforting presence based on Psalm 23 and John 10.
Sallman went on to paint scores of canvases recounting countless stories from the life of Christ. He died in 1968 at the age of seventy-six.