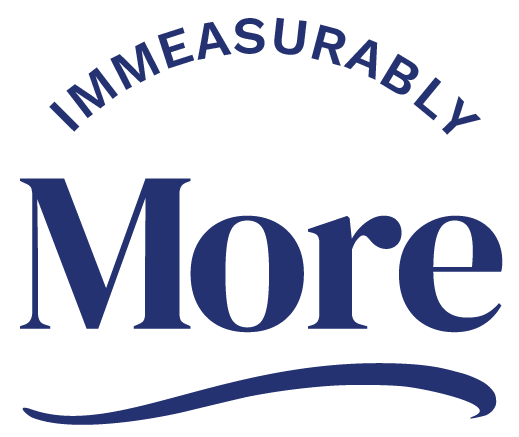 At Midwinter 2024, our theme of "immeasurably more" will invite us to embody the words the Apostle Paul wrote to the Ephesians when he says, "Now to him who is able to do immeasurably more than all we ask or imagine, according to his power that is at work within us." We serve a God who is actively transforming our calling, churches, communities, and so much more as only he can. Our worship services, workshops, and speaker lineup are all designed to offer a glimpse of what God might have for us as we continue to serve faithfully. We hope to see you there.  

I pray that you, being rooted and established in love, may have power, together with all the Lord's holy people, to grasp how wide and long and high and deep is the love of Christ,  and to know this love that surpasses knowledge — that you may be filled to the measure of all the fullness of God. Now to him who is able to do immeasurably more than all we ask or imagine, according to his power that is at work within us, to him be glory in the church and in Christ Jesus throughout all generations, for ever and ever! Amen.
– Ephesians 3:17-21 (NIV)

I pray that you would feel how deep the Chosen One's great love is. It is a love that goes beyond our small and weak ways of thinking. This love fills us with the Great Spirit, the one who fills all things. I am praying to the Maker of Life, who, by his great power working in us, can do far more than what we ask for, more than our small minds can imagine. May his sacred family and the Chosen One bring honor to him across all generations, to the time beyond the end of all days. Aho! May it be so!
– Ephesians 3:17-21 (Indigenous Translation)
The Midwinter Conference is an incredible opportunity to connect with our colleagues in Covenant ministry, discover new ideas, experience restoration, and get re-energized. Come to share interests, encourage and be encouraged, reflect and be inspired, laugh and have fun! Together with your colleagues in ministry, join us to reaffirm God's call on your life.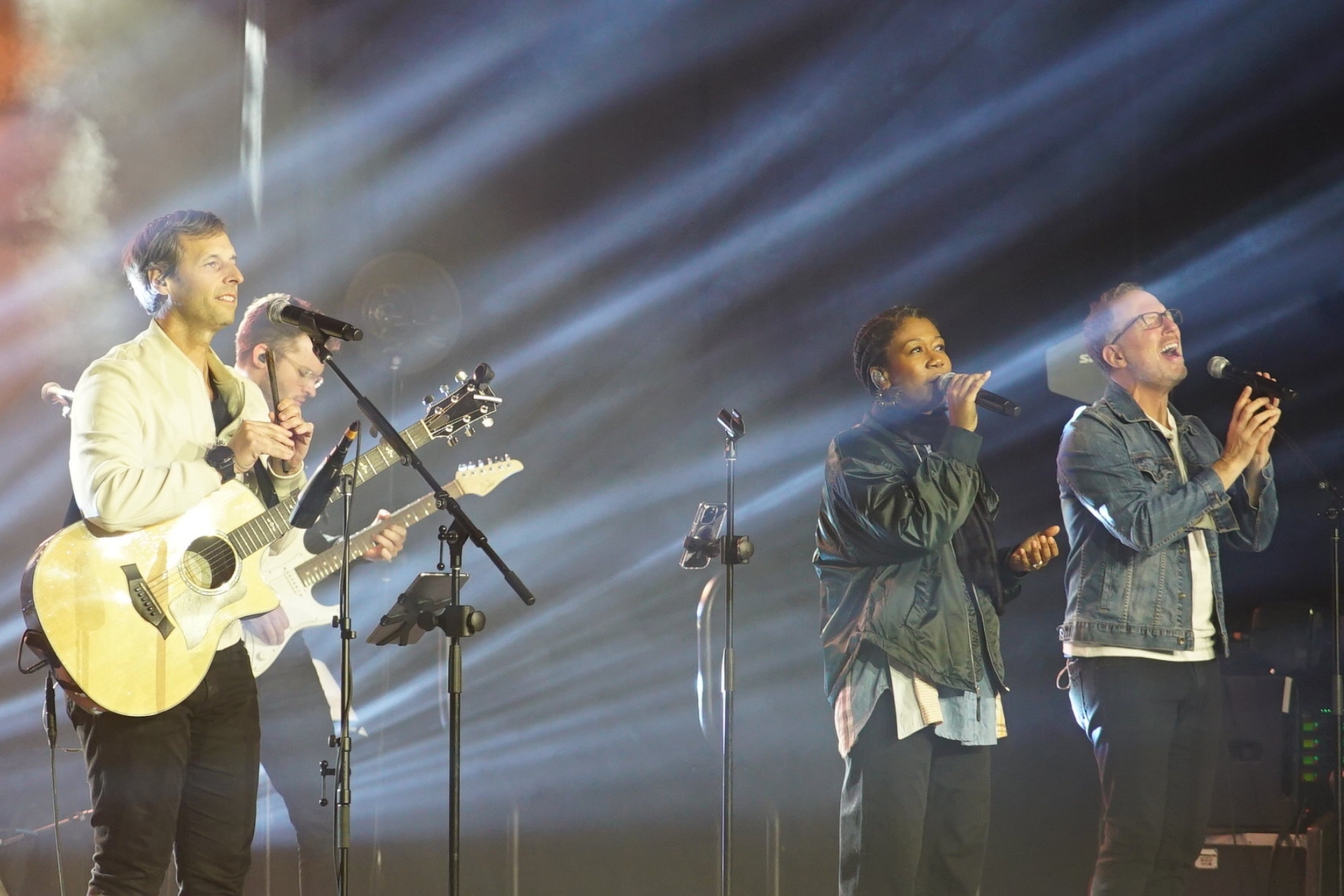 Main Worship Sessions
In our general sessions, you'll worship, learn from, and be inspired by thought leaders, and be renewed in your passion for continuing the mission God has placed before you.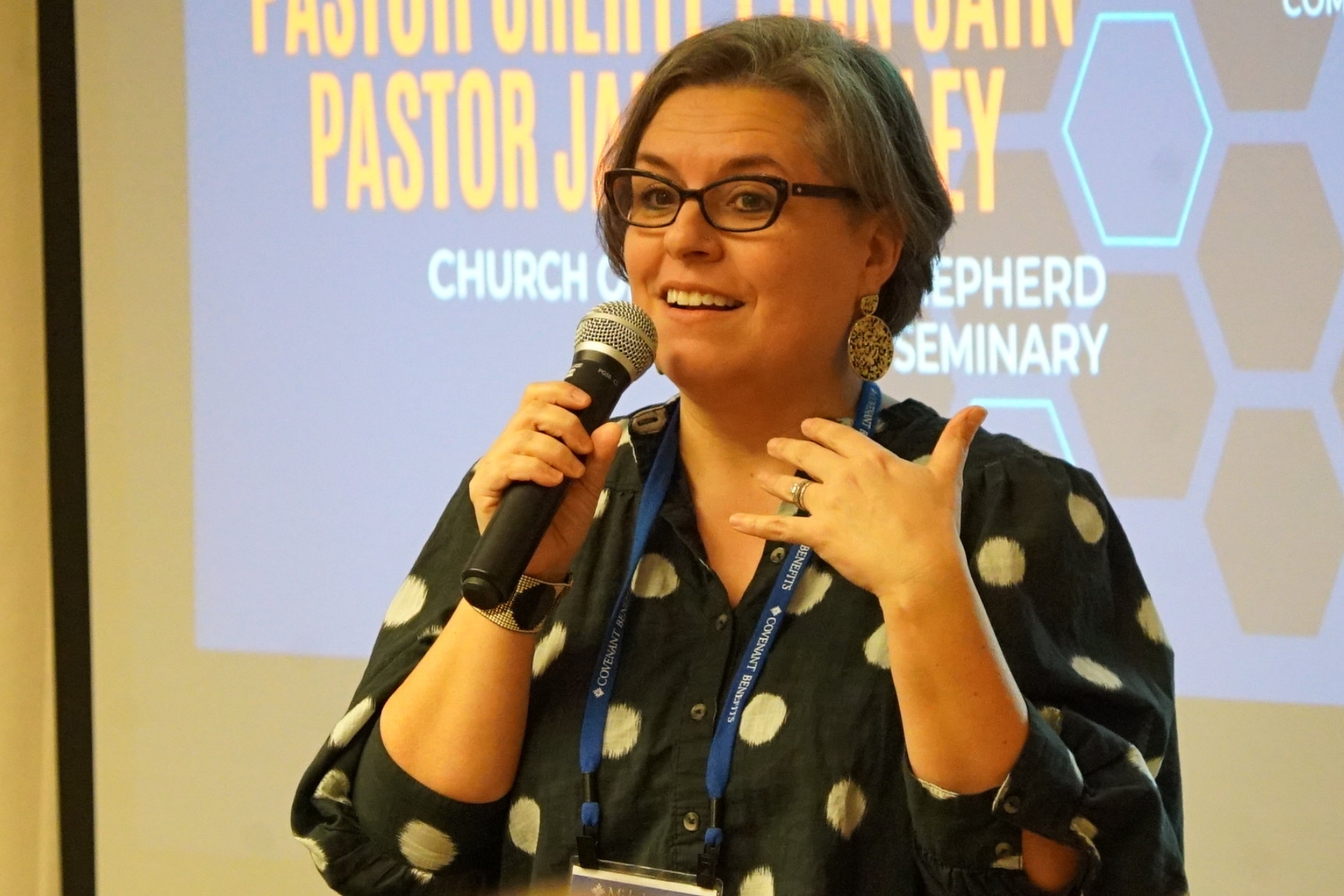 Breakouts
Breakouts are midsized sessions that offer in-depth dialogue and content from pace-setting leaders across various fields. These spaces are designed to give attendees personal access to these leaders and prepare you to return to your ministry context equipped and restored.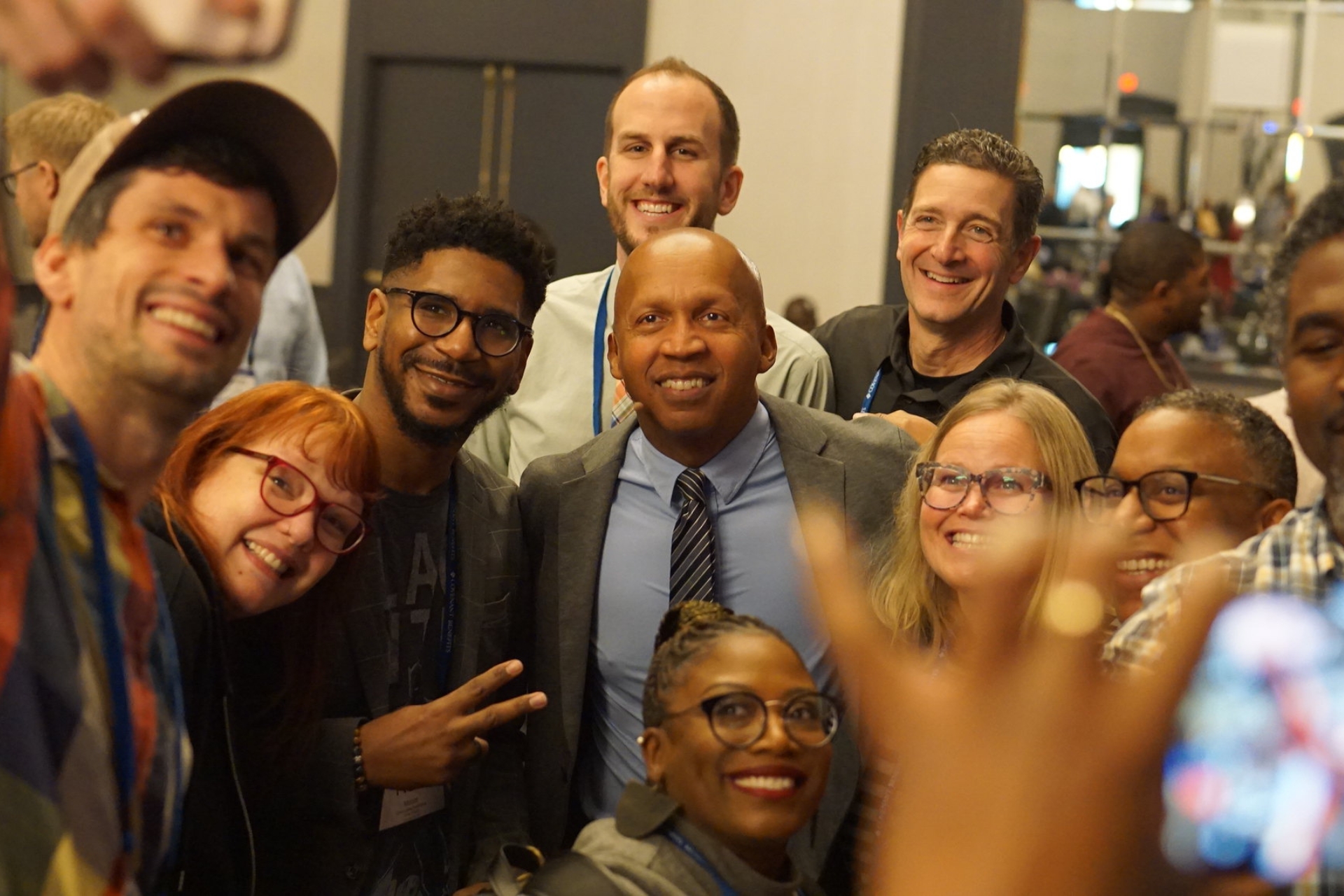 Relational Connection
If you have never been to a Midwinter, this will be a time to meet colleagues and develop vital relationships. We know we need one another because we are better together. We look to build connections and faith in each other as we work side by side in ministry together.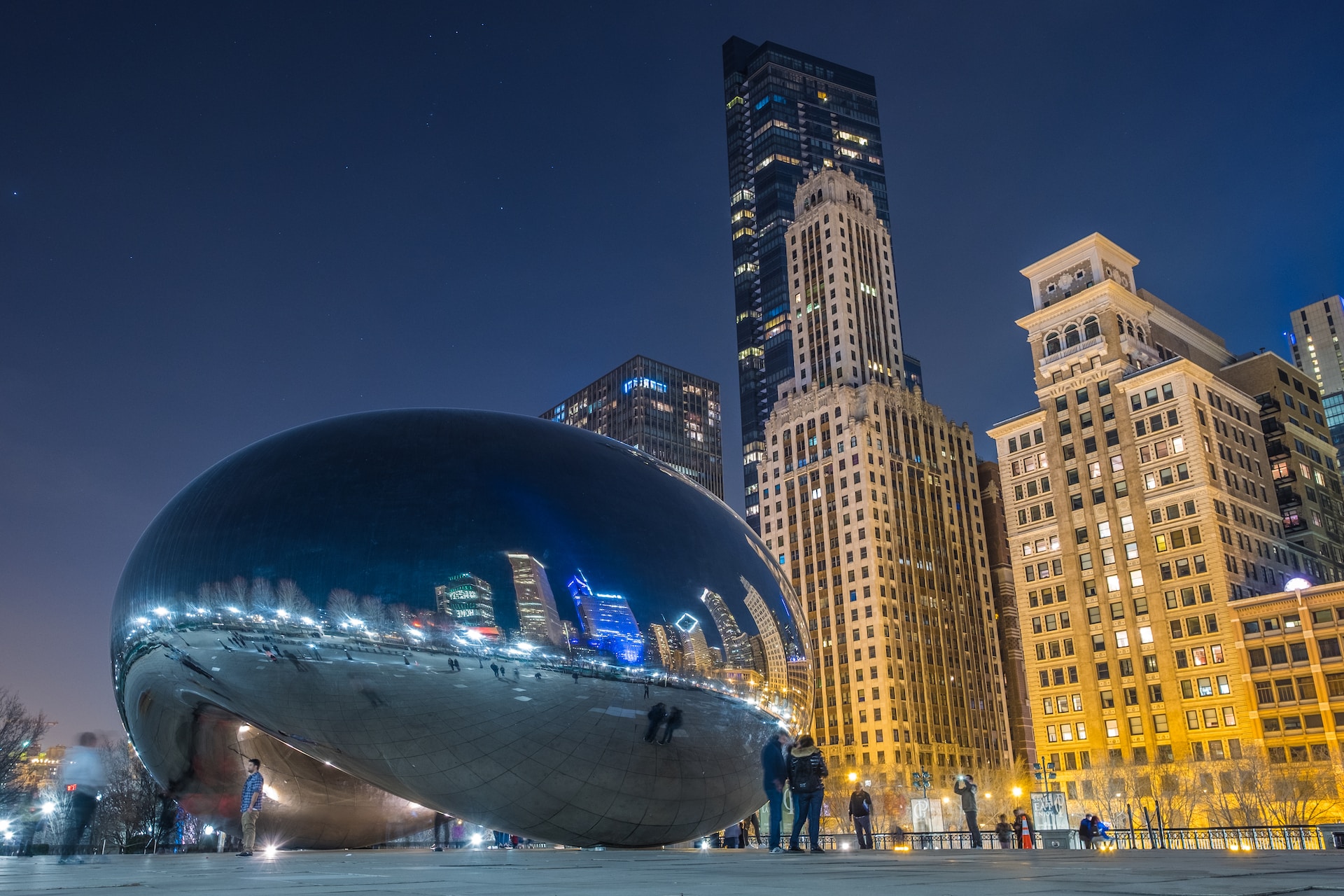 Local Experiences
In addition to the Midwinter conference programming, explore our host city Chicago, and all that it has to offer.
Hyatt Regency O'Hare Chicago
9300 Bryn Mawr Avenue
Rosemont, Illinois 60018
(847) 696-1234
Guest rooms (king and/or double queen) are available for as low as $169/night plus taxes. Make your reservation online or call (847) 696-1234 and request a double or king within the ECC Midwinter block. Rooms will sell out quickly, so please make your reservations in advance.
United Airlines is offering special discounts for Midwinter. To make flight reservations online please click on discount code ZNUW218262. You may also call the United meeting reservation desk Monday through Friday at (800) 426-1122 for booking assistance.
To / From O'Hare International Airport:
Complimentary Shuttle Service: Chicago airport transportation is easy when you take advantage of the 24-hour, complimentary shuttle service, which runs every 15 minutes from the hotel near O'Hare airport. Follow the red shuttle signs at the airport to the designated pickup area, O'Hare bus / Shuttle Center Door One. Shuttle buses have signage that reads "Hyatt Regency O'Hare." For airport transportation from the international terminal, guests must call the hotel directly.
Airport Express: Shuttles operate seven days a week, 365 days a year. Go Airport Express is a door-to-door transportation service. They offer shared ride airport shuttles, private van charters, Chicago limousine and car services, and group transportation charters. Telephone: (888) 284-3826.
Local Transportation:
The Hyatt Regency O'Hare is also conveniently located close to the 'L' train. With the Rosemont station less than a mile away, guests can be in downtown Chicago in just 45 minutes. Stop by the concierge desk for train maps and schedules. Complimentary Shuttle drops off at the Rosemont L station by request.
Free Pace buses are also available and provide circulating service around Rosemont to restaurants, the MB Financial Entertainment District, including the Fashion Outlets of Chicago.
2024 Registration Rates
Early registration through November 19 / Regular registration after November 19, 2023
| Midwinter 2024 | Early | Regular |
| --- | --- | --- |
| Primary Registrant | $395 | $440 |
| Additional Registrant | $365 | $410 |
| Retiree, Spouse, Bivocational | $225 | $275 |
| NPTS/CHET Student | $225 | $275 |
Using your 2024 budget? For MWPrimary and MWAdditional registrations, a nonrefundable $100 deposit can be made by November 19, 2023, to lock in early bird rates. Balance due in full by January 8, 2024. Accounts not paid in full by the deadline will be charged regular rates (less deposit). For help with registration, please call Jill Ulven at (773) 299-7274.
Scholarships are available for credentialed, active Covenant pastors, global personnel, and chaplains (military and institutional) in good standing, as well as retired Covenant pastors who are not actively serving in a paid ministry position. 
All scholarship applicants will be responsible for paying the $100 non-refundable deposit. Apply for a scholarship and register by November 19, pay only the $100 deposit. Apply and register after November 19, pay the full amount, and if your scholarship is approved, receive reimbursement minus $100. 
Please read the application for complete instructions. Scholarship applications need to be submitted to your conference no later than December 7, 2023, and will be reviewed by conference superintendents prior to approval. Full-time military chaplains need to submit the application to Ordered Ministry by December 14, 2023. Scholarships cover the remaining balance of your Midwinter registration. Any additional monies (varying in amount) will be mailed after Midwinter. Contact the Ordered Ministry with questions.
Cancellation Policy
Please email events@covchurch.org to submit any cancellation requests. Cancellations cannot be accepted over the phone. Registrations that have only paid the $100 deposit will not be refunded. Cancelled registrations with a balance paid in full and received prior to January 15, will be charged a $50 cancellation fee. After January 15, a $100 fee applies for all cancellations. Exceptions may be made on an individual basis.
Substitutions will be accepted from the same church or institution, provided the registration and fee paid are the same for the new registrant as the original registrant. To make any substitutions, email events@covchurch.org Make sure to include the name, address, telephone number, and email address of the substitute.
Image Policy
Your participation at Midwinter implies permission for the Evangelical Covenant Church to reproduce your image, likeness, or voice in connection with any recorded display or reproduction of Midwinter in post-event publicity and publicity for other such events sponsored by the Evangelical Covenant Church. Thank you!
All times listed in Central Standard Time
| Monday, January 22 | |
| --- | --- |
| 7:00 am – 10:00 pm | Registration Open |
| 8:00 am | Covenant Orientation / Ignite / Equip Classes Begin |
| 9:45 – 11:00 am | BIWoC Gathering |
| 11:15 am – 12:45 pm | Advocates for Covenant Clergy Women (ACCW) Luncheon |
| 1:00 - 4:00 pm | Women in Leadership |
| 6:00 pm | Opening Dinner |
| 7:00 pm | Opening Worship Session  |
| 8:30 pm | NPTS Distinguished Alumni Award Reception |
| 9:00 pm | Conference Receptions |
| Tuesday, January 23 | |
| 7:30 am | Hosted Breakfast |
| 9:30 am | Morning Worship Session – Presidential Update |
| 11:30 am – 1:30 pm | Lunch Break/Hosted Meals |
| 2:00 - 4:00 pm | All Midwinter Breakout  |
| 4:00 pm | ACCW Reception for Men and Women Advocating for Women Clergy |
| 5:00 - 6:30 pm | Dinner Break |
| 7:00 pm | Evening Worship Session - Communion |
| 9:00 pm | Antiracism Discipleship Pathways Reception |
| Wednesday, January 24 | |
| 7:30 am | Hosted Breakfast |
| 9:30 am | Morning Worship Session |
| 11:30 am - 1:30 pm | Lunch Break/Hosted Meals |
| 1:30 – 3:00 pm | Breakout Session 1  |
| 3:30 – 5:00 pm | Breakout Session 2  |
| 5:00 - 6:30 pm | Dinner (Ethnic Associations)  |
| 7:00 pm | ALIPE Service/Reception |
| Thursday, January 25 | |
| 9:30 am | Morning Worship Session  |
| 11:30 am – 1:30 pm | Lunch Break/Hosted Meals |
| 2:00 – 4:00 pm | All Midwinter Breakout  |
| 5:00 – 6:30 pm | Dinner Break |
| 7:00 pm | Evening Worship Session  |
| 8:30 pm | Dance Party! |
| Friday, January 26 | |
| 9:30 – 11:30 am | Morning Worship Session |
WOMEN ONLY PRE-CONFERENCE
BIWOC Gathering        
Come join your fellow BIWoC sisters in a collective (and individual) time of somatic and holistic care for the body, mind, and soul. This will be a time to reconnect, recenter, and restore ourselves as we embrace the new year!
9:45 – 11:00 am
Women in Leadership  
Join this gathering of women-only leaders to be celebrated and encouraged in our call as we lead, preach, and advocate to create a more just society for all to flourish. Come and be lifted up, laugh and cry together, worship and pray, hear gifted speakers, attend breakout conversations, and be poured into. All women—volunteers, lay leaders, bivocational, licensed, commissioned, or ordained—are welcome to attend.
1:00 – 4:00 pm 
Safe Sanctuaries Training         
Studies show that 25% of women and 10% of men experience violence in intimate partner relationships with emotional, physical, and spiritual consequences. This means the people in the pews and the community surrounding your church have been affected. This training will equip you to pastor a people who have experienced trauma from the injustice of abuse. We will develop a theology of abuse, talk about how trauma impacts victims and survivors, learn how to partner with advocates in our community to bring holistic healing, learn how to respond to victims who share their stories of abuse, and acquire best practices for providing spiritual and practical support. Join us as we present pastoral care tools to help your church exude God's shalom in the form of healing and safe space.
8:30 am – 5:00 pm
Committees on Ministerial Standing (COMS) Discussion and Training
This discussion is to train, resource, and equip members of conference committees on ministerial standing to be more effective interviewers of credentialing candidates. Come and receive updates, discuss common problems and issues, and share best practices.
1:00- 4:00 pm    
Third Third Flourishing 
Are you eager to live fully and fruitfully to make a difference in the world, or looking for new purpose in the third third of your life? Third Third Flourishing helps you engage this vital season with meaning and purpose. Grounded on Scripture and drawing from current research, this session will help you discern God's calling to be a good steward in this season.
* Sign up under Wednesday 11:30 am hosted meals
1:30 – 3:00 PM / 3:30 – 5:00 PM
Advocacy to End Hunger
"Immeasurably more" means seeking justice for more people, especially children and families experiencing hunger. If compassion leads us to feed people in need, justice leads us to speak up to help end hunger. Bread for the World is a proud partner with Covenant World Relief and Development. Join us to discuss how local churches are leading the way toward ending hunger through policies and programs affecting children in the US and globally.    
Marco Grimaldo, Eugene Cho, & Adam Edgerly
Pathway to Peace
How does your church address the divisions that occur when political and theological positions clash? How can you do more than simply avoid "the elephant in the room"? Come experience Missional Vitality's new resource that moves from conflict resolution to conflict redemption. We will explore a process for approaching difficult conversations with wisdom, grace, and love, and also with an understanding of the underlying issues that fuel the passions of conflicting opinions.         
Mary Hendrickson
Intercultural Agility
Intercultural agility is the ability to anticipate, recognize, and adjust to the culturally defined behavior of others. This session will address cultural worldviews (e.g., honor and shame) and dimensions of culture (e.g., direct or indirect communication). Intercultural agility is not only useful in diverse contexts, especially in an age of polarization, but it is also a spiritual formation tool used to foster humility, self-awareness, and graciousness toward others.  
Christina Burrows & Cindy Wu
Courageous Curiosity: Mission as Transformation
This workshop is designed to resource and empower pastors and leaders with practical tools to engage in transformative mission. Together, we will delve into Dr. Ruth Padilla DeBorst's work on mission as renouncing power and being hosted by the stranger. We will explore how we can foster a posture of humility and listening in our context to witness God's kingdom unfold in and around us through our missional engagement.
Katie Isaza, Grace Shim, & Dale Lusk
Church on a New Frontier: Being a Community Engagement Church
Join us to explore the journey, adventure, and tools available to avoid wandering from your mission and vision. Most church buildings sit empty 70-80% of any given week. If we believe our buildings are tools for ministry, how do we intentionally leverage ways to increase how many hours our buildings are active each week? Pastor Rob Bryceson of The Gathering House in Spokane, Washington, will share firsthand how his church navigated this process from the early stages to the present. You will come away with resources, new tools, and a renewed hope for envisioning a greater purpose for your facility.
Rob Bryceson & National Covenant Properties
Marriage Ministry in Your Church: What to Do between "I Do" and "I'm Done"
A church with a healthy marriage ministry—and consequently, healthier marriages—shines like a city on a hill, yet 70% of churches today have no strategic initiatives to help marriages to thrive. After the pre-marriage preparation, in the space between "I do" and "I'm done"—the space where marriages are being shaped—most churches have little to offer. When marriages fail, not only do family members suffer, but research indicates that the church suffers as well: intermittent attendance, loss of volunteer time and energy, reduced giving, and a general disillusionment with faith and the church for both adults and children are the result. When churches are known to be places of help and hope for marriages and families, it's a wide open door into their communities.
Neil and Sharol Josephson
Preaching with Character
Looking to deepen your understanding of faith and spirituality? This breakout is designed to inspire and invigorate your spiritual journey through thought-provoking discussions and impactful sermons. 
Sankofa: Looking Back to Forge Forward Together
This breakout will celebrate Sankofa's rich legacy with inspirational testimonials of transformation. It will highlight the fruitfulness of this immersive discipleship experience and trace its evolution. We will also discuss where Sankofa is today and how it may evolve in the future.  
Dominique Gilliard
SPICES of Many Cultures: Flourishing in Cultural Diversity         
This breakout cultivates curiosity about other cultures and offers tools to help explore other cultures using Crescendo's SPICES (a framework for dimensions of well-being): spiritual, physical, intellectual, community, emotional, and service. Designed for ministry leaders in ethnically evolving neighborhoods seeking to discern how God wants them to grow and serve in their community.
Steven Wong
Surviving or Thriving as Caregivers
This breakout is designed to raise awareness of unpaid family caregiving in your ministry setting, explore the challenges of caregiving, especially for the sandwich generation and varied cultures, and provide practical ways for the church to become part of a support system for caregivers. You will hear stories from colleagues with experience in the caregiving process.
The Post-Church Church
In this season of wildfire years for our culture and the church, we pray that the church may not die but rather repent and live again. This session will bring keen analysis of trends and our cultural moment that points toward a much-needed paradigm shift—a call for the church to be essential in its theology, humble in its practice of power, relational in its focus, and trusting of a supernatural God who is able to abundantly bring forth a postfire superbloom.
Peter Sung
Wholistic Stewardship of Personal Finances for Now and in Retirement
Covenant leaders from various ministry areas will present on practical financial topics you need to know as a pastor, including income tax, personal budgeting, insurance, retirement funding, and estate planning.
Christina Kempe
Monday, January 22
Lunch
Advocates for Covenant Clergy Women (ACCW)
11:15 am – 12:45 pm | Women Only
Calling all clergy sisters who are ordained, licensed, commissioned, or in the process of pursuing credentials; do we have great news for you! ACCW is celebrating its 25th anniversary with an exciting relaunch! Join us for lunch as we share a renewed vision, a new look, and a fresh passion to see every Covenant clergywoman fulfill her calling and flourish in ministry. We have come a long way, but we still have so far to go. Let's eat together, share stories, and encourage one another on the journey. We see you, we hear you, and we are here for you! Cost $15.
Tuesday, January 23      
Breakfast
Crescendo Breakfast
7:30 – 9:00 am
Crescendo, a ministry of Make and Deepen Disciples, seeks to assist leaders in supporting, engaging, and mobilizing the 60+ population to live lives of lasting purpose as disciples of Jesus Christ. The Crescendo team raises awareness of transitions in aging and provides a framework (SPICES) for wholistic growth.  Join us to explore focused areas of resourcing and coaching. Reservation required. Cost $15.
Lunch  
Covenant Chaplains Association (CCA)
11:30 am – 1:30 pm
Covenant Chaplains Association (CCA) will hold our annual meeting on Tuesday at lunch. All Covenant chaplains are welcome to attend. Select CCA as your lunch meeting option when you register. Please bring your own lunch. Beverages will be provided. Contact Ken Morse at cca.chair@gmail.com to register for a virtual option.
Serve Globally Luncheon
11:30 am – 1:30 pm
Join us to learn how Serve Globally is working alongside the global church to empower local communities. We will provide resources and opportunities for 2024 that will equip churches to deepen their missional engagement.
BLESS in Living Color
11:30 am – 1:30 pm
Discover our BLESS in Living Color sermon series, which is five sermon outlines you can tailor to teach and preach about multiethnic evangelism and sharing the gospel across boundaries of difference. Also hear more about other recommended resources designed to help you BLESS in living color, including the BLESS in Living Color 10-day devotional, the Intercultural Development Inventory (IDI), Intercultural Intelligence (ICI) coaching and cohorts, and the Becoming a Beloved Community resource suite. Cost $15.
Church Planters Lunch
11:30 am – 1:30 pm
Calling all church planters and anyone passionate about our kingdom-advancing movement! Join us for a time of fun, connection, celebration, and vision casting. God is doing great things in our movement, and we look forward to the Lord moving with even greater power in the years to come.
Receptions 
ACCW Reception for Men and Women Advocating for Women Clergy
4:00 – 5:00 pm
As we celebrate the growing number of credentialed clergywomen in the Covenant, we recognize that until the culture of our churches matches the ethos of our denomination, we still have work to do. Advocates for Covenant Clergy Women (ACCW) is on a mission to address this reality. All men and women are cordially invited to come to learn how you can be a part of what God is doing through his gifted daughters. We are excited to launch a renewed vision, a new look, and a fresh passion. We need you, God's sons and daughters, working together in ministry. Hope to see you there!
Antiracism Discipleship Pathway (ADP) Gathering
9:00 pm         
This gathering is for participants—past and present—of the Antiracism Discipleship Pathways. This will be a space to commune, dream, and reimagine together. We will share testimonies, prayer requests, and the next steps for the ADP community. Light refreshments provided. Cost $15.
Wednesday, January 24  
Breakfast
Sankofa 25th Anniversary Breakfast
7:30 – 9:00 am
Come celebrate the rich legacy of this Immersive Discipleship Experience. We will reflect on how Sankofa became a foundational pillar of Covenant discipleship and celebrate the fruit it has produced. We'll also spend time dreaming together and looking toward what's next. Keynote Speaker: Sanetta Ponton. Cost $50.
Lunch
Becoming a Spiritual Director Lunch
11:30 am – 1:15 pm
Interested in becoming a spiritual director? Come learn more about our spiritual direction certificate and how it can fit with your life and current ministry. Lunch is provided. RSVP during registration.      
Paul Carlson Partnership (PCP) Luncheon
11:30 am – 1:15 pm
Join the Paul Carlson Partnership team for a special ministry update and hear from one of our long-term Medical Ambassadors. Cost $10.
Ethnic Association Meetings
5:00 – 7:00 pm    
African American Ministers Association (AAMA)
Asociación Latina de la Iglesia del Pacto Evangélico (ALIPE)
Covenant Asian Pastors Association (CAPA)                    
Indigenous Ministers Association (IMA)
Receptions           
ALIPE Reception
8:30 pm
Thursday, January 25                              
Lunch
Association of Covenant Spiritual Directors (ACSD)
11:30 am – 1:30 pm
Bring your own lunch and join us for conversation and information. ASCD members will be available to answer your questions about spiritual direction.   
Author Talk: A Conversation with Dr. Dennis Edwards, Humility Illuminated
11:30 am – 1:30 pm

Join North Park Theological Seminary (NPTS) alumni and friends for a time of fellowship and intimate conversation with Dr. Dennis R. Edwards, dean of NPTS and author of the recently published Humility Illuminated: The Biblical Path Back to Christian Character (IVP Academic). Discover what prompted Dennis to pursue this project and consider how embracing humility can help Christians become more effective in service and witness. Bring your questions. Lunch will be provided. RSVP with registration.
Town and Country Lunch
11:30 am – 1:30 pm
Join us in honor of all pastors serving in town and country settings, recognizing how much your ministry matters to God. Learn about new developments from the Town and Country Commission. RSVP during registration.                
Reception
Dance Party!
8:30 pm
On this last night, end the evening by kicking off your shoes and dancing!
NextGen Conference
Saturday, January 20 – Monday, January 22
The NextGen Conference is designed for all children, youth, and young adult ministry leaders to find connections, develop leadership skills, be inspired, and be empowered to continue investing in the next generation.
Covenant Living Communities & Services Chaplains Meeting
Sunday, January 21, 1:30 pm – Monday, January 22, noon
A meeting of education and inspiration specifically designed to support the work of Covenant Living Communities & Services chaplains and to update them on current initiatives. Registration information will be sent to all Covenant Living chaplains separately. Please contact Cameron Wu-Cardona at CWuCardona@covliving.org with any questions.
Spiritual Directors Retreat
Sunday, January 21, 4 pm – Monday, January 22, 4 pm
The Association of Covenant Spiritual Directors (ACSD) will sponsor a pre-Midwinter retreat for members of the ACSD and for spiritual directors, including those in training, who are interested in exploring membership. Many of our directees in recent years have experienced various types of trauma, and as spiritual directors, we want to respond to their experiences well, with care and skill. With this in mind, the ACSD council has invited Jean Kim-Snyder, LCSW, to lead interactive workshops around the topic of "Trauma-Informed Spiritual Direction." The retreat will be held in the restful setting of the Carmelite Retreat Center, 8419 Bailey Rd, Darien, IL 60561. Accommodations and three meals are provided. We look forward to reconnecting with friends, making new friends, spending time going deeper with God, and growing in our practice as spiritual directors. Please contact acsd@covchurch.org if you have any questions.
Association of Covenant Camps & Conference Centers Annual Meeting
Tuesday, January 23, 9:30 am – 4:30 pm
ACCCC staff and leaders will hear President Tammy Swanson-Draheim's presidential update, followed by the ACCCC annual meeting and professional development. Option to add Monday evening's meal and programming, when registering. Cost is $99.
Midwinter Class Options
Monday, January 22 – Friday, January 26
Students taking Covenant Orientation, Ignite, or Equip cohort courses at the conference do not need to register separately for Midwinter. Follow the links provided for your class registration. If students are attending the NextGen Conference, separate registration is required. Please use the Midwinter registration form.
NPTS/Ignite/Equip Classes:
New Testament 1
Old Testament 1
Christian Education and Formation
Ministry Identity and Practice
Covenant Orientation Classes:
History of the Evangelical Covenant Church
Theology of the Evangelical Covenant Church
Mission and Ministry of the Evangelical Covenant Church (meeting in person Friday afternoon only)
Financial Conversations
Monday, January 22 | 1:30 – 4:30 pm
Tuesday, January 23 | 11:30 am – 1:30 pm
Wednesday & Thursday, January 24 & 25 | 3:45 – 5:45 pm
Come with financial questions, concerns, and goals. Bring any statements or documents pertinent to this confidential conversation with a financial professional from Covenant Trust Company. You will receive tools and new ideas to help you move forward with confidence and a clearer vision for the present and your future.
Q&A with President Swanson-Draheim
An opportunity to meet, ask questions, and greet President Tammy Swanson-Draheim in a small group setting. Sign up when registering.
Meet with Superintendents and Conference Staff
If you would like to make an appointment with a conference superintendent or staff during the Midwinter Conference, please contact them prior to the event.
Meet with Ministerium Leadership
If you would like to make an appointment with an officer from the denominational Ministerium during the Midwinter Conference, please contact them prior to the event at eccministerium@gmail.org. There will be limited times available at a designated location at the hotel to meet.
Spiritual Direction
Tuesday – Thursday
Spiritual direction is a ministry of listening, discernment, and prayer in a confidential setting of encouragement and compassion. Trained spiritual directors are available at Midwinter for a 50-minute session. Capacity is limited, however. Please indicate interest when registering, and you will be contacted with scheduling information at a later date. For details, contact Christina Burrows.