Linda Swanson initially posted this column July 14 on her blog, Journey in Process.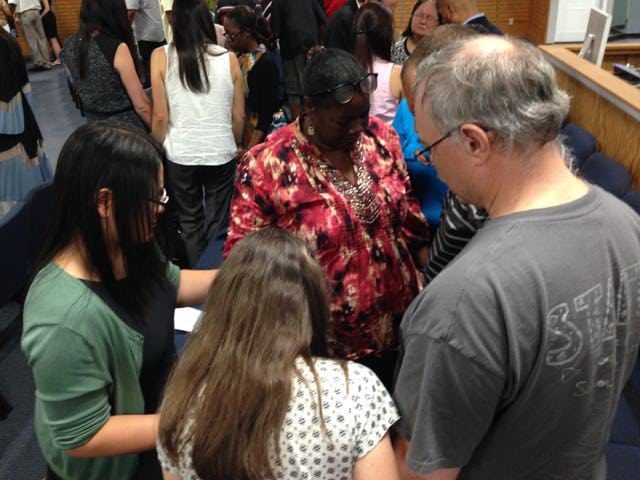 Last night, Kevin and I, and people from our church attended an almost four-hour prayer service  at New York Covenant Church, New Rochelle, New York, with eight other Covenant churches. It was a service of lament, repentance and prayer as we prayed for our nation and government, police and neighborhoods, children and black and brown brothers and sisters, unity and for our churches and our response to the injustice in our land. I especially appreciated that we included prayers about immigration.
Each prayer topic was introduced with a worship song, and then one of the pastors from the nine Covenant Churches read four names of men and women who have been killed by the strife in our country before reading and speaking about a scripture that pertained to their prayer topic. Two of the nine pastors who led us were women and I was thankful to be represented with their voice. After each pastor spoke, we broke into small groups to pray. It was a powerful experience to hold hands and pray with people who have been deeply impacted by the race issue in our nation.
One of the scriptures that was read last night was 2 Chronicles 7:14. If my people, which are called by my name, shall humble themselves, and pray, and seek my face, and turn from their wicked ways; then will I hear from heaven, and will forgive their sin, and will heal their land.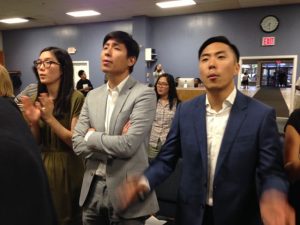 I've been thinking about this verse a lot and have wondered what it means for me to humble myself about our racial injustice.
Admit what I do not know:
For me, I'm learning to admit I don't know what I thought I knew. My whiteness has protected me from the stories my brown and black friends have to live. My whiteness gave me unrecognized privileges that I've just begun to become aware of in the last few years. For many years, I didn't know.
Admit I have a lot to learn:
I'm also learning to ask if people would be willing to tell me their story. Have they ever been afraid because of their color? What have they been afraid of? How have my friends of color been treated? How do they view my world? As people have told their stores to me and I've experienced their emotions as they share, I'm learning and being changed.
Admit I had a part to play:
I grew up in the Pacific Northwest and did not know or see people of color except my first nation friends. The Civil Rights of the 1960s that played out on the nightly news seemed unreal to me- could people in my country really be treated that way? I didn't know if I could trust the news- it seemed so awful. I didn't know what to do.
I've changed a little since those days 50 years ago, but I still struggle to believe racism really happens when I do not experience it for myself. I still struggle to know what to do about it. Those two weaknesses on my part do not let me off the hook- I had a role to play and that role needs to change. My role has often been horrified but passive bystander, bothered citizen who hasn't known what to do. I've let not knowing strip me of the ability to be involved in change.
A few of the pastors reminded us, with grace, that we each come to this painful subject from different social and historical perspectives. The educational and social systems that formed us were not our choice, but that didn't stop them from teaching us our privilege or putting us in a lesser place. As I continue to discover what I do not know and strive to learn and understand, I'm changing how I was formed and my past perspective.
Admit I'm ill and need God's healing:
Last night, we humbled ourselves, prayed, sought God's face and repented. This is an ongoing process for me- maybe for you, too. God hears our prayers and is already answering. He is allowing us to see and experience our sickness. Knowing we are ill is the first step towards healing. Knowing He can heal, teach us and guide us into the life of justice and equality He wants us live motivates me in this humbling journey.
topics: church and race,