VENICE, FL (September 21, 2016) — Luella Mae (Tegge) Hubbling, 88, widow of Covenant minister Harry Hubbling, died Sept. 1, 2016.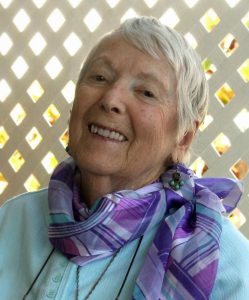 She was born Oct. 17, 1927, near Tacoma, Washington, to Jeanetta and Randolph Tegge.
She met and married Harry H. Hubbling while they were students at Westmont College in Santa Barbara, California. After Harry completed studies at North Park Seminary, the couple served Evangelical Covenant churches in Bangor and Glenburn, Maine, and East Greenwich and West Warwick, Rhode Island.
While they were in Maine, Luella completed her bachelor's degree and earned a master's in education from the University of Maine. She taught in elementary schools for more than 25 years.
Luella described herself, writing, "An adventurous life was enjoyed as mother, grandmother and great-grandmother, teacher, pastor's wife, traveler, listener, naturalist, outdoor enthusiast, quilter, and crossword puzzle solver."
She was preceded in death by her husband in 1996 and grandson Tim Smith Jr. in 2003. She is survived by two daughters, Judith Blanchard of Freeport, Maine, and Helen Smith of DR Congo; and two sons, Harry Hubbling Jr. of Carolina, Rhode Island; and John Hubbling of St. Paul, Minnesota; nine grandchildren and 11 great-grandchildren.
A celebration of her life was held in Venice, Florida, on September 10.