[vc_row][vc_column][vc_column_text]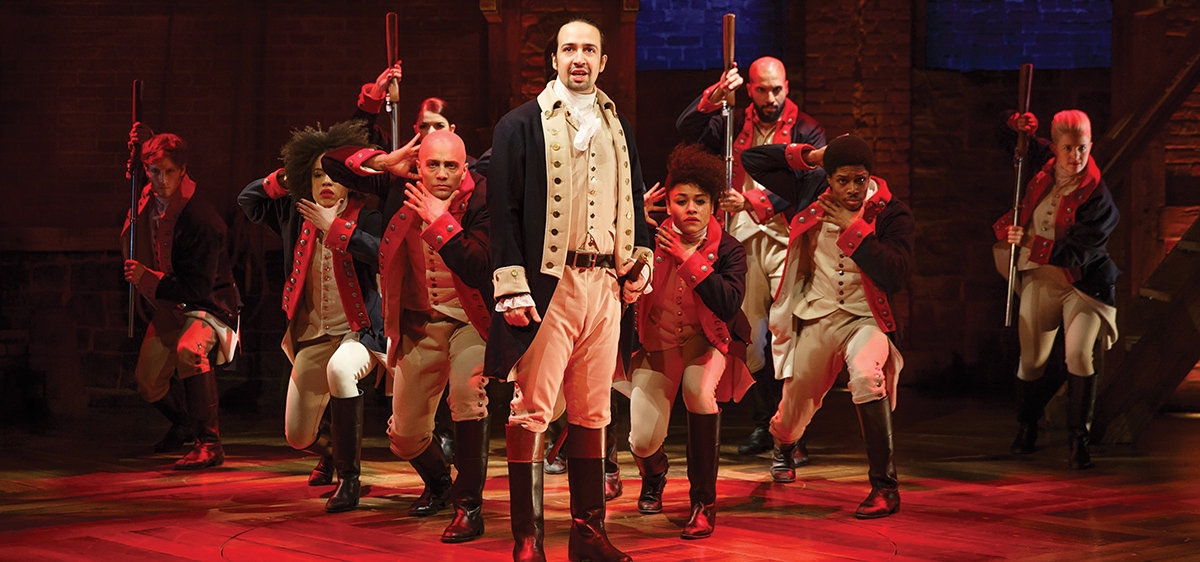 [/vc_column_text][/vc_column][/vc_row][vc_row el_class="hero-header-text"][vc_column][vc_column_text]
Stories that Shaped my Faith
RISE UP!
by Jennifer Gillan | March 14, 2017
[/vc_column_text][/vc_column][/vc_row][vc_row][vc_column][vc_column_text]Pictured above: Lin-Manuel Miranda and the cast of Hamilton[/vc_column_text][vc_column_text]
Hamilton: An American Musical hit the Broadway stage in August of 2015. The musical tells the unlikely story of the United States' inception through the unlikely life of the first Treasury secretary, Alexander Hamilton. It has drawn massive crowds to the Richard Rodgers Theatre, including high-profile celebrities, politicians and, thanks to the Rockefeller Foundation, middle-school students from public schools in New York City.
Last summer Hamilton earned an impressive sixteen Tony nominations and won eleven awards, including best musical. It continues to be the hottest ticket on Broadway and now in Chicago where it is also playing. It continues to accrue devoted fans who have not even seen the musical but who have listened to the cast album.
The person behind all of this is Lin-Manuel Miranda —a born and raised New Yorker and son of Puerto Rican immigrants.
I first came across Hamilton in the fall of 2015. The songs instantly hooked me. They were fun, catchy, and sounded like they could be rapped or sung by artists like Common or Destiny's Child. In the lyrics, I heard an amazing story that made me laugh, cry, and reflect. It also challenged and inspired me. I became somewhat obsessed with learning more about the musical.
As my husband and I were kicking around the idea of taking a trip to New York City last spring, it dawned on both of us that it could be our chance to see what our ears had been feasting on as we listened to the soundtrack. So we bought tickets to see our first ever Broadway musical. The experience was unlike any other, and only added to our deep love and appreciation for this stunning work of art.
Some of the themes that grabbed me as I watched the story unfold live were based on lyrics such as these: "I am not throwing away my shot," "Look around, look around at how lucky we are to be alive right now," and "Death doesn't discriminate between the sinners and the saints." The words spoke to me of an honest assessment that tomorrow is not guaranteed for any of us. It reminded me of the psalmist's words, "So teach us to count our days that we may gain a wise heart" (90:12). With the show's dramatic finale, I was left grappling with the sobering realization that the brilliant yet flawed Hamilton accomplished more in his short forty-plus years than many of us ever will.
"Where does that leave me?" I asked myself at the end. What am I doing with my "one wild and precious life," to quote the poet Mary Oliver.
In response, I think of these two powerful, little words: Rise up!
In "My Shot," one character sings, "When you're living on your knees, you rise up. Tell your brother that he's gotta rise up. Tell your sister that she's gotta rise up." In the context of the American Revolution, "rise up" is a call—even a war cry—to not surrender to despair, defeat, or disillusionment. Today "rise up" is a reminder that our country was founded on a victory that occurred against all odds, and that our nation's progress in areas such as civil and voting rights has taken place because ordinary people chose to rise up in protest and hope.
"Rise up" is a call—even a war cry—to not surrender to despair, defeat, or disillusionment.
"Rise up" makes me recall the summons we hear during Epiphany to "Arise, shine; for your light has come," which we also hear during Easter, yet a little differently in the astonishing light of Christ's resurrection. I'm reminded of Jesus's bold resurrection instructions to the paralyzed man lowered down to him, to the little girl on the brink of death, and to Lazarus four days dead in the tomb—to "get up," "come out," or, in essence, to rise up.
When we were in New York I had the incredible privilege of meeting James Cone, theologian, professor, and founder of black liberation theology. We ended our conversation by sharing the impact of what it was like to see Hamilton as persons of color. Both of us admitted that it nearly took our breath away to witness extraordinary actors of various ethnic backgrounds playing the lead characters of Alexander Hamilton, Angelica Schuyler, Aaron Burr, George Washington, and Thomas Jefferson. Even in its casting, the show allowed us to reclaim the American story—in all of its triumphs and major blunders—as our story as well.
From the beginning, immigrants like Alexander Hamilton have been the backbone of this country. They have brought their hopes and talents to build a better life for themselves and for this country. And in so doing, they absolutely "get the job done." Immigrants, such as Miranda's parents and my own, found themselves working twice as hard in order to learn a new language and culture, on top of struggling against any forces that would want to turn them away or delegitimize them. Their story echoes that of Abraham and Sarah in the book of Genesis—immigrants whom God took care of and protected, and instructed his future people to do the same for others like them.
In our country's current context, when we have been flooded with negative and insulting messages toward vulnerable groups, including immigrants and people of color, Hamilton's counter-messages have reverberated in my heart and stirred my faith's imagination. Those on the margins matter a great deal. In fact, we must lift up and celebrate the diverse faces and voices that are a reflection of God's beautiful and inclusive kingdom. And, further still, there is room for all of us, not only on the theater stage but ultimately at God's table.
[/vc_column_text][/vc_column][/vc_row]