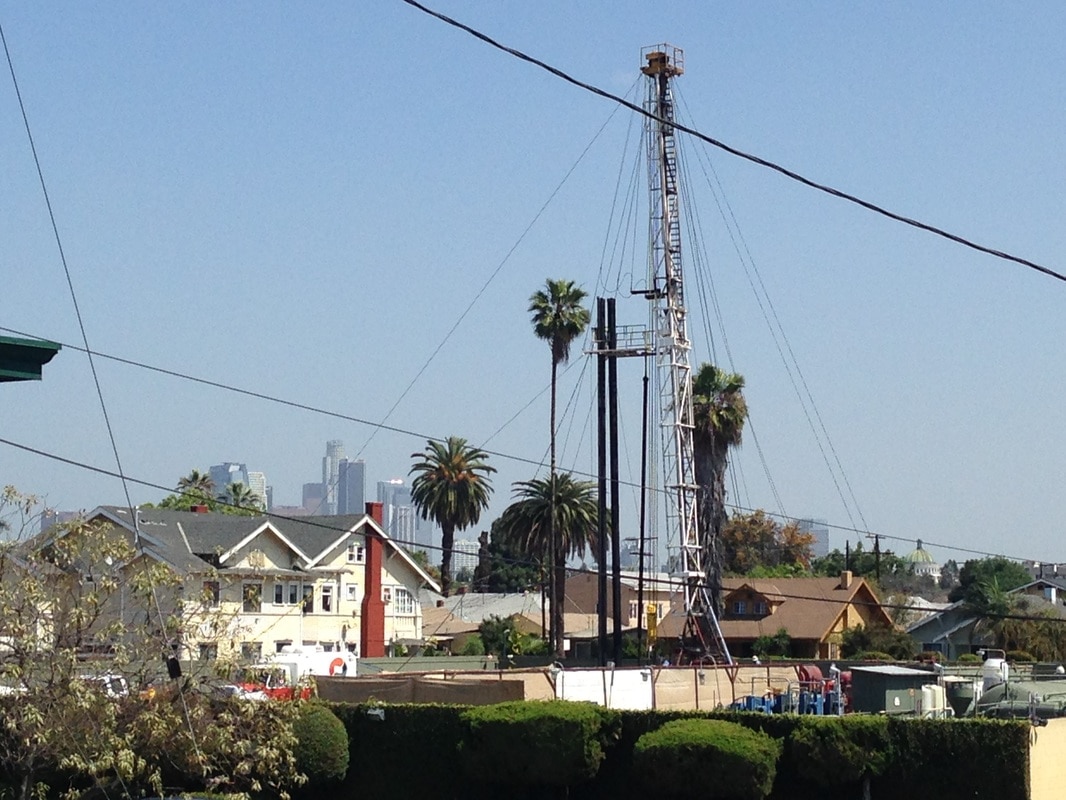 LOS ANGELES, CA (May 5, 2017) – Redeemer Community Partnership, a nonprofit Christian community development organization that works closely with Church of the Redeemer and other congregations  has been helping lead a four-year fight against an oil and gas drilling operation they say releases toxic chemicals into the air and endangers the health of residents in their low-income South Los Angeles neighborhood.
"The ambient fumes are so intense that plants nearby have been burned," says RCP president Richard Parks. "If this is doing this to the plants, we know what they are doing to the children and others who live here. There is a reckless disregard for the residents."
The open-air operation sits in the middle of the Jefferson neighborhood, which is predominantly black and Hispanic. According to the nonprofit Community Health Councils (CHC) it is located closer to homes and other "sensitive sites" than any other drilling operation in the city.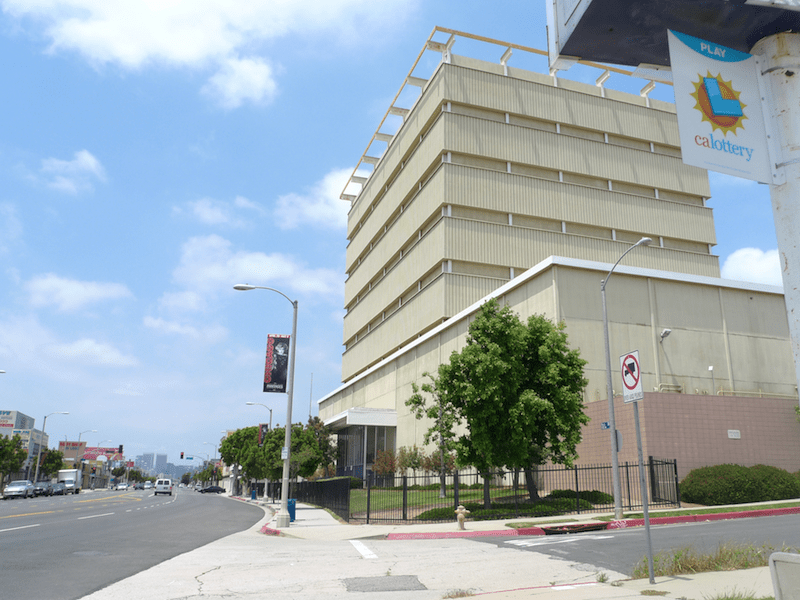 Such operations are not unusual in the city. According to a report by the nonprofit Community Health Councils, Los Angeles has "5,000 active oil and gas wells spread across approximately 70 different sites embedded in neighborhoods, parks, and commercial districts."
An activist group that RCP helped start, Stand Together Against Neighborhood Drilling in Los Angeles (STAND-LA), says 580,000 Los Angeles residents live less than a quarter mile from an active oil well.
The report also stated that wells in the "wealthier, whiter neighborhoods" are required to be located farther from residences and to be partially or completely covered due to health hazards. Structures surrounding those rigs, which can reach several stories high, often resemble office buildings when seen from the outside so they are not eyesores. The structures also muffle noise and regulate possibly toxic emissions. Many also are required to be powered by electricity rather than diesel fuel. Most wells located in lower-income neighborhoods have not been subjected to the same restrictions.
Parks  says the unwillingness of company and city officials to address the disparity has been due to "environmental racism." Parks says that when he met with the vice president of the oil company, Freeport McMoRan Oil and Gas, the man says, "Let's be honest here, we're not talking about the Ritz Carlton at Laguna Niguel, are we?"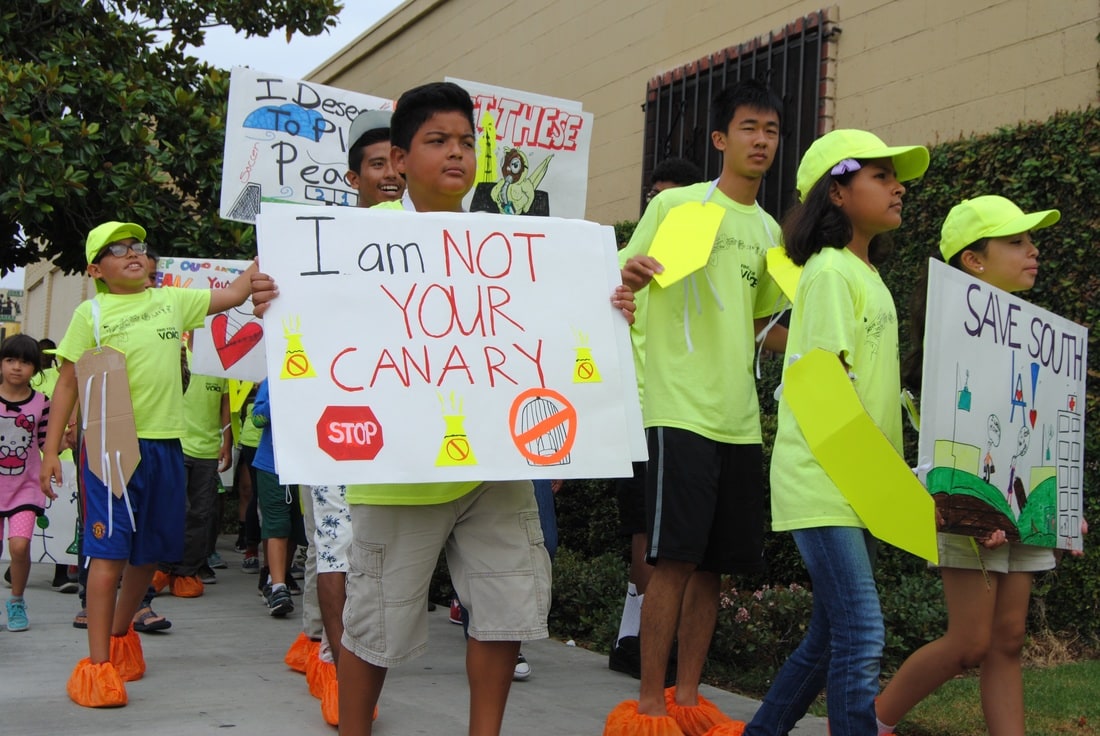 In 2013, RCP began to mobilize the neighborhood that had once felt resigned to enduring the noise, fumes, and chemicals in the air, Parks says. People of all ages have participated in protests and advocated for themselves.
In 2015, more than 100 children who attend a local church or participate in the RCP afterschool tutoring program marched to protest the presence of the rig site. They dressed in yellow and carried signs, including some that read, "We are not your canaries" and "Don't treat us like canaries in a coal mine." They also held signs stating how close they live to the site.
Parks says that involving the children and other young people is part of teaching discipleship. "We want kids to know that God wants justice, we want them to know they can be change advocates," Parks says. "We want them to know, "What does it mean to pray that the Lord will throw this mountain into the ocean."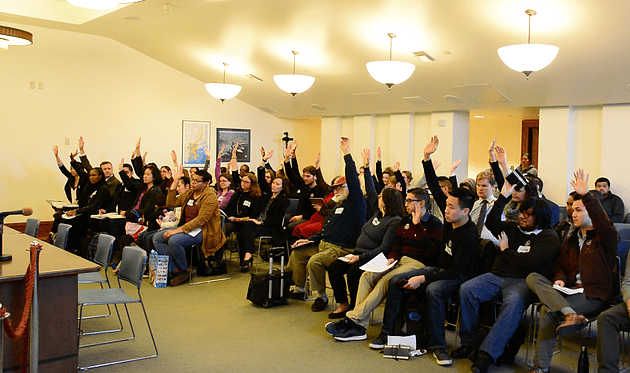 They are beginning to see progress. In June 2016, RCP filed an unprecedented nuisance abatement petition on the Jefferson Drill Site, says Niki Wong, the nonprofit's lead organizer. "The Nuisance Abatement Program is a process by which the City of LA identifies nuisance and problematic businesses. They impose stronger conditions on their permits, and if the business remains in violation, the city can revoke their permit. It has never been done on an oil extraction facility."
But in response to the petition, the City Zoning Administration held a public hearing this past January, and neighborhood residents packed the room. "It was a very powerful experience. So many community members, many who were Church of Redeemer members, came to the hearing and gave moving and compelling testimony," Wong says.
That meeting and years of community organizing by STAND-LA prompted the City Council last month to approve a motion to study the feasibility of establishing a setback ordinance that would prohibit oil and gas activity near homes, schools, churches, and healthcare facilities.
That report needs to be filed within 120 days.