CHICAGO, IL (January 30, 2018) – John Wenrich has been nominated to stand for election as president of the Evangelical Covenant Church when delegates gather for the 133rd Annual Meeting in June.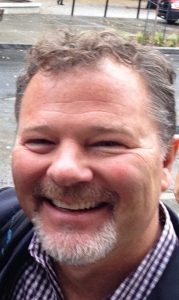 Wenrich, 56, is executive minister of the Start and Strengthen Churches mission priority, a position he has held since 2016. He informed members of his staff of the committee's decision on Monday.
"I'm humbled and grateful for this call," said Wenrich. "Through the Holy Spirit, I look forward to growing as a leader, staying close to Jesus and leading our denomination through this period of transition. I'm hopeful that together we can continue to advance God's mission through the ministry of the ECC."
Wenrich's selection follows a thorough process that began when the 27-member Presidential Nominating Committee (PNC) held its organizational meeting last October. The committee was formed after President Gary Walter informed the Executive Board of his plan to retire at the end of the summer.
"An open invitation to Covenanters across the continent provided over a hundred comments and sixty candidates for the committee to review," said PNC chair Mary Miller. "In early January the committee agreed to a set of qualities to seek and issues to discuss in the interviewing process, and seven people from across race, gender and geography were invited to interview with the committee."
The committee recently conducted personal interviews. Those to be interviewed were asked to prepare written statements, provide examples of their writing ability, and provide audio examples of their preaching. Committee members prepared a number of questions in advance, with written responses requested from the candidates.
There was an affirmation of his call as the nominee, said Miller. "John's identity in Christ was a passion noted from the interview. His strong communication skills are needed for leadership, and his comfortable engagement with strategic systems will serve the complexity of the denomination's ministries."
Miller added: "John seeks to be a person who is a lifelong learner, personally and professionally. The committee agreed that this would be an important value for our next president, especially as the Covenant continues to press forward in areas of diversity and racial reconciliation."
The Constitution and Bylaws calls for the nominating committee to recommend one candidate to stand for election at an Annual Meeting, which this year will take place June 21-23 in Minneapolis, Minnesota. Additional nominations can come from the floor.
Prior to his election as executive minister in 2016, Wenrich served as the ECC's director for congregational vitality for 10 years. He also has served as a church planter, a revitalization pastor, and has been instrumental in developing a congregational vitality certificate at North Park Theological Seminary.  The global impact of these vitality resources continues to bring awakening and hope to partner denominations throughout the world.
Wenrich has a bachelor's degree in communications from Villanova University, an MDiv degree from Denver Seminary, and a doctor of ministry degree from Fuller Seminary. Before joining Covenant Offices, Wenrich pastored churches in Denver, Colorado; Portland, Oregon; and in the Middle East.
Wenrich and his wife, Julie, have been married for 31 years and live in Hoffman Estates, Illinois. They are members of HOPE Covenant Church in Crystal Lake. They have three sons, a daughter in-law, and their first grandchild on the way. The couple's children all reside in Portland.
More information on the nominee, his background and passion for ministry, will be published in the near future. Read this earlier article to learn more about the nominating committee and the selection process.