RED OAK, IA (February 12, 2018) – Services for Marian (Swanson) Carlson, wife of retired Covenant minister David E. Carlson, were held Friday, February 10. She died Monday, February 5.
Marian, 86, was born on April 30, 1931, in Red Oak. She married David on July 20, 1950.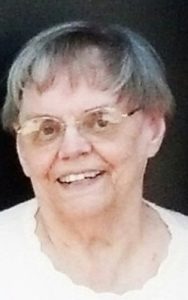 The couple served Covenant churches in Randolph and Marquette, Kansas; Northport, Michigan; Mason City, Iowa; Haxtun, Colorado; Oakland, Nebraska; and Edmonton, Alberta, Canada; and Siren, Wisconsin. Marian worked in many of the communities as a nurse's aide in care centers. After David retired in 1990, the couple moved back to Red Oak, and Marian worked several more years at Vista Gardens Care Center and Red Oak Healthcare Community.
Marian is survived by her husband and two sons, David (Marie) Carlson of Centennial, Colorado, and Daniel (Linda) Carlson of Overland Park, Kansas; and daughters Diane (Kevin) Anderson of Arlington, Texas, and Denise (Gary) Skramstad of Tega Cay, South Carolina; daughter-in-law Karen Carlson of Glenview, Illinois; 12 grandchildren, and 8 great-grandchildren. Marian was preceded in death by her parents and son, Steve Carlson.
A graveside service was held at 11 a.m. Saturday, February 10, at Evergreen Cemetery in Red Oak. A celebration of life service was held at 2 p.m. at First Covenant Church.
Memorial contributions should go to First Covenant Church or Christ Cupboard Food Pantry.