CHANDLER, AZ (March 16, 2018) – J. Paul Thompson, pastor of Hope Covenant Church in Chandler, Arizona, died Wednesday, March 14, of cancer. He was 52.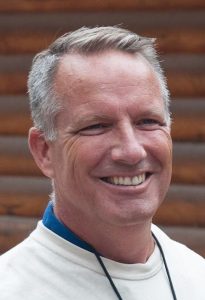 Paul was born April 5, 1965, in Toronto, Ontario. He graduated with a Bachelor of Arts from Wheaton College, and a Master of Divinity from Princeton Theological Seminary. He also attended the Institute for Holy Land Studies in Jerusalem.
He married Mary Beth Zimmer on August 19, 1988. She survives.
Paul was serving Hope Covenant Church in Chandler at the time of his death. He previously served Northwest Covenant Church in Mt. Prospect, Illinois; Cranford Alliance Church in Cranford, New Jersey; and Princeton Alliance Church in Princeton, New Jersey.
"Paul Thompson became a fast friend when he landed in Arizona and was always so encouraging, had an ever-present bright smile on his face, and loved getting to know his new church family, conference and the golf courses of the Sonoran Desert," said Pat Stark, associate superintendent of the Pacific Southwest Conference.  "We will miss him dearly."
In addition to Mary, Paul is survived by two daughters, Katherine Thompson and Tori Lio; and a son, J. Bradley Thompson, and his mother, Anne Thompson.
Services will be at 3 p.m. Sunday at Hope Covenant Church. Condolences can be sent to Mary Thompson at 2071 East Azalea Drive, Chandler AZ 85286. Memorials to Hope Covenant Church, 1770 S. Dobson Road, Chandler, AZ 85286
A memorial service will be conducted at Northwest Covenant Church, but no date has been set.