INVER GROVE HEIGHTS, MN (March 29, 2018) – LaVerne (Wall) Madvig, wife of Covenant minister Donald H. Madvig, died Sunday, March 18.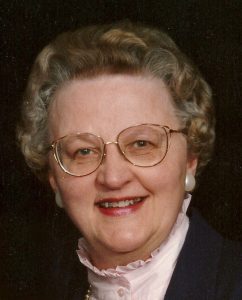 LaVerne, 88, was born December 5, 1929, in Minneapolis, to Carl Ragnar Wall and Julia Wall. She married Don on June 14, 1949.
She used her musical gifts as a pianist and organist at the many Baptist General Conference, North American Baptist, and Evangelical Covenant churches the couple served, as well as in the communities. Covenant congregations they served included the Evangelical Covenant Church in Springfield, Massachusetts, as well as Ravenswood Covenant Church and Beverly Covenant Church in Chicago. Don also taught Biblical Studies at North Park Theological Seminary.
She was preceded in death by a son, Bruce Madvig; two granddaughters, and a great-grandson.
Survivors include her husband; four sons, Daniel (Yvonne), Paul (Christine), Brian (Margaret), and John (Evelyn); a daughter, Karen (Roger) Wahlstrom; a daughter-in-law, Darlene (Donald) Madvig Ostrom; 11 grandchildren; and 12 great-grandchildren.
A memorial service for LaVerne will be held at 1:00 p.m. on Saturday, April 7, at First Covenant Church, 1280 Arcade Street, St. Paul, Minnesota. Visitation will be at noon.