KNOXVILLE, TN (July 19, 2018)—On Wednesday afternoon 31 up-and-coming student leaders at CHIC joined ECC president-elect John Wenrich for a mini leadership summit.
"My call into leadership began when I was 16," Wenrich told them. He described his own experience of being invited as a junior in high school to lead other students at his church. As he grew older, that call was affirmed and re-affirmed.
But that first call came when he was the same age as many students here at CHIC. "This is a landmark moment in your journeys," he told them.
Ruby Varghese also shared her story of being called into leadership—initially in settings that didn't support women in ministry. "I thought women could be missionaries and Sunday school teachers. I kept seeing doors close for other opportunities," she said.
Now, however, she is serves as assistant pastor of youth and college ministries at Quest Church in Seattle.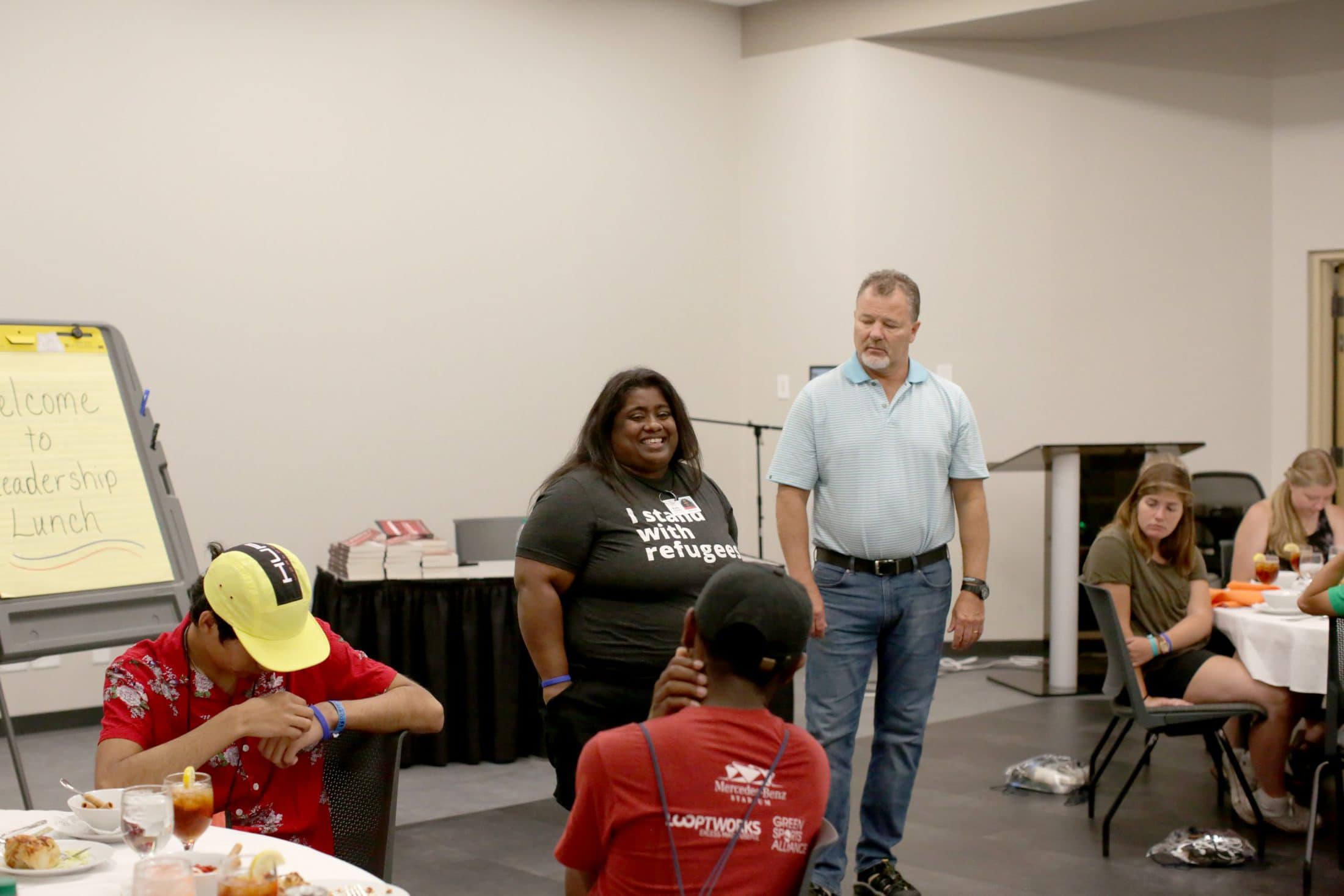 Wenrich took a few minutes to talk about definitions and traits of leadership, then outlined six action steps—ways students can lean into their calling as leaders as soon as they go home.
Sharing their own takeaways around tables, one student said, "I need to ask more questions—and be more involved with what my calling might be."
Another said, "I didn't know that women could be in ministry."
And Troian Stroot, from Roseau ( Minnesota) Covenant Church had a transformative moment. "I knew God was calling me into ministry before this week," she said. But she had been resisting. "I kept avoiding it," she said.
Then the speaker on Monday night asked, "What are you running from?" And Stroot knew. At that moment she saw the word "speaker" in her head, and she knew what God wanted her to do.
"But what could I do about it now?" she asked. "I have another year of high school—I can't do much yet. And then I came to this lunch. And it had action steps. God spoke to me here—this is just what I needed."
The action steps Wenrich shared were:
Dive in to the Word and Spirit.
Train in a discipleship relationship.
Lead something.
Read The Making of a Leader, by Robert Clinton.
Check out the Crux program at North Park University.
Pray this prayer: "I'll go where you want me to go, say what you want me to say, do what you want me to do, with whoever you want me to be with. Amen."
Explaining why he took the time to connect with young leaders, Wenrich said, "Conscious dependence on the Holy Spirit is so important to me. I felt led by the Spirit to call high school students who are exceptional servant leaders, through the communal discernment of youth leaders, to encourage God's work in their life and give them a vision for full-time or bivocational ministry."
He added, "I have a passion for leadership development. Why not start in high school? This was an opportunity for me to give back."