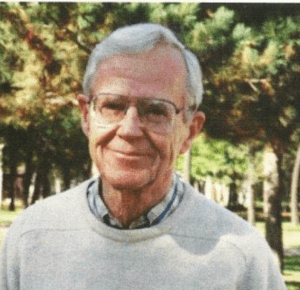 MINNETONKA, MN (July 25, 2018) — Don Lundquist, retired missionary to the Democratic Republic of the Congo, died Wednesday, July 17, at the age of 93.
Don was born in Minneapolis, Minnesota on August 5, 1924, to Axel and Hazel (Carlson) Lundquist.
He earned a Bachelor of Arts degree from the University of Minnesota; a Master of Divinity and a Master of Theology from Princeton Theological Seminary; and also studied at North Park Theological Seminary and Fuller Theological Seminary.
During WWII he served with distinction as a combat rifleman, earning a Purple Heart and Bronze Star.
He married Joy Moberg on January 28, 1956.
Don served as pastor of Mission Covenant Church in Cook, Minnesota, before becoming a missionary to Belgian Congo (now the Democratic Republic of the Congo) in 1956. In 1964, the couple fled with less than a day's notice as rebel forces swept through the country. They returned in 1967.
They served there until 1974. During that time the couple did evangelism in the villages around Karawa and taught at the Gbado Bible School as well as the Bible Institute in Goyongo.
Upon returning to the United States, Don served as pastor at Fridley (Minnesota) Covenant Church until 1984, when he and Joy returned to Congo to continue missionary service.
They taught at the Bible Institute and the newly added higher-level Superior Institute. During their final two years there, the couple served in Bumba, where Don worked on translating a Bible dictionary into Lingala.
The couple retired in 1990. Two years later, Don was hired to serve as the half-time pastor to senior adults at his home church, First Covenant Church in Minneapolis. He retired from that position at the age of 85.
Don is preceded in death by his wife, Joy, and sister Marjorie (Joseph) Herner. Survivors include two sons, John Lundquist and Paul (Ako) Lundquist; two daughters, Elizabeth (Mike) Milovich and Marnie (Mark) Gaasedelen; and five grandchildren.
A memorial service is planned for 10:30 a.m. on August 1 at Excelsior (Minnesota) Covenant Church.
Memorials may be sent to Excelsior Covenant Church or to the Evangelical Covenant Church's Congo Pastors' fund.