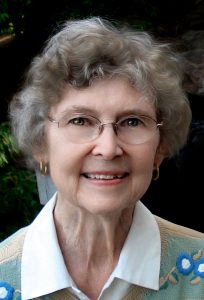 GOLDEN VALLEY, MN (September 6, 2018) – Gunvor 'Gunnie' (Holmquist) Sparrman, widow of retired Covenant minister Paul Sparrman, died Thursday, August 30, at the age of 85.
She was born on May 24, 1933, in Attleboro, Massachusetts, to Axel and Hulda Holmquist.
Gunnie earned an associate's degree from North Park College and earned her R.N. at Swedish Covenant Hospital.
She married Paul Sparrman on September 7, 1957, in Attleboro, Massachusetts. He died this past April.
They served Bethlehem Covenant Church in Norwalk, Connecticut; Covenant Congregational Church in Quincy, Massachusetts; Church of the Redeemer in Bowie, Maryland; First Covenant Church in Denver, Colorado; and Salem Covenant Church in Worcester, Massachusetts. Paul served interim pastorates at Zion Covenant Church in Jamestown, New York, and Trinity Covenant Church in Lexington, Massachusetts.
Survivors include two sons, Eric (Bonnie) and Jon (Randi); a daughter, Lisa Tenglin (James); and eight grandchildren.
A memorial service will be held at Excelsior (Minnesota) Covenant Church at 11 a.m. on Saturday, September 22.
Memorials may be sent to Serve Globally, Evangelical Covenant Church, 8303 W. Higgins, Chicago IL 60631.