SILVERDALE, PA (November 1, 2018) – Ordained Covenant minister Geoffrey Twigg, 64, died Saturday, October 27, after suffering a heart attack. He was serving as senior pastor of Silverdale Church, a Brethren in Christ congregation in Silverdale, Pennsylvania.
He was born August 24, 1954, in Warwickshire, England. While studying composition at Trinity College of Music in London, he met Vicki Hayward. They were married in 1981.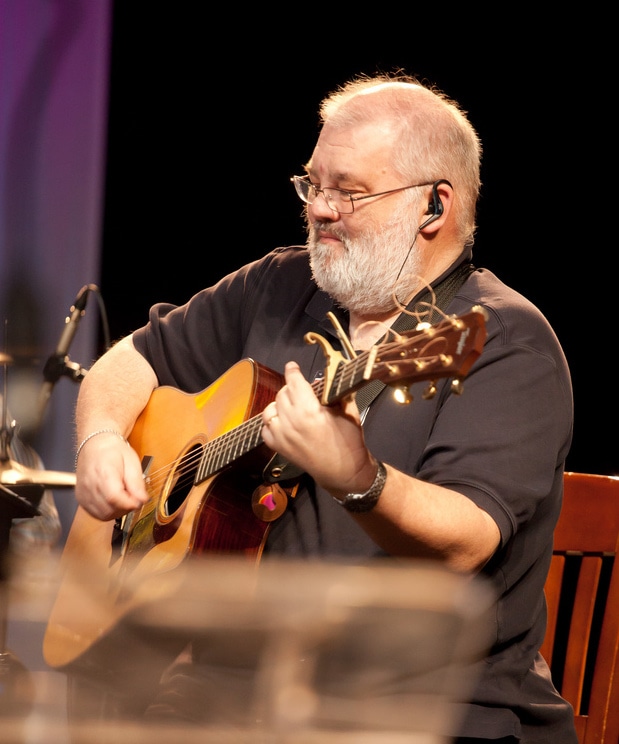 Geoff was founding editor of Guitarist magazine, consultant at Music Maker Publications, served as music advisor to the Bishop of Ely, England, and was a freelance musician and worship leader in the UK. He also trained under and worked for renowned British composer John Tavener.
Geoff moved to the US in 1994 to work as director of worship ministries at West Shore Evangelical Free Church in Mechanicsburg, Pennsylvania.
He also was an adjunct professor at Messiah College, where he taught music ministry and composition. In 2008 he became pastor of worship and music at Bethany Covenant Church in Bedford, New Hampshire.
In 2011 Geoff and Vicki moved to Chicago, where he worked in several part-time ministry positions—at Hope Covenant Church in Crystal Lake, Trinity Covenant Church in Oak Lawn, teaching worship at North Park Theological Seminary, and as worship arts projects coordinator in the Covenant Department of Christian Formation.
He was often part of the music ministry team at Midwinter Conferences and Covenant Annual Meetings.
"Geoff's legacy in the Covenant is that of a warm colleague and friend who gave us the wonderful gift of thinking deeply about the theology and practice of worship for the church," said Donn Engebretson, ECC director of Global Advancement. "Geoff's leadership at Midwinter brought us a breadth and depth of worship that was a wonderful gift."
Doreen Olson, retired executive minister of Make and Deepen Disciples (formerly Department of Christian Formation), said, "His understanding of and appreciation for Covenant life and thought meant that he consistently reflected our most fundamental values through worship. But what I most remember is his joy. The joy of the Lord was truly his strength."
Geoff studied at North Park Theological Seminary and was ordained to word and service in 2014. He served as pastor of worship and adult ministries at Elizabethtown (Pennsylvania) Brethren in Christ Church for two years, before taking the pastorate in Silverdale in 2016.
He is survived by his wife, Vicki; a daughter, Catherine Twigg (Chris Gillespie); two sons, Stephen (Jo) and Peter (Becca). He was preceded in death by an infant son, Andrew.
Services will be held at 1 p.m. Saturday, November 10 at Souderton (Pennsylvania) Brethren in Christ Church.
In lieu of flowers, memorials are suggested for:
Hebrew Immigration Aid Society (HIAS)