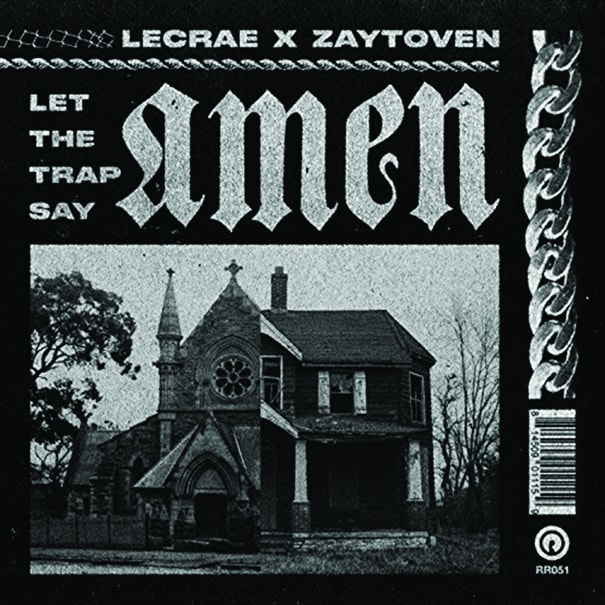 Let the Trap Say Amen
Lecrae and Zaytoven
Reach Records, 13 songs
Reviewed by Zachary Lee | December 28, 2018
Before I started undergrad at Cornell University, I attended a pre-retreat and heard one of the speakers, Karl Johnson, quote from Augustine, stating, "Just as the Israelites departing Egypt plundered the Egyptians, taking their gold and later melting it down to make the Ark of the Covenant, so too Christians can and should borrow from the best that has been thought and said in pagan society….we are thus free to be benevolent pirates, choosing carefully what to borrow and steal from secular scholars." Johnson's final words, though humorous, were likewise triumphant: "Be a pirate!" He did not condone Cornell's unhealthily competitive campus culture but challenged us to view our education through the gospel lens and engage it thoughtfully.
In that spirit, gospel rapper Lecrae may have to add "pirate" to his list of titles. His latest project, Let the Trap Say Amen, cleverly "steals" the sounds of trap music. Trap is a genre where how you say something is more important than what you say, and what is said is hardly worth celebrating—misogyny, substance abuse, and violence are all glorified through this medium. Yet trap music originally came from under-resourced and marginalized communities. In areas where crime and poverty are rampant, sex, drugs, and money are viewed as the holy trinity that will provide meaning and satisfaction. The music is born out of a frustration with daily life, and beneath the explicit lyrics lies a story of a community that is aching for others to understand and empathize with their narrative.
With Let the Trap Say Amen, Lecrae recruits legendary Atlanta producer Zaytoven to aid him in this project as he provides his own clever spin on the genre. Rather than focusing solely on the "what" he focuses on the "why." On the track "Blue Strips" he asks why individuals resort to selling drugs or stripping in order to sustain their livelihood. Lecrae does not glorify such actions nor does he condemn them; he simply seeks to understand their viewpoint and story—and remind them that there is "another way."
On "2 Sides of the Game" he and rapper Waca Flocka Flame, over a bombastic instrumental, talk about the glorification of selling drugs in rap music, yet the reality of hidden, darker consequences is sobering. "They'll have you sitting in the box with family you can't see 'em / 'Cause they ain't tell you 'bout informants and indictments / They just make it look enticing showing big racks and diamonds."
Throughout, the gospel message shines through. On "Yet" Lecrae says his mission on earth is not done and that he is committed to following the great commission. On "Preach" he states, "I got the Lord with me / Walk through the valley of death / Predators on every side / I'm in war with the flesh." In Lecrae's lyrics, fighting back against culture is difficult, yet he can do so only with God on his side. In this genre whose lyrics usually brag of being self-made and individualistic, humility and dependence are a welcome change.
Let the Trap Say Amen is relevant yet also prophetic. It is deeply grounded in the sounds and struggles of contemporary culture, yet the words urge listeners to seek a hope beyond one's present circumstances. The album never feels disconnected from real life, yet thankfully, rather than simply reflecting it, Lecrae's raps challenge his audience to look at life with more sanguine eyes. In addition to hearing a great-sounding project, listeners may realize that the trap says more than "Aye," as Lecrae wrote in an op-ed piece for DJBooth last spring. It says "amen" too.