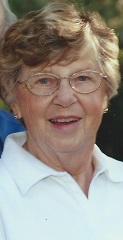 October 23, 2020 – Marie (Nelson) Shattuck, widow of Covenant pastor Eugene Shattuck, died October 4. She was 95.
Marie was born September 22, 1925, in Seattle, Washington, to Gustav and Elim Nelson. She attended the University of Washington in Seattle.
She married Eugene on July 25, 1946.
They served Evangelical Covenant Church congregations in New London and Washington, Connecticut; Brooklyn, New York; Minneapolis, Minnesota; Lincoln, Nebraska; and Flossmoor, Illinois.
Marie's greatest joy was her family.
Survivors include children Cathy Shattuck, Carolyn (John) Espenschade, and Nancy Shattuck.
A graveside service was held October 9 at the Bethlehem Covenant Church Cemetery in Waverly, Nebraska. In his retirement, Eugene preached occasionally at the rural congregation.
Memorials may be sent to the Parkinson's Foundation.