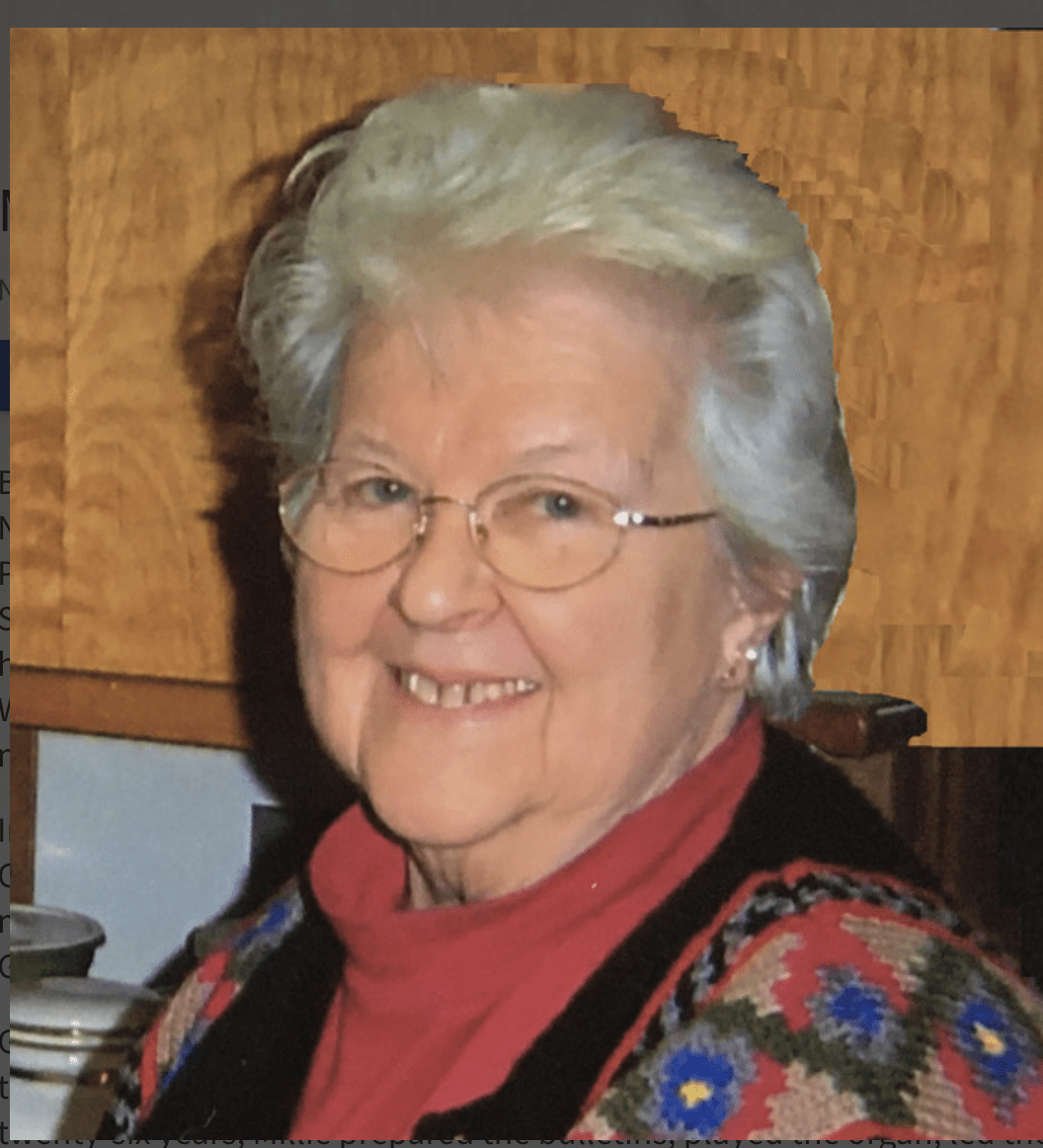 Mildred V. (Helgerson) Olson, widow of Covenant minister Donald Olson, died Sunday, November 1. She was 91.
She was born May 4, 1929, in Providence, Rhode Island, to A. Gilbert and Eva Helgerson.
She married Donald on June 24, 1961. They served Covenant churches in Woodstock and Stamford, Connecticut, before moving to Maine to serve Covenant churches in Bangor and then in  Glenburn, where they served for 26 years. After retirement, they loved visiting many small churches in Maine, where Donald did pulpit supply through the nondenominational organization Inter-Church Ministries.
Millie enjoyed working as Glenburn Deputy Town Clerk for five years, followed by a long and fulfilling career as an administrative assistant to the television producers at Maine Public Broadcasting Network in Bangor. She served as the president of the Glenburn PTA, worked to form the community library, and helped to establish Sunny Gables senior housing in Glenburn.
For more than 40 years, the family enjoyed camping at West Lake in Hancock County, Maine, where Millie served as treasurer of the camp owners association for many of those years.
Donald died in 2012. Millie is survived by their four children, Daniel (Megan) Olson, Sarah (Jon) Ramgren, Rebecca (Jack) Dowling, and Andrew (Karen) Olson.
Due to Covid-19 restrictions, the family will hold a private graveside service at the New Sweden Cemetery in New Sweden, Maine.
Memorials may be sent to the Evangelical Covenant Church at 8303 West Higgins Road, Chicago, IL 60631, noting "Mildred Olson – Mission & Ministry fund" on the memo line.
Online gifts may designate "Mildred Olson" here. Cards of condolence to the family may be sent to Rebecca (Olson) Dowling, PO Box 76, Hampden, ME 04444.