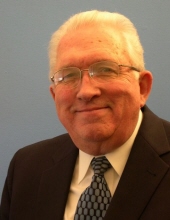 Retired Evangelical Covenant Church minister David L. Larsen died March 19. He was 89.
David was born April 16, 1931, in Minneapolis, Minnesota. He attended Bethel College, earned a master's degree in psychology from Stanford University, and a master's of divinity from Fuller Seminary.
He married Jean Johnson on May 31, 1957.
David served Covenant churches in Minnesota, California, and Illinois for 32 years. He subsequently served as professor and chair of the practical theology department at Trinity Evangelical Divinity School from 1981 to 1996. He was named professor emeritus of preaching at the school, where he continued to work with doctor of ministry students until 2014. He authored 20 books, primarily on preaching and pastoral work.
He was a voracious reader with a photographic memory, also known for his skills as a preacher and orator. Two of his greatest passions were preaching and teaching others to preach. He also loved serving the local church as well as the academic world.
In addition to being a pastor and academic, David also was an evangelist, frequently asked to speak at conferences. He loved to speak on Bible prophecy.
He is survived by his wife, Jean; three children, Lorrie Strauss, Tom Larsen (Tammy), Dan Larsen (Rose); six grandchildren and two great-grandchildren; as well as his brother, Paul, and sister, Mary.
A private service will be held on April 16. Memorial gifts may be directed to the local charity of choice.