Nancy Karlson received the 2020 T.W. Anderson Award at the 135th Annual Meeting of the Evangelical Covenant Church today for her volunteer service in leading Covenant congregations, including her pivotal role in starting Monadnock Covenant Church in Keene, New Hampshire.
The award has been presented at each Annual Meeting since 1985 to laypersons in recognition of outstanding service to their church, community, profession, and the broader world. It is named in honor of the only layperson to be elected president of the Covenant. Karlson was presented with the award this year due to the cancellation of the 2020 meeting.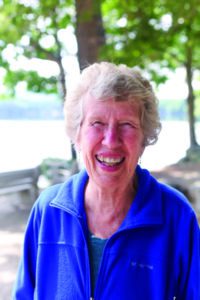 Karlson says she never thought she had gifts for leadership, so she was surprised when she was asked to take on leadership roles—but she has sensed the call of God in each instance.
She always thought it was her husband, the late Bob Karlson, who had leadership gifts, Nancy says. When Bob had a severe stroke at the age of 47, she became responsible for taking care of him and their five children, three of whom were living at home while the other two were in college. That was when the Covenant Church of Easton, Connecticut, asked her to serve as their chair.
"I thought, 'You've got to be kidding me!'" she says. "I have my husband and family to take care of. But I also knew God was wanting me to do it." It proved to be a wonderful and valuable experience. "I learned a lot from Donn Engebretson, who was our pastor. It prepared me for when we moved to New Hampshire."
The couple had purchased property a quarter mile from Pilgrim Pines Camp and Conference Center, a Covenant camp in Swanzey, New Hampshire. "It was where my kids had spent the best years of their lives, so we wanted to live close to there."
Not long after they moved, Nancy was surprised to receive another call to help lead a church. This time it was East Coast Conference superintendent George Elia asking her to start what would become Monadnock Covenant Church in nearby Keene.
Karlson, a lifelong Covenanter who grew up attending the Evangelical Covenant Church in Detroit—"It was mine and my family's life"—and who later attended Covenant congregations whenever she and her husband lived near enough to attend, sensed God wanting her to say yes.
It was 1994, and many Covenanters lived in the area in order to be near the camp, but no Covenant church existed in the area. "It just hadn't happened, so I called people and 25 came to the first meeting, which was held at our home," Karlson said.
As chair of the steering committee, she oversaw the writing of a constitution, choosing the name, calling a pastor, and submitting the legal paperwork. Years later, she chaired the committee that oversaw construction of Monadnock's first ministry facility. She also would serve as chair of the church and on other committees.
"I can look back now and see where God had been preparing me for leadership," she said. Karlson said she is grateful that she always had the enthusiastic support of her husband, whom she continued to care for until he died 22 years after his stroke.
In addition to her work with the church, Karlson has volunteered for decades at Pilgrim Pines, where she has coordinated the staffing at the Snack Shack during the summer, making sure campers and workers alike are well cared for, and helped out in the office during retreat season. (At 81, she still walks four miles a day on a path that takes her through the camp.)
Karlson said that although she never considered herself a leader, ministry has been fun. "I've always had great people working with me, and they get a lot of credit. It certainly was not just me. It's important that people know that."
When she received the call to inform her of the award honoring her, "I thought it was a scam." It took some convincing before she realized it was true.
"I just never expected any kind of award," she said. "I just feel undeserving and very humbled. I mean I'm getting an award for doing what I was called to do."