I was several hours into driving on Interstate 80 from Chicago to a family gathering in Kansas when I realized I was occasionally reaching over and putting my hand on the passenger seat. It was my first road trip since my wife, Marcia, had died of pancreatic cancer a year before on July 20, 2020, amid the Covid-19 pandemic. It was a moment tinged with sadness, another reminder that she was gone. But I also felt something else. Life was calling.
I am leaving my job as a writer for the Covenant Companion, a role I have held for nearly 17 years, which has been wonderful for the long season and now blends into another. My last day is September 10. I will begin my new role as a chaplain resident at NCH Health System in Naples, Florida, on October 4.
It has been an honor and a great privilege to tell Covenant stories. I have always tried to honor them. This job has given me the opportunity to combine my passions and my experience as a newspaper reporter and pastor of a local congregation.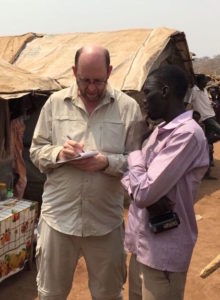 I have been able to go places and write about experiences I never imagined would be part of my life. I have seen first-hand the work of God through Covenanters in South Sudanese refugee camps, the Democratic Republic of Congo, Mexico, Palestinian territories, and Unalakleet, Alaska, on the Bering Sea. I've covered every Annual Meeting, nearly every Midwinter conference, two CHICs, and even two Women Ministry Triennials.
I've also had the chance to tell local stories of ministry. Churches with gardens that are helping to feed the hungry; the town of Sloan, Iowa, whose residents came together to build a house for a family whose teenager became paralyzed in an accident; the congregation who ran in running gear behind a hearse during the funeral for one of their members who had run numerous marathons and was known for sharing his love of God.
I have written about how the large issues of our day are impacting and being influenced by Covenanters—race, immigration, refugees, war, and hunger. People protesting, welcoming, teaching, listening, and giving.
I also have written probably 98 percent of the obituaries for pastors, missionaries, and their spouses that have appeared on the Companion website since 2005. It almost always is a terrifying experience to tell an abbreviated version of someone's entire life. But it also became a satisfying one, especially as I read the comments about people who might not have been well-known or spoken on conference stages or written best-selling books. Commenters tell how the often-unnoticed ministry of a person has helped transform so many lives through simple acts of hospitality, kindness, compassion, and day-to-day faithfulness—by sharing the love of God in word and deed.
That has been a gift to me.
I am most grateful for my colleagues who have aided—and some might say abetted—the stories I've told. It is my byline on the story, but each one has been edited by someone, most likely by Don Meyer, Ed Gilbreath, Jane Swanson-Nystrom, Cathy Norman Peterson, or Linda Sladkey. Especially in the magazine, they have been made to look good by designers such as Dave Westerfield, Steve Velez Luce, and Kristi Schild.
Our work has always been done out of love for one another and the church. We have sought to help each other be better. That sometimes has meant some—as one of the editors recently said—"discussions" among people passionate about the work we do. But we have made each other better at our craft and as people. I like to think we have been good for the Covenant.
All of my colleagues have walked with me during my worst days, the ones that started on April 30, 2020, when Marcia learned over the phone from her doctor that she was dying. Their patience, kindness, and tenderness have helped my healing. Many of them had worked with her and experienced her desire to serve behind the scenes so that others could succeed.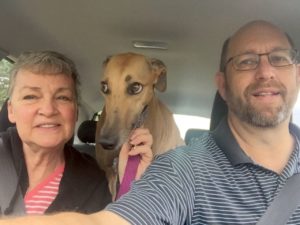 Of all the opportunities I experienced in this work, the greatest was meeting Marcia. She was in her mid-50s when she came to Chicago in 2006, having never lived or even really traveled much beyond Jamestown, New York. (I got to take her to her first stage play—"A Christmas Carol" at the Goodman Theater, which she watched with the wonder of a 10-year-old.)
She got rid of almost everything she owned and packed the rest in her 2003 leased, all-standard Toyota Matrix to start a new chapter of her life in this huge city, where she moved into a fourth-floor walkup efficiency apartment that she delighted in.
On the evening she received the news that she was dying, we sat on the couch in our house, looked out at the sunset, and held each other close. Through tears, we told each other how we had made something wonderful. She also began to make some plans for my life—she was always a planner. As always, she most wanted me to be happy and to live fully into my calling, wherever it might take me.
There were times in this grief journey when I was stuck and feeling guilty about the idea of a future. But in the book "Alphabet of Grief," the author, a chaplain, writes:
"Perhaps the term 'moving on' could be replaced with the concept of 'living on.' For that is what we are called to do: to live on, despite the pain of our losses. Moving on implies that we are leaving something behind, that we have closed a chapter, like closing and locking a house. But we don't leave our loved ones in the rearview mirror. We don't leave them in the ground or scattered at sea—we take them with us. We take the times we have shared and the love we still feel into whatever future awaits us. We don't move on; we move with."
Those words came to mind as I was driving that day on Interstate 80. I already had begun to sense the desire to return to more one-on-one ministry. Suddenly that desire was moving to the forefront. Life and a new future were calling.
So at some point later this month, I will have divested myself of almost everything I own and packed much of what is left in my car. I will be driving down Interstate 75, reaching out and putting my hand on the passenger seat. I will smile, knowing she is going with me.