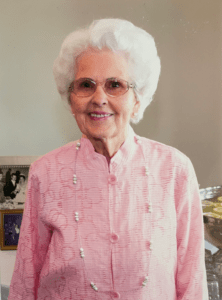 Virginia Mae Cervin, widow of Covenant pastor Russell August Cervin, died on Thanksgiving, November 25, in Oakland, California. She was 99.
She was born in Turlock, California, on May 17, 1922, where she grew up on a dairy farm with her parents, Elsie Christine (Nordeen), originally from Rockford, Illinois, and Manuel Enos Beserra, originally from the Azores, Portugal.
Virginia attended Turlock High School where she enjoyed acting in school plays. She earned her associate's degree at Modesto Junior College. Seeking adventure, she moved to Oakland in her early 20s. She met Carl Nelson at the Mission Covenant Church on Fifth Avenue (later First Covenant Church Oakland), where they were married and worshiped together for 38 years. She sang soprano in the choir and was active in church life, but she is most affectionately remembered for her role of playing the Swedish grandmother in the Christmas program. Gini had a creative talent for interior design, sewing, and gardening. She created a beautiful Japanese garden in the backyard of her house on Carson Street.
After Carl's death in 1985, Virginia's spirit of adventure led her to travel to Sweden and Norway on a Covenant trip. On that trip she met Russell Cervin, a retired Covenant minister and former executive secretary of Covenant World Mission, who also shared her grief of losing a spouse to cancer. They married on October 18, 1986. They enjoyed living at Rossmoor in Walnut Creek, California, where Virginia remained for another 12 years after Russ passed away in 2004.
Virginia was preceded in death by her first husband, Carl; her second husband, Russell; and her older brother, Eugene Enos. She is survived by her three children, Julie Marie Echaniz (Tom), Louanne Joy Nelson, and Robert Bruce Nelson (Dorothy); her younger brother, James Raymond ("Jimmy") Beserra (Donna); five grandchildren and two great-grandchildren.
Donations in her memory can be made to Bellaken Garden & Skilled Nursing Center (2780 26th Ave., Oakland, CA 94601) or to First Covenant Church Oakland (4000 Redwood Rd., Oakland, CA 94619). A celebration of her life will be planned later in 2022.
Peace be to her memory.