February 18, 2022
The Superintendent Nominating Committee for the Pacific Southwest Conference began its work on September 18, 2021, developing a statement of qualifications and a call for nominations. On November 5-6, we heard from 16 leaders in the conference, including all members of the conference staff, as they spoke into the process. Their reflections on the statement of qualifications and the current and future direction of the conference were filled with insight and wisdom.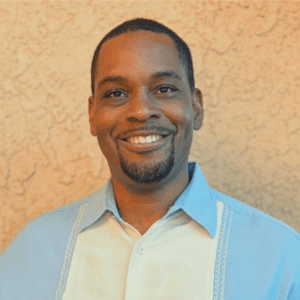 We reviewed each of the 40 nominations submitted. The result, after prayer and discernment, was the creation of a list of seven who were invited to interview with the committee. We were thankful not only to invite some of the best and brightest of God's servants, but to have a group of potential candidates who represented the mosaic of the PSWC—Latino, African American, Asian American, and white, as well as men and women.
On February 4, we completed interviews with the four persons who accepted our invitation. On February 5, we spent the day in intense discussion and prayerful discernment and concluded with our recommendation for the next superintendent—Rev. Bryan Murphy. We are pleased that Bryan has accepted the nomination.
Murphy received his bachelor of science in business management with a computer science emphasis from Purdue University. Upon graduation, he relocated to northern California and began a 14-year career in information technology, during which he connected with the Covenant through the youth ministry of South Bay Community Church (SBCC) in Fremont, California.
He transitioned to full-time ministry as associate pastor of SBCC in 2007. In that role, he oversaw ministry to children, youth, and adults and shared oversight for missions and evangelism. During that time he earned his MDiv from Fuller Theological Seminary.
In 2011, he was ordained by the Covenant into Word and Sacrament and accepted the call as lead pastor of SBCC. In 2018, Murphy joyfully welcomed Rev. Tammy Long as co-lead pastor; they served together until Murphy sensed a new call emerging and transitioned from SBCC in 2021.
Murphy has served the Covenant in a variety of capacities, including on the Covenant Executive Board, a curriculum development team focused on training pastors, and as president of the African American Minister's Association, a role he has held for five years.
"I am deeply humbled and honored to have been selected to be the nominee to lead the PSWC at this pivotal moment in our journey," Murphy said. "I am excited to be part of our conference staff as we serve and equip our churches for the incredible kingdom-building work God has laid before us!"
Board and committee chair Will Davidson reflected, "In Bryan, we have a bridge builder and a visionary leader. Bryan has a heart for the kingdom mosaic and will move us forward to strengthen and deepen key mission priorities. His experience in both the corporate world and in ministry provides the gifting necessary to wisely shepherd the PSWC's mission."
Jean Cheng Gorman, who has been serving as acting superintendent of the PSWC, reflects, "I am thankful for the thorough work of the Superintendent Nominating Committee and have no doubt that Bryan will indeed lead us into a fresh new season. Bryan is a gifted high-capacity pastor and leader, and I have been blessed by his sense of humor, graciousness, and wisdom. We are eager to see what God will do in and through him and the PSWC as we walk forward together."
Bryan has been married to his wife, Stacy, for 22 years. They have three children and three grandchildren. They are adjusting to an "empty nest" as their youngest graduates from college this spring.
We are very grateful for all who prayed for this search process. We look forward to Celebration 2022 and our Annual Meeting when Rev. Murphy will be presented and stand for election, on April 28-30 at The District Church in El Dorado Hills, California.
Sincerely,
Will Davidson, PSWC Board Chair and Superintendent Nominating Committee Chair
Members of the PSWC Board and Nominating Committee:
Christa Armstead
Kelly DeSical
Jeremiah Fair
Walter Gomez
Ruth Martinez
Manoj Mathai* recently concluded pastoral call outside PSWC
Joe Muratore
Perry Sakai
Vincent Tolliver