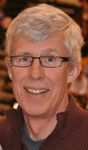 Covenant pastor Douglas James "Jim" Tait II died on March 1 in Walker, Michigan. He was 72.
Jim was born October 15, 1949, to Douglas and Ruth Tait. He graduated from Philadelphia College of the Bible with a bachelor's degree, and earned master's degrees from Wheaton College and Grand Rapids Theological Seminary. He married Lynda Lieb on October 26, 1994.
Jim lived a life of continual service, including time spent as a pastor, workplace chaplain, and college professor. He was ordained with the Evangelical Covenant Church in 2000, and served congregations in Arvada, Colorado (Arvada Covenant); Springfield, Massachusetts; and Grand Rapids, Michigan (First).
Jim was also a talented craftsman, avid scholar, and outdoor enthusiast. He had a great sense of humor and was a creative, fun-loving grandfather. He is survived by his wife of 47 years, Lynda; children Jamie Tait (Kendra), Laurie Carter (Chris), and Abbie Verberkmoes; ten grandchildren; and sister Jean Gee (Steve).
A celebration of his life was held on March 8 at Ada Bible Church in Grand Rapids. Memorial contributions may be made to Reach Beyond.
Peace be to his memory.