Rebecca Shasberger, founder of Renovare, on cello; Lalia Mangione, community manager of Renovare, on violin
Creating Restorative Experiences Through Music, Stories, and Conversations
I grew up playing the cello and attended the Cleveland Institute of Music, where I earned a master's degree. Like most music students, I spent much of my time in practice rooms and concert halls.
But a dissonance began growing within me. Squaring up against the concert hall experience was the fact some people don't have food to eat every day or they live in refugee camps. Those broken things in our world felt very distant from the beautiful concert halls where I was playing, and I didn't know what to do with that.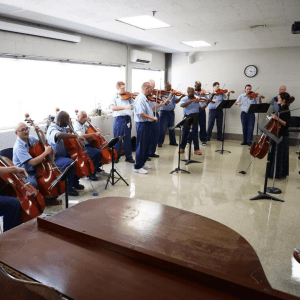 In 2018, in an effort to reconcile that dissonance, I founded Renovare, a nonprofit seeking to share music at the highest level of artistry in diverse settings and innovative programs. Our goal was to love our neighbor, affirm the value of all people, and cultivate reconciled communities. We seek to bring music, live performances, and classes into places that might not otherwise have access to live music, such as prisons, hospitals, and shelters for people without a home. We've played for a refugee center and for kids in under-resourced neighborhoods.
That also includes teaching a class at a men's prison. We currently have 14 students learning to play violin, viola, and cello at the Grafton Correctional Institution, a medium-security men's prison southwest of Cleveland. We are working to start a similar program at the women's facility in downtown Cleveland.
We're doing this work in communities that don't have a lot of access to music. But we also wanted to try to bridge the divide between those who go to fancy concert halls and the rest of the world.
Part of our programming focuses on advocacy and storytelling by creating a concert experience with an element of discussion to highlight people's stories. For instance, we performed a string quartet concert where music was interwoven with stories people shared about their experience with housing insecurity in Cleveland. It helped people hear a different perspective, a different life experience in a more personal way than through news articles or statistics.
The performance was followed by a question-and-answer session with staff from the local shelter. We're working on a similar program now that features stories of women who have been incarcerated.
I wish for you, the pain that'll grow you. The pressure that'll mold you. A love that'll throw you, hold you, console you. I wish for you the strength that'll keep you. The courage that'll lead you. I wish these things for you.

Lyrics from "I Wish" by William Travance
We are also incorporating documentary songwriting, working with a person who may have no musical background to develop a co-written song around their life experience. Recently we partnered with a woman to share her experience of being incarcerated and her heart for other women who are incarcerated. She's been free for six years and now works with women who are incarcerated. You can watch a performance of the song here >>. 
Another student who is incarcerated at Grafton composed a song for his son entitled "I Wish" (Lyrics may be found here >>).
Renovare is a faith-based organization, rooted in my own journey as a Christ-follower. Our programming isn't always explicitly Christian—we don't start every class with a prayer or preach a sermon during a concert. But we did want to create a space where people of faith could speak honestly with God about what's broken in our world and what's worth celebrating in our community. We offer worship space, such as a night for praying, or we lead worship at churches, helping to share stories with congregations.
I have learned so much from my students who are incarcerated. I have learned so much from the example of people who have experienced poverty. I taught a class at the Oberlin Conservatory, where once a week, I was on campus working with college students to teach them about the prison industrial complex and strategies for teaching well. Once a week, they went with me to the prison to work with the men. The prisons were shut down to visitors during Covid, so that class was paused.
We're hoping that next fall, the college students can start coming back again, and have that community-based learning experience. We want to continue to help bridge the divides in our communities and be part of people's journey toward wholeness.