So let's talk about deconstruction. Depending on whom you talk to or where you land on the religious cultural and political spectrum, deconstruction is either a cresting wave on a new move of God or it's a sinister attack on God's people that undermines the faith. For someone like me who values nuance, it can be exhausting navigating these two extremes. That's why I've recently trended away from trying to discuss controversial topics on social media and instead talk more about interesting movies and TV shows.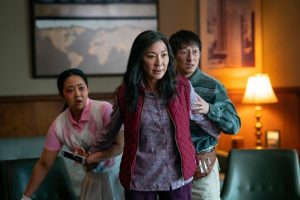 Speaking of which…chances are, you might know someone who has seen, or is interested in seeing, the new Michelle Yeoh movie. Up until two weeks ago, I'd heard almost nothing about it, and then suddenly I was seeing mentions of it in everything, everywhere, all at once.
Which, not coincidentally, is the movie's title.
Everything Everywhere All at Once is an absurd, surrealist action-comedy. Yeoh stars as a harried wife, mom, and business owner suddenly caught up in a supernatural, violent, good-versus-evil struggle. Through forces she doesn't totally understand, the survival of the multiverse depends on her jumping in and out of different versions of herself from different eras, careers, and sets of relationships. It's like The Matrix meets Quantum Leap. As she progresses through the film, mastering the ability to move through these identities and utilizing the various skills they include, shedding light on her primary relationships, she finds healing as she lets go of what she thought she knew about herself and embraces a new way of being.
Everything, Everywhere, All at Once is a metaphorical pathway for people experiencing spiritual deconstruction to find their way back to a deeper version of the faith.
If it sounds like I've already told you the plot, the good news is that Everything Everywhere All at Once is pretty much spoiler-proof. Even if I told you all of the exact plot points and story beats in granular detail, that wouldn't even come close to describing the experience of watching it. To call it chaotic is to risk an understatement. Everything Everywhere All at Once is a loud, goofy free-for-all of a movie that careens wildly between the salacious and serene, featuring a slew of great supporting performances and an absolute tour de force from Yeoh, who inhabits a veritable cornucopia of on-screen personas.
More important, Everything, Everywhere, All at Once is a metaphorical pathway for people experiencing spiritual deconstruction to find their way back to a deeper version of the faith.
I know what some of you are thinking: This Jelani is some piece of work. He sees God in everything. He'd probably tell you there's some deep spiritual mystery in that Sonic the Hedgehog sequel.
What? Those gold rings are mysterious symbols of Trinitarian unity!
Okay fine, that was a stretch.
But this one isn't, because I'm not the first person to draw a connection between Yeoh's character Evelyn's search for significance and the phenomenon of spiritual deconstruction. Consider these words from co-director Daniel Kwan when he was asked in an interview about the film's theme of connectivity as what makes life worth living:
I was very religious growing up. I was almost basically evangelical Christian until I was in my 20s. And then slowly, slowly, and then all of a sudden, it was gone. And that's kind of what this movie was trying to re-create. That moment when Evelyn is screaming, and she's feeling everything, and she's completely unmoored and lost, that is the experience of losing God. That's the experience of not having a moral center, and not having a focus of meaning, of purpose. The second half of the movie is basically her trying to do what I did, which is crawl around in the dark and the chaos, finding something worth living for, finding something worth fighting for.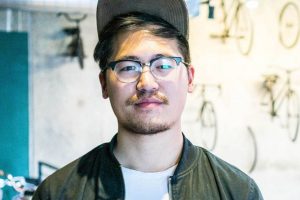 Kwan is not alone in his experience. Deconstruction happens when people who were brought up in certain faith traditions experience varying levels of cognitive or emotional dissonance as they examine the world around them. For a lot of people who grew up in evangelical Christian households in the United States, this disillusionment was most evident during the 2016 and 2020 election cycles, but it's not an exclusively political phenomenon. For some, it had less to do with partisan politics than the ongoing stream of scandals from high-profile celebrity pastors, megachurches, or Christian organizations, where abuses of power are a common thread. (Hillsong Church, John MacArthur, and Christianity Today are just the most recent examples, but the list is long.)
This trend of deconstruction is part of a larger shift in our culture toward secularization, and it's not just happening on an interpersonal basis—it's institutional as well. In many communities, church attendance is no longer a given but instead is one option among many modes of civic engagement. Many Christian parents have to choose between bringing their children to church and letting them participate in extracurriculars like sports on Sundays.
So I understand why a lot of pastors and church leaders get spooked by deconstruction talk. It feels like a trend that accelerates attrition in the ranks (which ultimately threatens the bottom line). But the antidote to the trend is not for Christian leaders to aim more attacks at our perceived enemies as a way of exerting more control over our rapidly crumbling reputational facades and ever-shrinking bubbles of influence.
The antidote for deconstruction is reconstruction. That is, providing the disciples of Jesus in our care opportunities to discover honest language and conceptual frameworks to rebuild what decades of hypocrisy and power-mongering have torn down. It's affirming the things we believe to be true, denouncing the things we've gotten wrong, and—crucially—admitting the things that we don't know or are unsure about.
But most important, it starts with trusting God that faith reconstruction is possible in the first place—and not only possible but likely.
After all, did we really believe Jesus when He told Peter that the gates of hell would not prevail against the church? Did we really believe it when we quoted St. Augustine of Hippo, who famously said, "You have made us for yourself, O Lord, and our hearts are restless until they rest in you," or when we rather inartfully reduced that idea down to "a God-shaped hole" that nothing else can fill?
If we really believe these sayings we've been repeating for decades, then a faithful response is to trust God for the outcome. To believe, like Paul told the church in Philippi, that "he who began a good work in you will carry it on to completion until the day of Christ Jesus."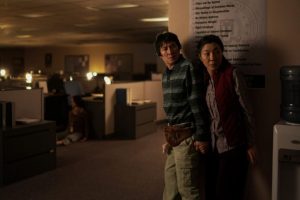 On the other hand, if we say we believe, but deep in our hearts we're convinced that people will only remain in the faith if we coerce them, if we relentlessly prop up our ministries and protect our standard-bearers with cultic devotion even when there's evidence of wrongdoing, and if we blame the fallout of that wrongdoing on the victims and paint their messy, difficult process of deconstruction as immature flirting with worldly behaviors and values, well then, we'll have no excuse when our faith institutions grind to a painful halt.
I'm grateful there's another way. During the third act, Evelyn (Yeoh) and her husband, Waymond (Ke Huy Quan), do their best to embody the attributes they want in their relationships. Even in the context of strife and combat, they both learn to exude kindness, joy, patience, and self-control.
(Where have I seen those before?)
Another great message in Everything Everywhere All at Once is that what we perceive as failure can actually be the key to greater success and that the willingness to try and to fail is not a character flaw but an attribute worth pursuing.
So that's my prayer for pastors who are concerned about deconstruction. If it's true that God's perfect love drives out fear, then there's no reason to be afraid of the processes by which people seek after truth. Because Jesus is the truth, and he delights in making himself known to us.
So let us remember that we are God's creation, and so is the world around us. God is in everything, opportunities for reform are everywhere, and unlike the movie—thank the Lord!—it doesn't have to happen all at once.