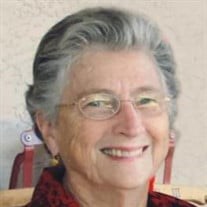 Margaret Spring "Peggy" Logue, wife of retired Covenant minister Donald E. Logue, died April 1 in Grand Island, Florida. She was 86.
Peggy was born in Geneva, Ohio, on November 3, 1935. As a young woman she attended Moody Bible Institute in Chicago, where she met Donald. They married on August 29, 1954, and their union of 67 years produced four children: Diane, Donald, Richard, and David.
For decades, Peggy served alongside Donald at Faith Covenant Church in St. Petersburg until their retirement in Grand Island. She was a loving mother, wife, and friend to many.
She was preceded in death by her son Donald. She is survived by her husband, Donald; children Richard (Lisa) of Grand Island; David (Diana) of St. Petersburg, and Diane Treen (Bobby) of Grand Island; nine grandchildren, and 14 great-grandchildren.
Services were held at Harden/Pauli Funeral Home in Eustis, Florida, on April 6, 2022. Memorial donations may be made to Compassionate Care Hospice, and memories can be shared here.
Peace be to her memory.