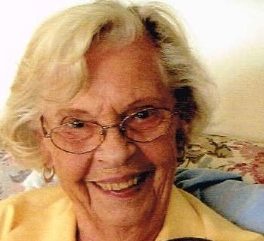 Violet ("Vi") Erickson, widow of Covenant minister and former superintendent Robert Erickson, died April 26. She was 95.
Vi was born August 2, 1926, to Henning and Lillian Erickson in Axtell, Kansas. Her father was a Covenant pastor. After graduating from high school in East Greenwich, Rhode Island, Vi went to North Park College and majored in journalism. There she met Robert (Bob) Erickson, who was studying at North Park Seminary. They married on February 1, 1947. They had to sign a special form saying that they were not related since they both had the family name. After marriage Vi held various jobs, working in retail and later at North Park College and also the seminary.
Together they served Covenant churches in Chicago Heights and Glen Ellyn, Illinois; Manchester, New Hampshire; and Iron Mountain, Michigan. She also served alongside Bob as he served as conference superintendent for both the Central and East Coast conferences for the Covenant and for other institutions in Illinois.
Vi put her creative skills to use creating beautiful paintings and designing original patterns for her many hooked rugs. She enjoyed singing in the Covenant Living choir and served on numerous committees. Bob and Vi bought a cottage in Upper Michigan early in their marriage and spent every summer enjoying its many offerings and time spent with family. When they retired, they moved to Bradenton, Florida, splitting time between Michigan and Florida.
In 2001, Vi and Bob moved to the Covenant Living community in Golden Valley, Minnesota, where they were active volunteers in the community.
She was preceded in death by her husband, Bob, in September 2020.
She is survived by sons Tim and Peter (Carol); three grandchildren, and five great-grandchildren.
Vi was a gentle and kind presence who was a gift to the Covenant Living community. Peace be to her memory.