On June 24, 2022, Percy Mueda of Grace Covenant Church in South San Francisco, California, was awarded the Theodore W. Anderson Award for Outstanding Layperson at the 136th Annual Meeting of the Evangelical Covenant Church in Kansas City, Missouri.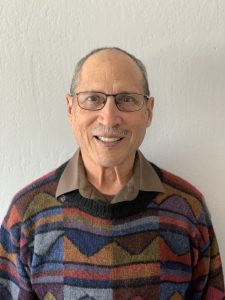 Unable to attend in person, Mueda attended virtually via Zoom. In his remarks, Mueda spoke about his early years in church service.
"Two words were guiding me," he said. "Commitment and consistency… it was a blessing to be committed to the church, working side by side with eight different pastors, having known a number of superintendents and five different presidents of the Covenant Church."
He added, "Where do I go from here? Nothing profound or dynamic—to focus on the little things that matter and let him guide me."
And that's just what he's been doing all along. Percy Mueda has been a quiet, consistently faithful presence at Grace Covenant Church for more than five decades, supporting and partnering with every pastor since the church's founding. He was a youth during its inception, and became an early leader, not only in the church in but the broader community. In his humble demeanor and tireless worth ethic, Mueda has lived and breathed the church's ethos and embodied its slogan, "your church in your neighborhood."
Mueda has been involved in a variety of roles and ministries at Grace Covenant, including children's and youth ministry, and serving the food pantry. He was particularly known for his innovative "chalk talks" where he would narrate Bible stories and illustrate them in real-time. His combination of creativity and optimism made for both compelling programming and informative teaching. Throughout his time of service, such initiatives proved Mueda a lay leader of incalculable institutional value.
Now 82, Mueda is still found at the church, greeting congregants with words of warmth and a friendly smile, and tidying up the building itself by pulling weeds, emptying trash, sweeping the parking lot, and making repairs. He's also known to deliver bulletins to members who cannot make it to church.  And oh yeah, he also serves as chair of the leadership team. No wonder people refer to him as "the Energizer Bunny."
Congregants and other lay leaders laud Percy Mueda for his continued lay leadership. In his stalwart consistency, Mueda has served as unofficial church historian, keeping a ready inventory of the church's resources and abilities, yet unafraid to adapt and adopt new techniques and technologies.
His citation read, "Percy Mueda is a dear friend, a loving man, a deeply committed follower of Christ, and an inspiration to many."