Spotlight on Shalom Covenant Church
This article is part of a series exploring how Covenant leaders are facing disruption through innovation and creativity.
When Covid struck, many churches pivoted to online services.
But not all.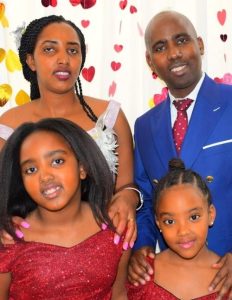 Imagine leading a church where most of the congregation don't use technology and don't know how to use a computer. Where 99% of the attendees don't speak English and cannot follow local news on vaccines. Where most of the members are essential workers, but their children's schools are closed. Where a large number of people in the congregation are sick with Covid.
That was the reality Pastor Eugene Kiruhura faced at the beginning of the pandemic.
Kiruhura leads Shalom Covenant Church in Des Moines, Iowa, a church of immigrants from the Democratic Republic of Congo. When Covid began, parents in the church had to choose between caring for their children and their livelihood. Church members did not have access to online technology, and the church had minimal finances—Kiruhura himself is a co-vocational pastor, supporting his family through his full-time job outside of the church. To add to the stress, the church grieved the 50 people in the congregation who became ill with Covid.
The challenges should have been devastating. Like many other congregations, Shalom Covenant might have closed its doors for good.
But God has been at work. The church not only thrived during the pandemic—they launched new, innovative programs and responses that caught the eye of Iowa's governor.
Grand Perspective
One key practice enabled Kiruhura to stay centered: frame events in light of the bigger picture. He focuses not on the enormity of the challenges but on the sovereignty of God. He acknowledges, from Romans 8:28, that God has a purpose: "There is a challenge, but God is in that challenge. Yes, it's a challenge, but how can we show God's love in this moment?" Kiruhura remembers that God, the originator of the good work and the call, is the one who will complete it (Philippians 1:6).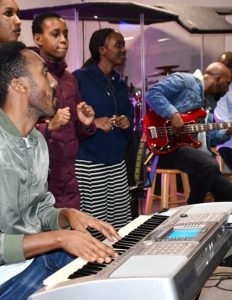 Even as he finds strength in his connection with Christ, Kiruhura is oriented toward action. "In every situation, there is a God reason, a God opportunity. Each challenge comes with an opportunity," he says. Flipping his mindset from challenge to opportunity enables him to focus on solutions. His question is to ask, "How can I?"
During the pandemic, a mother in the church passed away after a C-section delivery. The new baby was one day old, and she left behind four other children as well. The father had died in an accident four months earlier.
Kiruhura prayed and asked, "What can I do?" He began a GoFundMe campaign. Within two weeks, the campaign raised $405,805, a 2021 Dodge van that holds seven passengers, and full scholarships for college for the children.
Even as the church struggled with the loss of loved ones and parents risking their lives at their essential jobs, Kiruhura recalled the martyrs of the faith who were tortured or killed. Remembering their origins also provided context. His congregation came from a war-torn country. They lived in a refugee camp without food or clothes. Kiruhura reflects, "We live in a world that is much better than before." He focuses on thankfulness, teaching the congregation not to look back but to anticipate the future in light of God's promises.
Learning Mindset
Kiruhura equates challenging situations with breaking a leg, where one walks again without being taught. Challenges can be an opportunity for learning.
With that mindset, Kiruhura redefines failure. "Anything I tried and failed, I don't call it failure. I call it a learning moment." He experiments and views each effort as another deposit to his learning bank.
Because they could not worship in person during the pandemic, Kiruhura tried to move their gatherings to Zoom. It didn't work—people had difficulty with the technology, and many did not have internet at home. So they switched to what members did have—their phones. Shalom Covenant's services were held on the phone, with 40 or 50 people on the call at once.
But Kiruhura didn't give up on Zoom. He tried another idea—he used Zoom with church leaders, small groups, and smaller meetings.
Understanding the importance of technology and equipping the congregation to use digital tools, Kiruhura worked to move church members toward more digital communication channels. It was a slow process. They began with the greatest area of need—language. Because many did not speak English, the church began offering English learner classes three days a week. Over time, they partnered with a college, with college staff coming in to teach the classes.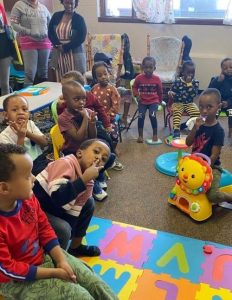 Then Shalom began a computer training program for both church members and people from the community. The courses teach skills that increase opportunities and access to other jobs and industries.
As these initiatives served their neighbors, Kiruhura hoped to connect their needs by bridging to evangelism and discipleship. An idea began to sprout—how could they draw more people to influence in missional work and the gospel?
So Kiruhura began a 501c3 nonprofit to serve those needs and reach different people. Recently, the ministry began serving refugees from Afghanistan, with more than 18 students from that population taking English classes. Their children are now joining the after-school program.
Abundance Mentality
At the beginning of the pandemic, Shalom faced the significant issue of what to do about children whose parents were essential workers. Schools had shut down, leaving young children unsupervised at home. Lack of technology created barriers to online learning, and parents who did not speak English could not help their children.
Kiruhura's abundance thinking targeted resources that could be used to address those needs. Shalom worshiped in a building owned by an English-speaking congregation and although the church body were not meeting in person for worship, the building was available.
Kiruhura and other leaders opened up a space to serve the children, helping them dial into their online classrooms. Children brought their laptops, and volunteers from the English-speaking church assisted with homework. The school attracted 40 to 50 children a day.
Because the school served immigrants, refugees, and vulnerable kids who did not speak English, the governor visited their space. Impressed by the work, the government provided a van and donated 18 laptops for teaching computer skills and supporting education about Covid. Kiruhura was invited to a meeting of state officials and recognized as a leader serving the community.
Today, Shalom Community Impact Center serves many people from the surrounding area, providing English classes, computer classes, after-school and summer camp programs, and a preschool. It is fulfilling its purpose of transforming lives and communities, and Kiruhura seeks prayers and support for their ongoing work and ministry.
"What we are doing is not about us. It's about him," Kiruhura says. "We are called to serve in season, out of season. I want people to see me not just as a pastor, although that's my heart and passion, but also as someone helping the community."