Arnold Richard Bolin died July 2, 2022, in Northbrook, Illinois, on his 68th wedding anniversary. He was 93.
Arnie was born in Chicago to Rev. Emil and Esther Bolin on April 6, 1929.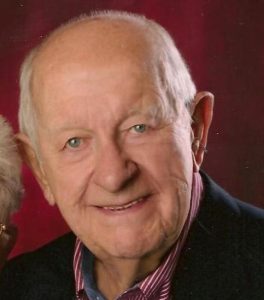 He was a graduate of Northern Michigan University and North Park Theological Seminary. He was ordained as a minister in the Evangelical Covenant Church in 1960.
He married Marilyn Soderberg on July 2, 1954. Arnie and Marilyn were partners in the ministry, serving churches in Negaunee, Michigan; Boulder Junction, Wisconsin; Harbert, Michigan; and Minneapolis, Minnesota (Community). Arnie taught at North Park College and served as executive director of the Berrien County Council of Churches while living in Benton Harbor, Michigan. He was also chaplain at Hope Rescue Mission in South Bend, Indiana, during part of that tenure.
Arnie found community activism in politics, from an unsuccessful run for the Minneapolis City Council to serving several years on the city commission in Benton Harbor, rising to mayor pro-tem. In later years, Arnie and Marilyn ran a bed and breakfast in Smethport, Pennsylvania. They served numerous churches all over the country as fill-ins or interims and made long-term friendships after "retiring" to a cabin in Land O'Lakes, Wisconsin.
He was preceded in death by sons Brian and Bruce, daughter Gayle, sister June, and granddaughter, Natalie.
He is survived by his wife, Marilyn, son Bradley, eleven grandchildren, and one great-grandson.
A celebration of life service will be held Saturday, September 17, at 1:00 p.m., at Winnetka Covenant Church, 1200 Hibbard Road, Wilmette, IL. Fellowship to follow. Guests are invited to bring their stories, and Chicago Cubs attire is encouraged. In lieu of flowers, donations may be made to Covenant Living of Northbrook or the Alzheimer's Association.
Peace be to his memory.