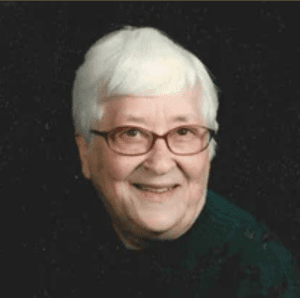 Helen F. Berquist, retired Covenant global personnel, died in Golden Valley, Minnesota, on August 13, 2022. She was 92.
Helen Francina Berquist was born on November 25, 1929, to Harry and Isabell (Leckberg) Berquist in Youngstown, Ohio. After graduating from North Park College, Helen attended Northwestern University and Northwestern Medical School, eventually earning degrees in public health and topical medicine from Tulane University in New Orleans, Louisiana.
After a stop in Brussels in 1958, Helen moved to Congo in 1959, where she served as a medical doctor with the Evangelical Covenant Church. During that time her work intersected with many other medical workers in and around the Congo, including Jody LeVahn, Warren Berggren, and Paul Carlson. Helen's research on iodine deficiency diseases led her to participate in an international team that battled the first major outbreak of the Ebola virus in 1976. Her participation in that important work earned her the Medal of Civic Merit from the Republic of Zaire. Helen retired in 1994 and eventually relocated to Minnesota.
Helen is survived by her sister Margaret Landin, brother Harry Berquist, close friend Dorothy Blakeway, and various nieces and nephews.
A memorial service will be held Thursday, August 25, at Covenant Living in Golden Valley. In lieu of flowers, memorial gifts can be sent to Paul Carlson Partnership.
Peace to her memory.