My "career path" over 40 years of ordained ministry has been eclectic—associate and sometimes senior pastor in suburban, downtown, or rural churches, ministry as an officer of the Covenant, Lilly grant director at North Park Theological Seminary. Several of these positions came when opportunities for women in a traditional arc of ministry were rare. While serving an interim pastorate in Berlin, Connecticut, I became aware of a retirement community chaplaincy opening. Prayer for direction, interviews, and the need for a job directed me to Covenant Living. And God has used the past decade of resulting ministry to develop new pastoral skills, teach me from my elders, and deepen my life in Christ. It has been the sweetest and most impactful of my ministries. I have learned that older folks are closer to spiritual awareness, have ready essential faith questions, and bear long witness to Christ.
The important work of serving the sacrament of holy communion always moved me. Serving the sacrament to centenarians is a profound witness to the Lord's love as I reflect on how God has nurtured them over many decades. It also brought moments of joyful levity.
One day when we were serving communion through intinction, a woman ate the bread before coming to the cup. When she realized her mistake, she stuck her forefinger into the cup and sucked the juice from her finger. One retired farmer had a habit of dipping the bread all the way into the liquid—up to the second knuckle—perhaps his own interpretation of being "washed in the blood." A Roman Catholic wheelchair-bound resident in skilled nursing was grateful I had come to serve communion to those who could only watch our chapel services on a closed-circuit TV. She received the bread and cup, then said, "Thank you, Father," evoking mixed memories of my entrance into ordained ministry 40 years ago as one of the few female pastors in the Covenant, which brought a grin to my face!
One day during coffee group a man was sharing stories and laughing—the same man I had visited in hospice two days before. He cracked up when he saw my astonished face. "I flunked hospice!" he exclaimed in glee.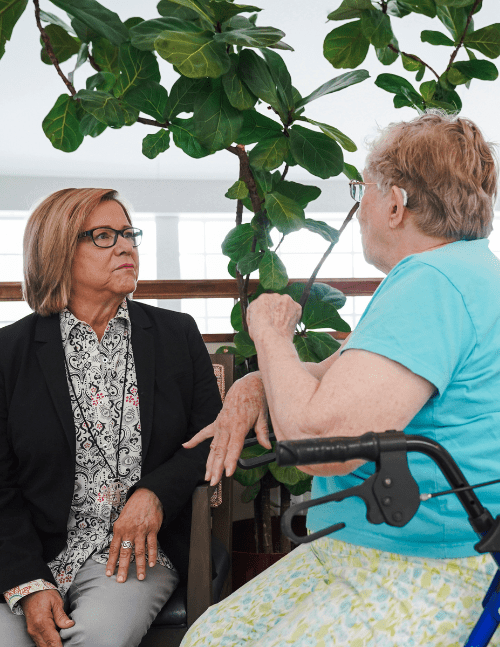 Richard Rohr's great book on aging, Falling Upward, describes the first half of life as working to establish an external "container," or identity—job, spouse, children, education, house, etc. The second half, in contrast, involves an inward journey of deeper growth—letting go of job and children, downsizing, shifting career—to value the real treasure of drawing closer to God and living in eternal life. Walking down an often-vacant skilled nursing hallway one day, I saw a retired missionary in his wheelchair with his "independent living" wife next to him. Holding hands, heads down, praying together, they were a beautiful picture of decades of shared faith and love. I tiptoed away from the holy moment in tears.
People move into a retirement community to experience community itself. Residents cross the campus to extend care, help, and friendship with each other. Some drive others to doctor appointments, mend clothes, check up with a daily call, share newspapers, and pray together. Some wondered if they were beyond the age of cultivating meaningful friendships. "I knew I would have to make friends here. I never guessed that I would make such good new friends!" said one surprised resident. During the pandemic residents were glad not only to be taken care of, but also to know they were not alone. They knew other friends were behind every door.
Sometimes people assume that after a certain age, life will no longer hold surprises, trials, or even demands. Yet spiritual growth continues until the day we die. One resident of 101 shook with anger when his 80-year-old son suddenly died of a heart attack. "At my age I should not have to see this!" he cried. Lament is warranted, prayers for God's comfort said, but being human means we experience human challenges throughout the whole of life.
Chaplaincy reminded me that death is part of life. We will all die—hopefully in our old age with faith in eternal life through the Savior. End-of-life care is a significant ministry and God shows up there. After someone dies, I gather up anyone in the room—family, housekeepers, nurses, dining service—and we hold hands around the person in prayer. How moved I was when the Jewish house doctor quietly snuck into the circle in prayer and said "Amen" at its conclusion!
A younger resident took a quick downhill turn and the family came. As I met them at the foot of the bed, a housekeeper came in. "I wasn't working last night and want to say what I say each night to her," she said. Putting her palm over the patient's forehead, she spoke, "Nightie night, sleep you tight. See you in the morning bright. The Lord bless you and keep you. The Lord make his face to shine on you and be gracious to you. The Lord lift his countenance upon you and give you peace. Amen." The precious moment took our breath away.
The son of a well-loved retired English professor was flying to Connecticut for a regular nursing home visit when our resident began actively dying. The son rushed to the room with a couple of paperbacks in hand. After their visit as I walked him to the exit, my curiosity got the better of me. Sheepishly, because this ministry is about them not me, I blurted, "Can I ask what you read to him?"
Readers of C. S. Lewis's children's book series Tales of Narnia are fond of the key figure, a magnificent lion, who is wild but friendly. Aslan (the Christ figure) speaks in the final paragraph of the final book in the series, The Last Battle:
"All of you are—as you used to call it in the Shadowland—dead….This is the morning." And as he [Aslan] spoke he no longer looked to them like a lion; but the things that began to happen after that were so great and beautiful that I cannot write them. And for us this is the end of all stories, and we can truly say that they lived happily ever after. But for them it was only the beginning of the real story. All their life in this world and all their adventures in Narnia had only been the cover and the title page: now at last they were beginning Chapter One of the Great Story which no one on earth has read: which goes on forever: in which every chapter is better than the one before.
An African proverb says that when a person dies, a library burns down. God granted me the gift of access to the wisdom and humor of hundreds of libraries. A woman who, at 15, raised six of her siblings. A beautiful rocket scientist with dementia who had worked in Houston on finding a solution for Apollo 13 while it was in flight. A woman who retired at age 50 to follow her dream of sculpting; she was commissioned by the Vatican to create Moses in the bulrushes. A man who led the team that saved the Vienna Lipizzaner horses during WWII at General Patton's request. An Episcopal priest who created the spiritual formation classes at Yale Divinity School. (I saved every handout he used for devotions to begin Spiritual Life Committee meetings.) A Catholic Vietnam war chaplain who let me confess my sin of entitled disdain for the returning vets when I was a college student. A woman raised next to Crazy Horse's and Custer's "Greasy Grass" who had arrowheads from the site. Hundreds more, many with moving stories of service. I am changed forever by knowing them.