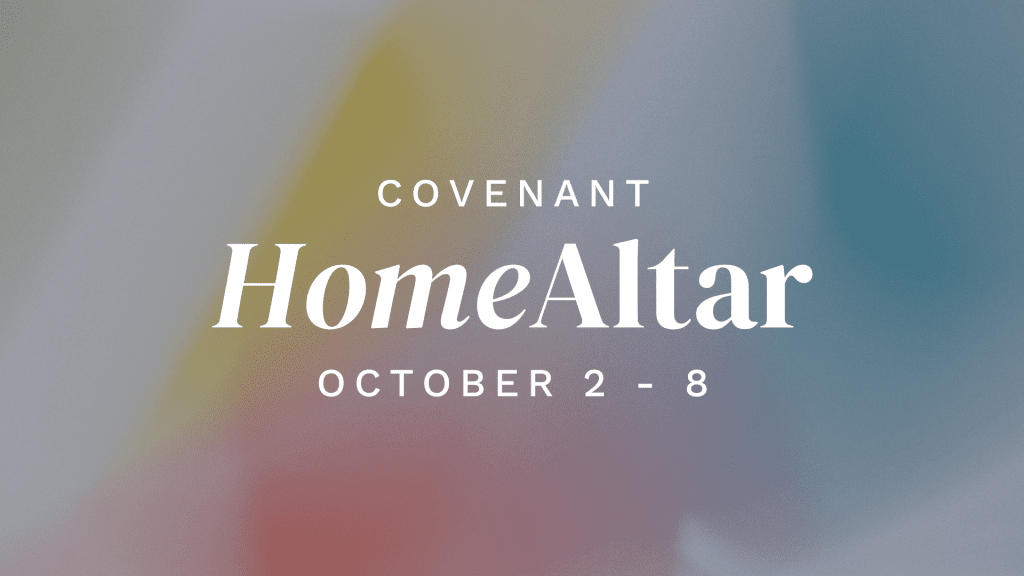 Matters of the Heart
---
SUNDAY, October 2
Psalm 14
For those of us living in an individualistic culture such as the United States, it may be more difficult to understand the magnitude of today's text, particularly its opening line: "The fool says in his [or her] heart, 'There is no God'" (NIV). These words first made their mark on a people group living in a blend of an individualist and collectivist society, so they may have been more open to understanding how one person's actions have an effect on the whole. 
We might wonder why an individual's foolishness in their heart matters? After all, isn't it the individual's right to believe or not believe? But if we follow David's words, his intention is revealed. He paints a picture of unbelieving people as corrupt, conquering, ignoring God, overwhelmed, lacking goodness, and frustrating the plans of the poor and oppressed. David uses these descriptions because they reveal that our personal choices, even the ones we privately make in our hearts, can lead to actions that have consequences in the lives of others. 
Lord, may we believe that the matters of our heart have significance. Transform our hearts, so we may uphold your values in the world and make a kingdom impact upon those we meet. Amen.
PRAYER FOCUS: WORLD COMMUNION SUNDAY
Moses's Meditation
---
MONDAY, October 3
Exodus 32:7-14
Does God change his mind in this story? Does Moses influence God's decision to turn from his anger? This story invites us to wonder how we as God's followers might influence God's behavior in the world. What surprises me is God's request to be left alone in his anger to carry out necessary discipline against his people. All accounts would tell us that Moses's followers are guilty as charged. But Moses wants to mediate, and he refuses to leave God alone. Moses pleads, "Did you rescue your people, only so the Egyptians could misinterpret your actions as evil? What about your promises to Abraham, Isaac, and Israel to make their descendants as numerous as the stars in the sky?" Moses's refusal to leave God alone and his deep desire to reflect God's love for his people back to God is a catalyst for God's decision to relent. Perhaps this surprising intercession leaves an indelible formational mark upon Moses to know that God is a relational God who is affected by his own people's love and mercy reflected back to him. 
Lord, bring us into the mysterious truth to know that your source of love and mercy will triumph over any measure of anger in this world. Amen. 
A Call to Intimacy
---
TUESDAY, October 4
Exodus 33:12-19
Moses has been chosen to lead the Israelites to the Promised Land,
but he has some questions. First, "Are you coming with me, God?"
In response, God reminds him that he knows his name and that God's presence will go with him. We often hear the important message that God knows each of us intimately. How often do we ask God for the same reciprocated intimacy? For Moses, if he can't know God in some intimate way, he simply can't trust the journey or the leader. Moses's request may come across as demanding or untrusting, but it is built on a foundation of spiritual wisdom. He longs to know God more intimately, but he also knows he has no business leading God's people in his own strength and power. Certainly Moses can't imagine what he has actually asked for until God passes by in all his goodness, speaking his name over Moses. What
a profound, mysterious, and life-altering moment. 
Lord, partner with us on this journey of faith, and create a longing in us to know you in the manner that you so intimately know us. Amen. 
PRAYER FOCUS: SURVIVORS OF DOMESTIC ABUSE
No Special Seats at the Table
---
WEDNESDAY, October 5
Luke 15:1-2
Jesus's followers are often perturbed about his guest list. We recall the discomfort the woman's presence brought when she broke the perfume jar over Jesus's feet (Luke 7) and the shock of the crowds when Jesus invited himself to dine with Zacchaeus (Luke 19). Throughout Jesus's ministry, with all his invitations to the "least of these," we must imagine these people being a growing majority of the crowd. In this text, I imagine the Pharisees looking around wondering where their band of elite scholars has gone. They became the minority, and they may have wondered if they still belonged. I was perturbed recently when I read a vulgar bumper sticker on the car outside my son's elementary school. If I'm honest, I would have been shocked to find the driver at Jesus's dinner party that evening, and I wouldn't have chosen to sit next to him. I may have even wondered how he got an invitation. Perhaps the most miraculous gift of God's love is that there is no favoritism in God's kingdom, and our discomfort around who Jesus invites to the table is likely more indicative of our own amnesia of God's grace. There are no special seats at the table. 
Lord, align our hearts with yours, that we may know and believe your love for us is the same and in equal measure as your love for others. Amen. 
Reclaiming the Whole
---
THURSDAY, October 6
Luke 15:3-10
I live in a somewhat rural setting, and I've only once had a neighbor call me to help her find her wandering sheep! What remains true is that Jesus is using examples of losing items of extreme value. This passage comes on the heels of the griping Pharisees struggling to understand how sinners belonged in their group of Jesus followers. Jesus now takes time to help these followers understand that these lost items, like people, have actually always belonged and have extreme value. They were not an after-thought. I wonder if Jesus uses round numbers in these stories to emphasize the importance of completion, to honor the significance that one missing piece creates an incomplete whole. In the search for a single lost sheep and one small coin, we can imagine the dust, dirt, and danger along the way. The Pharisees are struggling to see that these sinners ever belonged, and Jesus wants them to know that they have always belonged.
Lord, thank you for seeking the parts that have gone missing. Amen.
PRAYER FOCUS: THE COVENANT CHURCH IN SOUTH SUDAN
Never Beyond God's Grace
---
FRIDAY, October 7
1 Timothy 1:12-14
God is the master of seeing our potential, and we see this truth in our text today. Paul recalls his days of being a violent enemy of Jesus, but Jesus's mercy, grace, and love became the building blocks of his transformed life.  
I sometimes wonder how difficult it would have been for Jesus's followers to trust Paul. If Paul's life had unfolded before my eyes, I may have found his transformation unbelievable. As Paul remembered his past, I wonder how many times he relied on God's grace to forgive himself. In contrast to all the followers of Jesus who desired to keep out the marginalized of society, Paul must have been one of the first to know they belonged. I can hear him saying, "If Jesus had grace for the murderer I once was, he has grace for you as well." God sees us for who we were made to be, not for what we've done or left undone. 
Lord, thank you for seeing our potential to love, and for pouring out the necessary grace that allows us to share that with others. Amen.
Playing Our Part
---
SATURDAY, October 8
1 Timothy 1:15-17
My husband and I had the opportunity to work and do ministry in Japan for a couple of years in our early twenties. What a gift it was to be immersed in that culture. One of many learnings I returned home with was the observation of how committed each person was to their part in society for the benefit of the whole. I remember relative silence on morning train commutes out of respect for the density of people packed into a small area. Public spaces were relatively clean, because employees responsible for picking up trash were committed to doing their jobs well. 
Paul presents a similar attitude and commitment to his life in Christ. He claims to be the greatest of all sinners, even as he makes it his highest aim to let all people know that Christ's mercy and grace are for all people! What if we got this serious about playing our part in God's family? What if we committed to our part in Christ's body? What if we all, like Paul, fully embraced our roles for the benefit of God's kingdom work in the world? Could it possibly transform us—and the world?
Lord, illuminate the path before us, so we may with full conviction and confidence fulfill our role in bringing about your kingdom on earth. Amen. 
PRAYER FOCUS: SAFE LANDING FOR REFUGEES