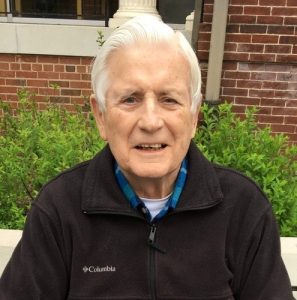 Retired Covenant pastor D. Bruce Lake died In August.
Bruce was born on March 7, 1933, in Kewanee, Illinois, to C. Frank and Frances Lake.
He earned a BA from Wheaton College, a master's of divinity from North Park Theological Seminary, and a doctor of ministry degree from Wesley Theological Seminary. He was ordained to Word and Sacrament in 1961.
Bruce married Dorothy Ann Mulholland, whom he had known since they were in first grade together, on March 20, 1954. Together they served churches in Rockford, Illinois (First); Plainfield, New Jersey; Cadillac, Michigan; Springfield, Virginia; and Joliet, Illinois. After retirement in 1996, he served as interim pastor at Harbert Community Church in Harbert, Michigan. He had a beautiful tenor voice and sang in the choir at every church he served.
He was preceded in death by his wife of 57 years, Dorothy. He is survived by his three daughters, Linda Camp (Gary), Patricia DeBord (Mark), and Sarah Warner (Joe); six grandchildren, and three great-grandchildren.
In lieu of flowers, donations may be designated for the Student Scholarship Fund at North Park Theological Seminary, 3225 West Foster Ave., Chicago, Illinois 60625.