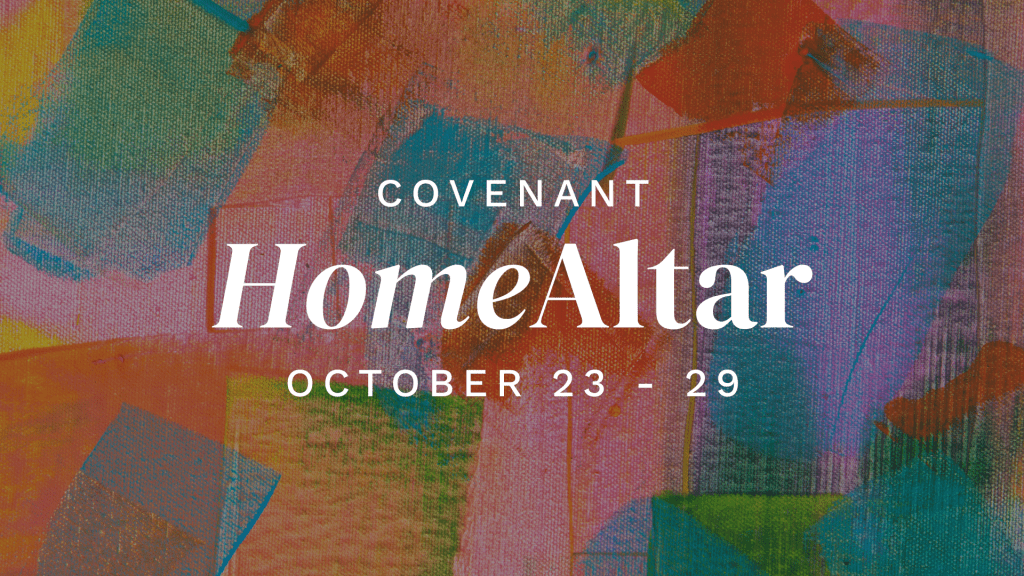 God Is There



---
SUNDAY, October 23

Psalm 124
Let's be honest. God is on our side. He will never give up on us. No matter what we go through. God is there.
In today's psalm, David offers thanksgiving to God for Israel's deliverance from their enemies. Just like King David, we can offer up our thanksgiving to God for all the times God has delivered us and give him the praise, honor, and glory.
I was born with a deformed kidney on my right side. I spent many months in the NICU unit at the nearby university hospital, hooked up to machines and IVs for months on end as a newborn infant. My parents thought I wasn't going to make it. If it had not been for the Lord, who was on my side, I wouldn't be here today. God was there in my time of need.
Father, help us to trust in you and know that you are there in our time of need. AMEN.
PRAYER FOCUS: A CHURCH THAT REFLECTS GOD'S KINGDOM
Responding to Injustice
---
MONDAY, October 24
Habakkuk 1:1-4; 2:1-4
How do you respond to injustice? Do you complain? Or do you respond with love and care?
In our first passage from Habakkuk, we see the prophet confront God, asking why he isn't responding to the violence and destruction happening around him. Do you ever feel like Habakkuk when it comes to the injustices happening in our world? I know, I do!
Our world today is filled with terrible injustices. As followers of Jesus Christ, we need to elicit a godly response to wrongdoing. We respond to injustice the way God does. God cares deeply for those who are oppressed daily. Therefore, we respond to the injustice of the oppressed with Christlike love and Christlike care.
Lord, help us to elicit a godly response in the way we respond to injustice in our world today. AMEN.
The Steadfast Love of the Lord
---
TUESDAY, October 25
Lamentations 3:19-26
In our passage today, we are reminded that God's steadfast love endures even amid our afflictions—in the world and in our personal lives. God has mercy on us even when life is fraught with difficult circumstances. More important, God is with us during our suffering and hears our cries. This gives me hope to know that God is with us amid hardship and pain. And to know that God is merciful amid difficult circumstances because his steadfast love is constant and consistent.
No matter what we go through, "The steadfast love of the Lord never ceases, his mercies never come to an end; they are new every morning" (v. 22-23, NRSV). Great is the faithfulness of God. This is good news! Even when life is hard.
Lord, help us to know that you are with us in times of hardship and pain, and that your steadfast love never ceases. AMEN.
PRAYER FOCUS: UNITY AMONG NATIONS
In the Face of Afflictions
---
WEDNESDAY, October 26
2 Timothy 1:1-7
"For this reason I remind you to rekindle the gift of God that is within you through the laying on of my hands, for God did not give us a spirit of cowardice but rather a spirit of power and of love and of self-discipline" (vv. 6-7, NRSV).
In today's passage, Paul is writing to Timothy from prison and reminding him of his impending death. Paul offers words of encouragement to Timothy. In verses 6-7, Paul encourages Timothy to be strengthened in the face of his afflictions.
For me, living with mental health challenges is hard, but I know God is with me every step of the way. No matter what afflictions I have faced, God has given me a spirit of power, love, and of self-discipline (v. 7). God is here with me in my suffering and helps me amid my afflictions through the power and presence of the Holy Spirit. God is fighting for me in the heavenly realm to get me through my afflictions each day. Amen.
God, strengthen us in the face of our afflictions and help us to know you are there every step of the way. Amen.
Suffering for the Sake of the Gospel
---
THURSDAY, October 27
2 Timothy 1:8-14
"Do not be ashamed, then, of the testimony about our Lord or of me his prisoner, but join with me in suffering for the gospel, in the power of God, who saved us and called us with a holy calling" (vv. 8-9, NRSV).
Paul writes to Timothy from prison, testifying to the gospel of Jesus Christ. He invites Timothy to join him in suffering for the sake of the good news. He also tells Timothy that God has entrusted us with the responsibility to proclaim the gospel.
Just as Paul encourages Timothy, God encourages us to join in suffering for the sake of the gospel. This is our calling and purpose as Christ followers. We have been entrusted with proclaiming the good news. And we join one another in suffering in proclaiming the gospel as we rely on the help of the Holy Spirit. We bear witness to God's light and love as we give ourselves for the sake of the gospel.
Father, help us to know that when we suffer for the sake of the gospel, it is not in vain. Amen.
PRAYER FOCUS: SPONSORSHIPS FOR COVENANT KIDS CONGO
Gospel Work
---
FRIDAY, October 28
Luke 17:1-4
"If the same person sins against you seven times a day and turns back
to you seven times and says, 'I repent,' you must forgive" (v. 4, NRSV).
Today's passage is hard to hear. Why? We're messy human beings, always in need of God's forgiveness. That's gospel work. Pastor, theologian, and spiritual writer Eugene Peterson once said, "Muckraking is not gospel work. Witch-hunting is not gospel work. Shaming the outcast is not gospel work. Forgiving sin is gospel work."
At some point, we all have the opportunity to learn to forgive sin. Sometimes that means forgiving ourselves of our own sin. Repenting leads to forgiveness, forgiveness leads to change, and change leads to transformation. Having a changed heart restores us to God and transforms our sin in the process.
God, help us to walk in forgiveness and know that you are the One who changes and transforms us daily. Amen.
Small Is Enough
---
SATURDAY, October 29
Luke 17:5-6
"If you had faith the size of a mustard seed, you could say to this mulberry tree, 'Be uprooted and planted in the sea,' and it would
obey you" (v. 6, NRSV).
New Testament scholar Joel B. Green once wrote, "Faith leads to faithful behavior, lack of faith leads to anxiety and fear." Today's passage speaks to this idea. Our faith is a disposition rather than something we possess. Having faith manifests in the things we are faithful to. This is the only way our faith can grow. But it starts out small.
Even then, having a smidgen of faith is enough according to Jesus. Our faith cannot increase if it doesn't start out small. Having mustard seed faith is enough to Jesus. Too often though, we don't believe that. We think our faith must come big before it can be small.
God, help us to have mustard seed faith and know that is enough. Amen.
PRAYER FOCUS: CHILDREN'S MINISTRIES