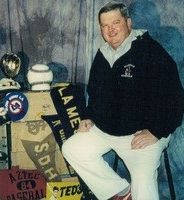 Clyde Harvey, pastor of First Covenant Church of Superior, Wisconsin, died in Duluth, Minnesota, on November 18, 2022. He was 70.
Clyde Weston Harvey was born on October 31, 1952, in San Diego, California. He met his wife, Jane, at Bible camp, and they were married for 45 years.
Clyde received a Bible certificate from the Berean School of the Bible, a BA in biblical studies from Trinity Bible College, a BA in communications from the University of Wisconsin Superior, and a master of arts in theological studies from Central Christian University. He was ordained with the Assemblies of God in 1978 and served in full-time ministry for 49 years.
Clyde loved all things baseball and was a lifelong Padres fan, an avid sports memorabilia and baseball card collector, and owned countless baseball bobbleheads. He played, coached, and organized numerous softball teams throughout the years, and the Foothills Bible Bookstore Softball Team always had a special place in his heart. He was an antique collector and dealer, clip art expert, lover of fantasy football drafting, and enjoyed Hallmark Christmas movies year-round.
The Harveys invested 16 years of youth ministry in Southern California District leadership, including involvement with camps, conventions, training seminars, and the development of the Junior Varsity Club Ministry for Youth for Christ International and San Diego Youth for Christ. The Harveys have pastored churches in California, North Dakota, Minnesota, Iowa, and Wisconsin. At the time of his death he was serving as the pastor of First Covenant Church in Superior, Wisconsin.
He is survived by his wife, Jane, sons Clyde and Wesley, daughters Annie Regstad (Steve) and Mary Ellen Hermanson (Erick), two sisters, and four grandchildren.
A Celebration of Life will be held Friday, January, 2023, at Central Assembly of God in Superior with a 10:00 am coffee fellowship, 11:00 am memorial service, and 12:00 pm luncheon.
Peace be to his memory.