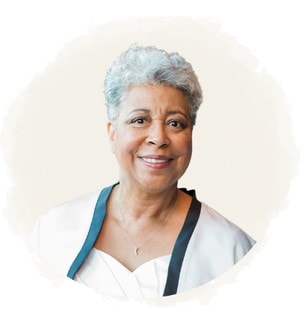 Harvetha "Ve" Woodson, wife of Covenant minister Terrance Woodson, died from cancer on November 22, 2022. She was 67.
Harvetha was born in Philadelphia, Pennsylvania, on October 5, 1955, to parents Harvey and Doretha Davis, who melded their two first names to create hers. Eventually, she went by the nickname "Ve."
As part of a musical family, Ve started piano lessons at a very young age, and by the time she was a teenager, she played the organ for her father's church, alongside her sister, Paula, who played piano. She was also a talented vocalist and sang in choirs throughout college and adulthood.
Ve married Terrance Woodson on December 23, 1987, and moved to Dallas, Texas, where he was in seminary. During that time, she served as an elementary school teacher and served alongside Terrance as an active member of the music ministry at Oak Cliff Bible Fellowship. Their first two sons were born in Dallas.
A few years later, Terrance was called to pastor Friendship Community Bible Church in Houston, where the family would live for 15 years. While in Houston, two more sons were born. During this time Ve worked from home giving piano lessons and served as director of music at Friendship. Working with the students in the school choir and planning school musicals and programs gave Ve great joy and satisfaction.
In 2001, the Woodsons moved back to Dallas, and Ve took a position as a music teacher for Fairmeadows Elementary School, where she would serve for nearly 20 years. After her retirement, she loved spending time with her children and grandchildren, often traveling from Dallas to Long Island, New York, and Seattle, Washington, for visits.
In all her years, Ve was hardworking, wise, understanding, compassionate, caring, kind, and generous with her time and talents. She listened attentively before humbly offering advice and encouragement. She was a faithful friend to many and a blessing to her family.
Ve was preceded in death by her mother, Doretha, and brother Harvey. She is survived by her husband, Terrance; sons and daughters-in-law, Terrance (Danielle), Thomas (Karyne), Timothy (Nicole), and Titus (Syreeta); her 96-year-old father, Harvey; siblings, Paula (Wayne) and Brian (Doris); brother-in-law, Maurice (Cheryl); two nieces, a nephew, and four grandchildren.
A memorial service was held at Redeemer Evangelical Covenant Church in Carrolton, Texas, on December 10.
Peace to her memory.