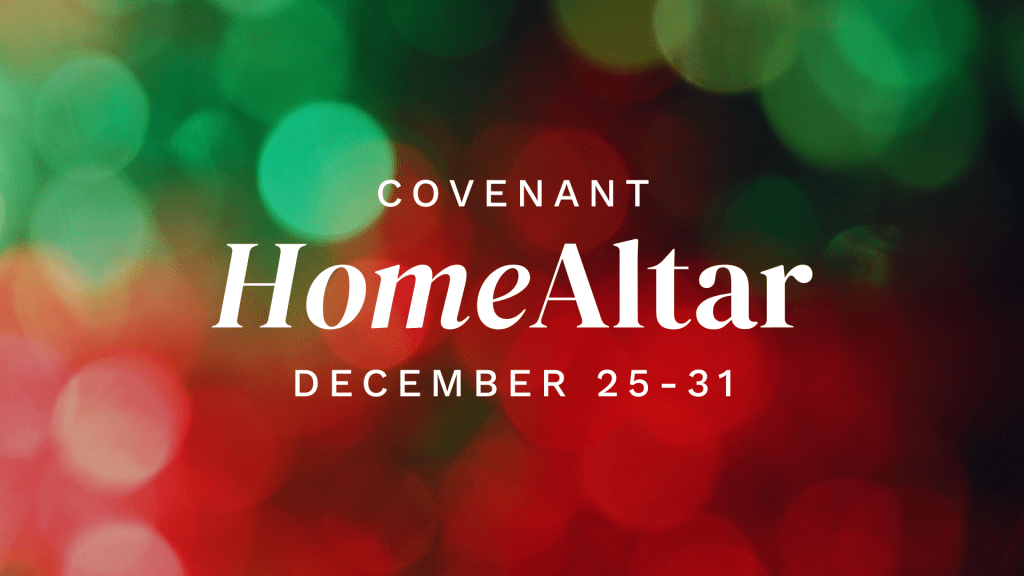 Bring to Light



---
Christmas Day
SUNDAY, December 25
Luke 2:1-20
"To give birth" in Spanish is dar a luz or "bring to light." Every child comes from heaven and brings to light the image of God as the Creator. The birth of Jesus was the announcement to the world that he was the light to shine eternally in the darkness. This light is the only path to redeem our lives back to the Creator. The birth of Jesus brought new meaning to creation because Jesus is the New Creation who saves humanity. 
In verse 9 an angel of the Lord makes an appearance, and the bright light shining is the presence of God himself! As the shepherds were fearful, the angel assured them that they were bringing good news about the birth of the Savior. 
Christmas is a special time to celebrate how God illuminates our lives through the birth of Jesus. It is only through his divine revelation that we comprehend and embrace such an amazing gift!
Jesus, you light up our lives. Amen!
PRAYER FOCUS: PRAISE GOD FOR THE GIFT OF HIS SON 
Salvation Comes!
---
MONDAY, December 26
Isaiah 62:6-12
Isaiah's prophetic voice was in preparation for the coming of the Savior. In this passage we learn of the prophetic watchmen who guarded Jerusalem through prayer for the fulfillment of God's promises. The need for watchmen meant they were not safe—and all they desired was to dwell in safety and in God's righteousness forever. Our Savior is restless, and he invites us not to give up because in his time the Church will be complete and glorious. While we wait for his return, we must prepare the way for the people and announce that salvation is here through Jesus.
Salvation and light have come through the miracle of Christmas. God's love for us is overwhelming and gives each person the fullness of his loving attention. He is profoundly interested and concerned for us. In the same way, we are to care passionately for others and fully extend the message that God's salvation is here.
Jesus, thank you for your restless and passionate love. Amen!
God's Light Is Our Guide
---
TUESDAY, December 27
Psalm 97
This psalm presents an amazing picture of the power and majesty Jesus will have when he reigns on this earth. The presence of God echoes through creation, and he is above all. The descriptive imagery here reminds me of moments when I have felt in the dark, most likely because I was giving attention to other things. As God's light has illuminated my path, I have stopped believing the lies the enemy declares before me. The truth is that God's light always shines. 
God has revealed himself through his constant protection even when I am unaware of it. His power is endless, and he brings light and guidance amid the darkness. He preserves our lives when he cares for our souls, he delivers us from the enemy, sends his light to guide us, and is the source of our happiness. We are to rejoice in his love and goodness and cultivate our relationship with him. 
Lord, continue to guide our paths. Amen!
PRAYER FOCUS:  COMFORT FOR THOSE WHO MOURN
God's Act of Mercy
---
WEDNESDAY, December 28
Titus 3:4-7
Light transforms a place of darkness. When my kids were little, they always wanted a nightlight because to be in complete darkness made them afraid. Our sinful nature is a place of darkness and makes us fearful about our future. But God's act of mercy lights our lives and grants us eternal life. The power of Jesus transforms our actions and initiatives. 
This season reminds us that God's kindness, love, mercy, and grace brings light that can transform anyone. The reality is that evil exists and we often don't treat each other well, but God has been gracious to us and that changes how we treat others. Our faith is based on the divine accomplishments, not our human efforts. God already did the work for us. God reached down to earth to provide a way to reach eternity—that's what Christmas is all about!
Jesus, shower us with your mercy. Amen!
The Good News!
---
THURSDAY, DECEMBER 29
Isaiah 52:7-10
In your phone you might have personalized ring tones for those closest to you. When the phone rings you check the messages and you expect to read good news, especially if it's from your loved ones. At the time of Isaiah, the message was about the restoration of Israel and the end of their captivity, but the central message was "Your God reigns" (v. 7). Isaiah references the "beauty" of the feet of those who deliver the message—the beauty is not in the messenger but in the message itself. When we deliver good news, it's an act that brings joy. At Christmas we not only celebrate the birth of a baby or a tradition; we are celebrating the best news ever! We are proclaiming that Jesus reigns and that Christmas was step one of God's plan for redemption. The good news is that the Word became flesh. This was the greatest demonstration of his love!
Lord, we praise you for your endless love for us. Amen!
PRAYER FOCUS: WISDOM FOR PEACEMAKERS 
God's Glorious Light
---
FRIDAY, DECEMBER 30
Hebrews 1:1-4
In verse 3 the greatness of the Son is fully exhibited. The glory of God is metaphorically the light, and in this verse the Son is the glorious light of the Father. 
I was born in El Salvador and that is part of my identity, but my true identity is as God's beloved daughter. When Jesus becomes the glorious light of God, he is the full and definitive representation of God. The exact imprint! This speaks to his nature and Jesus being identical in substance to God. The identity of Jesus is also manifested in his power to grant salvation because he is seated at the right hand of the Father. A person seated at the right hand of the king was considered trustworthy, and Jesus was given that kind of power. Because of the glorious light of God through Jesus, we are participants in God's glory. 
Lord, you are glorious, and we desire to live in your light. Amen!
God's Son
---
SATURDAY, DECEMBER 31
Hebrews 1:5-12
We have delighted ourselves in remembering the miraculous birth of Jesus. We have rejoiced learning that Jesus is the eternal Son of God. As we close 2022, let us remember that Christmas is daily because in the true biblical sense, the Father sent his Son as a vulnerable baby boy. Jesus was God in the flesh, and he laid aside his glory and took upon himself the form of a servant and became God with us. The light has come in splendor, Christ is exalted, and he is to be proclaimed by all who follow him. Through Christ we have redemption, life, and purpose. Because we belong to God, we experience grace and identity in him. We receive the blessings, and we have victory because God favors us. The question is, "Who is Jesus to us?" He has revealed himself to us, and our response is to let his light shine through us. How are you encouraged and strengthened?
Jesus, we honor and give you glory because you are God's beloved! Amen!
PRAYER FOCUS: HOPE FOR THE POOR IN SPIRIT