Our Relationship to Harmony, Wholeness, and Abundance
When my family lived overseas a few years ago, one of the many differences we encountered was the cultural focus on conservation. We spent a semester in Jönköping, Sweden, while my spouse taught there on North Park University's exchange program, and we were fascinated to learn that campus buildings featured geothermal heating. Every light in every building was on a motion sensor and a 30-second timer. Every school set aside a day each term to focus on the environment and climate change.
Everyone recycled, and they recycled everything. From toothpaste tubes to all the packaging on every item we purchased, we learned to sort our household trash in whole new ways. In addition, our neighbors watched and commented on how much garbage we generated. It was a weird kind of peer pressure, but we learned to pay attention to what and how much we threw away.
We didn't just learn a new approach to trash. We hung our laundry on the line instead of using the dryer. We walked everywhere. We consumed fewer single-use products.
Back home, we tried to continue those practices. But our neighbors didn't care how quickly we filled our trash cans. Behaviors that we'd incorporated into our daily lives in Sweden were difficult to cling to in Chicago and eventually fell away.
Still, my kids would probably tell you that I was preachy about recycling. Discovering aluminum cans in the garbage inevitably evoked my cry of "Who doesn't care about the earth?" But the more I harped, the less the boys seemed to internalize the value of caring for creation I was trying to instill.
While I knew our limited household behaviors would only go so far in addressing the crisis of climate change, I thought we were at least trying to be responsible. Lately, though, I've been learning the limits of those well-intentioned efforts. I am discovering that creation care is a moral, ecological, and theological quest that involves much more than simply being more conscientious than my neighbors about my garbage.
Like many evangelicals, I was formed in a faith that elevated head religion over an embodied faith. I didn't know the term dualism, but I definitely lived it. The way I understood it, material things were fleeting and would soon pass away, but what really mattered was the spiritual and the personal. That meant I never questioned the view that humans are the pinnacle of creation, the earth is ours, and we are commanded to subdue it. I considered those recycling efforts just "good stewardship" because it was all our responsibility.
But I am learning to reconsider.
Last October I traveled to Yamhill, Oregon, where Randy and Edith Woodley operate Eloheh Indigenous Center for Earth Justice and Eloheh Farm & Seeds. They focus on developing, implementing, and teaching sustainable and regenerative earth practices. In the wake of the Covenant vote to repudiate the Doctrine of Discovery, Love Mercy Do Justice is partnering with Indigenous leaders to create an immersive Indigenous learning experience. Six other Covenanters and I participated in the pilot.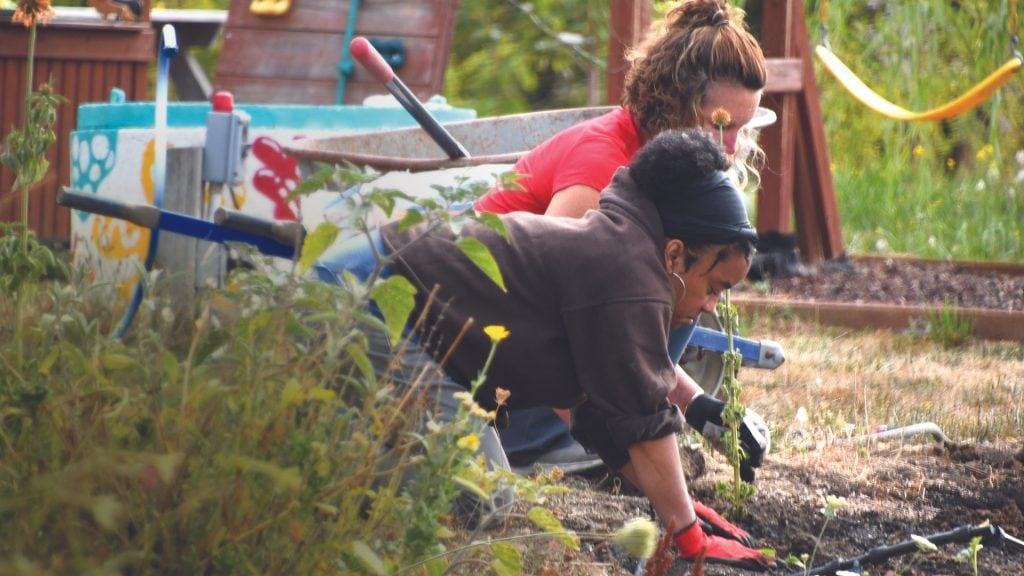 At Eloheh (pronounced Ay-luh-hay), the Woodleys seek to live in harmony with the land, using North American traditional Indigenous knowledge, wisdom, and practices as their guide. Randy is a theologian, writer, and activist who is a Cherokee descendant recognized by the United Keetoowah Band of Cherokee Indians. His wife, Edith, is a member of the Eastern Shoshone Tribe who grew up on Wind River Indian Reservation in Wyoming.
For three days, we learned from the Woodleys, Lenore Three Stars, who is Oglala Lakota, and Jim Sequeira, who is native Hawaiian. They invited us not just to recycle a little more, but to rethink every aspect of our life in connection with the natural world.
As I was preparing for the trip, I didn't want to admit how anxious I was. Growing up in the suburbs, I was the kid who complained whenever my farm-raised mother asked us to weed the flower beds or pick green beans in the vegetable garden. I didn't like how the dirt got under my fingernails or when I accidentally dug up wriggling worms from the ground. I have an unreasonable phobia about mice, and the last time I went camping was 25 years ago. In short, no one would ever use the term "outdoorsy" to describe me. How would I survive a weekend using outhouses and sleeping in a tipi?
But the Woodleys welcomed us so warmly that my tension couldn't help but thaw. The name Eloheh comes from the Cherokee word meaning harmony, wholeness, abundance, and peace. The farm in Yamhill is the third incarnation of their sacred dream to help Indigenous people regain their spirituality, values, vision, and land. Their first effort, begun in Kentucky in 1999, was a 50-acre self-sustaining farm in Randy's traditional Cherokee homeland. But a white supremacist paramilitary group began firing a 50-caliber machine gun on their property line daily in an effort to terrorize them off their land. The Woodleys sought recourse from local and federal government officials but received no help or support. Eventually, they left, losing everything they had built over the years.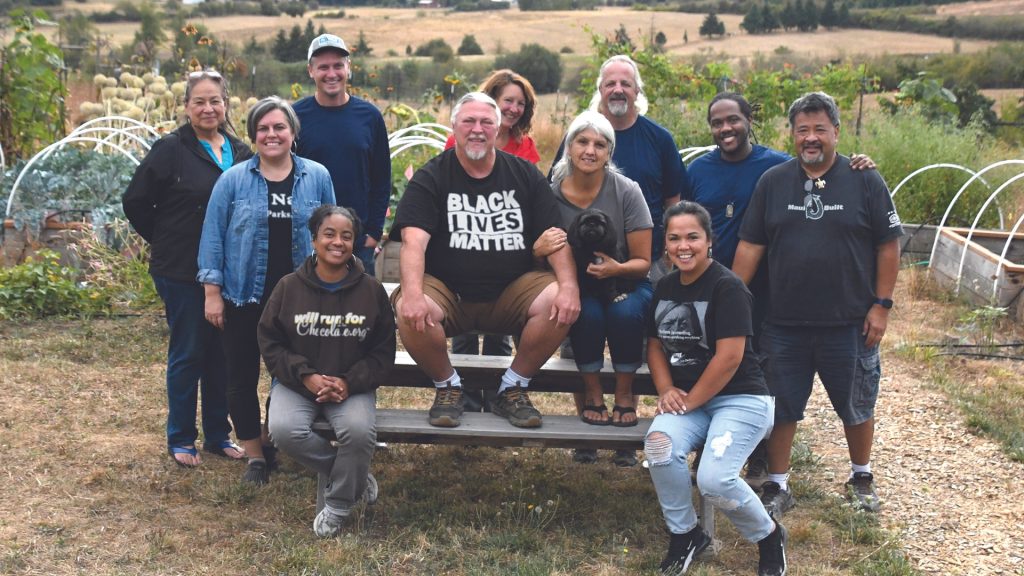 (front row left) Ramelia Williams, Randy Woodley, Edith Woodley, Anna Ross; (back left) Lenore Three Stars, Cheryl Lynn Cain, David Swanson, Cathy Norman Peterson, TJ Smith, Dominique Gilliard, Jim Sequeira
Their second small farm was in Newburg, Oregon. Over the course of nine years, they developed the 3.75-acre site while Randy also taught at George Fox University/Portland Seminary as distinguished professor of faith and culture and director of intercultural and Indigenous studies. But when his full-time teaching load was reduced, the Woodleys couldn't afford to stay and had to sell the farm. They eventually regrouped and started over once again.
Today Eloheh is located on nearly 10 acres in Yamhill, about 50 miles southwest of Portland. In the past two and a half years, they have worked to restore the land to its original beauty as part of an ecological oak savannah including large oaks, wildflowers, camas, wapato, and other Pacific Northwest Oregon native species. Deer, rabbits, squirrels, woodchucks, coyotes, and other wildlife roam the land while songbirds, quail, woodpeckers, hawks, kestrels, turkey vultures, and eagles can be seen flying overhead or perching in the flora. Eating our meals on the outdoor deck that stretched the length of the house, we watched in fascination as hummingbirds hovered nearby.
When Edith taught us to take a nature walk around Eloheh using all of our senses, I had to make myself slow down from my typical hurried pace. I took long, slow steps and practiced noticing the details of each tree, each bird and the differences in their songs. I kept taking photos of the same scenery in different lights. I looked across the land and tried to truly see it. When I made an effort to listen, I heard Mother Earth say, "I am so thirsty." Turns out she was. In my disembodied daily life, I had no understanding of weather patterns beyond my own zip code. I hadn't even known Portland was in the middle of a serious drought.
Randy invited us to explore that disconnection from the land. Do we lose our purpose as humans when we lose that connection? It is becoming more and more clear that our current systems and behaviors cannot support our species. His book Becoming Rooted: 100 Days of
Reconnecting with Sacred Earth is an invitation to attend to the natural world each day with intention.
And the sleeping arrangements were unexpectedly lovely. Although the sides of the tipi did not quite reach the ground, any animals nearby remained outside. We were on cots with sleeping pads, and my fears about being cold or uncomfortable in the fall elements were unfounded. The outhouses were fancy composting facilities. We ate well—Edith creating artful meals of fresh produce from the extensive gardens. I tasted my first frybread in Indian tacos.
One afternoon we helped in the gardens. A group of us harvested potatoes, while others helped plant fall flowers. I used my full weight to jump onto a shovel to crack open the dry ground and dug my hands deep into the dirt. It felt holy, a life-giving leaning into the earth in a way I'd never experienced before.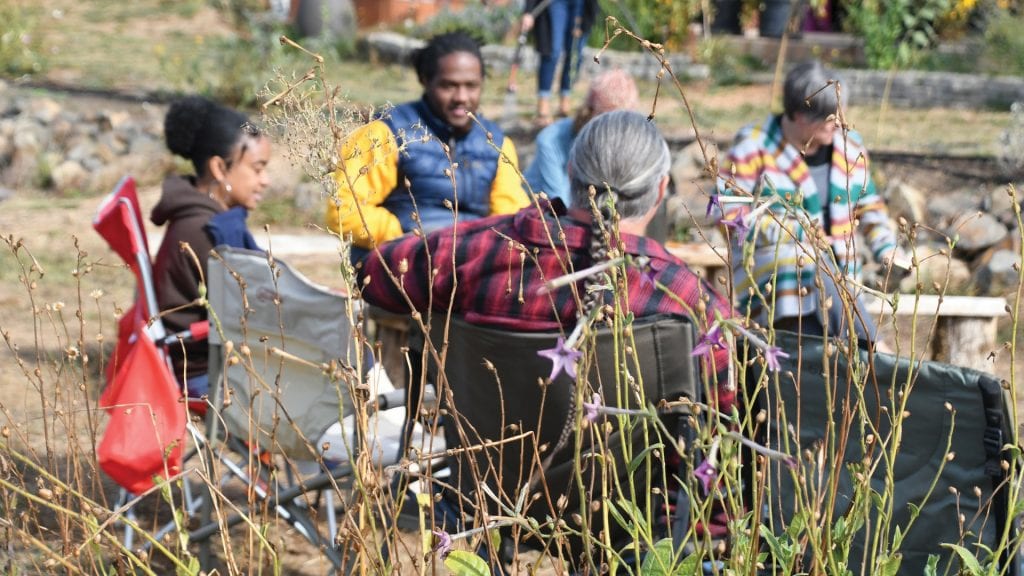 In Lakota, the earth is called Ina Maka (Mother Earth) or Unci Maka (Grandmother Earth). Both are kinship terms of deep respect.
And we sat around the fire, listening to our leaders tell their stories. They invited us in, vulnerably sharing their pain and the beauty of Indigenous life and culture. Lenore taught us that in an Indigenous worldview, we are related to all of creation. That means the earth is my relative—not property I dominate. In that reciprocal, caring relationship, we don't take without giving back, and we don't take more than we need. In Lakota, the earth is called Ina Maka (Mother Earth) or Unci Maka (Grandmother Earth). Both are kinship terms of deep respect.
We also learned about the ongoing impact of the Doctrine of Discovery. We listened to the damage caused by "manifest destiny," the view that God ordained the US to expand its borders across the continent to spread democracy and justify eliminating Indigenous people already living here. Forcibly relocated to reservations, Native people lost their own connection to their lands. No longer living near the rivers and waterways where they fished, they lost their livelihoods and ability to sustain themselves. The US government created boarding
schools for Indigenous children as an intentional assimilation effort, and then transferred ownership of those schools to various Christian denominations. Indigenous children were taken from their families and sent away to boarding schools where their hair was cut off, they were forbidden to speak any language but English, and they lost their Native dress in exchange for Westernized clothing. A generation was stripped of their cultural practices, language, and life skills—their identity. Raised in trauma, they had no choice but to pass that unresolved trauma onto their own children.
The stories are brutal, hard to hear. But they are not the end. On our last day at Eloheh, Jim Sequeira shared with us wisdom from his culture. The term aloha 'aina, or literally "love of the land," reflects a Hawaiian connection to the earth. "We live in relationship with the land," he said. "We read in Genesis 12 that God blessed Abraham so that 'all peoples on earth will be blessed through you.' We know that Creator has likewise blessed us in order to be a blessing and share that blessing with others. Our love for land extends to our love for everybody."
He explained that kapu aloha is the call in his culture to act with kindness and mercy. That spirit of aloha, the sacred act of demonstrating love and compassion, runs deep and invites us to go and do likewise.
I am still learning from the Indigenous worldview that we are all related—and that those connections extend beyond our human family into all creation. I am still learning what it means to honor the Earth, not to save it for our children, but because we are all created by our loving Creator. We are all one.
Love Mercy Do Justice is partnering with Eloheh to offer Weaving Justice and Peace in a Wounded Land, an immersive Indigenous learning experience for Covenanters. To learn more, contact lmdj@covchurch.org.