Embrace Church
Kirkwood, Missouri
When Olivia Oglesby was graduating from St. Louis University, she had a vision to create a coffee shop.
She planned to purchase a house in Kirkwood, Missouri, but encountered several obstacles. So she began praying and started a Daniel Fast, 40 days of eating vegetables and drinking water, in the spirit of the prophet's fast in Daniel 10.
Meanwhile, Embrace Church, a Covenant congregation in Kirkwood, was seeking to intentionally become the hands and feet of Christ. They sold their church property, which happened to be next door to the house Oglesby originally wanted to buy.
"We first learned of Olivia through an announcement in a community newspaper," said Chad Wible, lead pastor of Embrace. "There was an announcement about a hearing for a special-use permit at a property in Kirkwood to be used as a coffee shop."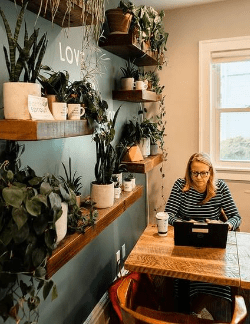 Embrace had been considering starting a coffee shop to serve the local community and as a job training site for people with intellectual and developmental disabilities.
"We contacted Olivia for a meeting to introduce Embrace and the ideas we were considering," Wible said. The day he called was day 30 of her 40-day fast.
When they met, Wible learned more about Oglesby's vision. "Olivia had a business plan to start a community shop that sourced local products from vendors with a mission to serve others. We went away from that initial meeting excited about the possibilities," he said. "She was a person of faith who had sensed a call from God. This idea very much aligned with our ultimate purpose for a business venture."
Embrace and Oglesby spent the next 18 months working out a combined business plan. With help from National Covenant Properties, a joint venture began to take shape. "NCP provided expert guidance from property research all the way through closing on the purchase of property," Wible said. "They recognized the unique nature of this ministry venture and worked with us to develop a plan for financing it. We are grateful to have them as trusted partners."
Teleo Coffee opened on August 15, 2021.
Now Embrace and Oglesby are beginning a new chapter together as they seek to expand their vision.
"We've partnered with the high school to be a training site and the students will become trainees at our coffee shop," said Wible. "The special needs program at Kirkwood High School is a full education program with more than 130 students integrated into the larger high school population. They offer special classes for the students with the highest needs who aren't able to integrate into the general courses. In addition, the program seeks to offer students job skills to help prepare them for careers post-high school."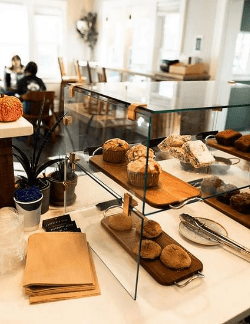 Some students learn to manage tasks with an onsite pretzel stand and a student coffee shop. Teleo and Embrace just signed an agreement with the school district in which they'll work with the coordinator of the program to identify which students would be a good fit for the program.
"When we approached the program director, she was highly interested in a partnership," Wible said. "She believes Teleo will be a great place for special needs students who have demonstrated the ability with the onsite jobs to gain further job skills at Teleo. This kind of training will help students be able to find jobs in the local community when their high school education concludes."
This has been a key factor in preserving the partnership between Embrace and Teleo. "Signing the agreement was very important," said Eileen Schmitz, a member of Embrace's leadership team, "because it was basically our endorsement to move forward. We've stepped outside the walls of what a traditional church looks like and it's not about walls. It's about people."
"All morning long every day there are not enough places for people to sit at Teleo," Wible said. "We've been thinking of what it would look like to expand to another location. Maybe it's another coffee shop or maybe we could add in a catering option."
The shop currently employs 11 people. With the introduction of the high school training program, the idea of expansion could soon become a reality.